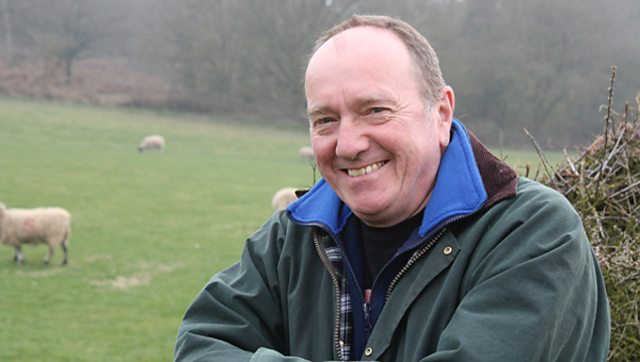 Sharp-eared listeners may have noticed a new name mentioned in the credits for The Archers. Our long-serving agricultural guru, Graham Harvey, has returned to the writing team and handed over the ceremonial thumb stick* to Steve Peacock, former editor of BBC Radio 4's Farming Today. We asked Steve to introduce himself.
(*wholly metaphorical)
Among my claims to fame are that I have slept with Noddy Holder (and Dave, Jim and Don, it was quite a night). John Humphrys once threatened to do violence to my portable telephone. And the late Captain Beefheart berated me for eating an egg mayonnaise salad on the grounds that it would poison me. You should have seen the look the waiter gave him.
None of this has ever cut much ice with my family, but now I'm a regular visitor to Ambridge they are very proud. So am I. I can now add to my CTF list that I have been welcomed to Ambridge by Brian Aldridge and that I have witnessed an intimate moment between Jolene and Kenton.
My lips are sealed. And frankly that's going to be one of the hardest things about this job. I've been a journalist since I left school, so my instinct is to blab stories, not sit on them. Now I know things that are going to happen in Ambridge weeks, if not months, from now and I have been told very firmly that Our Listeners Do Not Like Leaks.
The other thing I am having to learn fast is how a radio drama works. I know from my years editing Farming Today that agriculture and rural life are full of really interesting stories. It can be as simple as people believing passionately in a way of life or a rural pursuit that most of us have no idea about. There's science and technology all along the food chain that leaves me open-mouthed.
And even the big issues can provide the raw material for emotionally-charged human stories. Over the past decade or so, farmers have had to change and adapt to a system in which food production is subsidised less and less. I have found it fascinating that some - large and small - have reinvented their businesses and thrive while many still struggle to cope. There is drama in success and failure - and in the process.
In Ambridge, three out of the four main farms milk cows for a living. That is a notoriously difficult business for many farmers and it would be surprising if it didn't get more difficult, in the short term at least. I do not think it would be breaking any confidences to say that David, Tony and Ed will have to think hard about what they are doing. For someone interested in agriculture it is great that The Archers brings issues like that to life. For someone interested in The Archers it is the agriculture that makes it unique as a drama serial. Real stories about farming give the characters and their life stories a sense of being grounded, not just having a location.
So far I'm having fun. Just don't ask me what happens next!
PS - about Noddy and the lads. I was writing about Slade for Sounds magazine early in my career, so I went on tour with them. Normally you'd get put up in an hotel but their management was, er, famously careful with money so I found myself sharing a kind of dormitory with the band.
Steve Peacock is the The Archers' agricultural story advisor.