"She abandoned you" - Listener discussions to 7 June 2011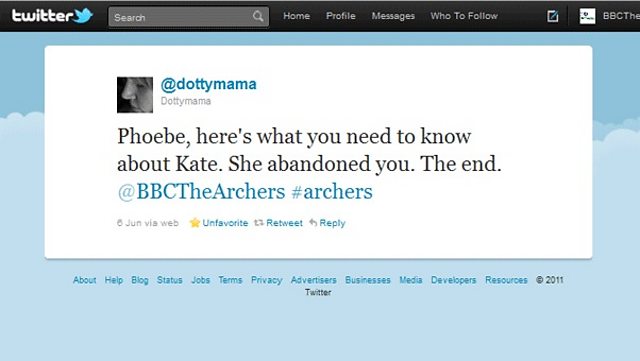 They've been talking about Oliver's strop, Jill's loneliness, Emma's whinge and Ruth's birthday card - but the biggest topic of conversation is still Kate and Phoebe. Over in Ambridge Extra there was a collective "ahhh" for Blowers, Jamie's teddy bear.
Here's my pick of listener discussions on The Archers message board, Twitter and Facebook between 5-7 June.

Jill's trip to St Stephens with Shula on Sunday touched many listeners
Quite unexpectedly this morning I found myself very moved by Jill and her request for Shula to be at church with her ... you'd think she'd be at church now in her old age surrounded by family... But she isn't. She's there ... quite alone like so very many in the C of E pews of today.... I think TA got this just right and the scene gave me total recall - not only of mine and my siblings' selfishness, but also, of the rightness and inevitability of this too, and the sadness of life, and the loneliness that waits everyone one way or another, however busy, however blessed. (Rose Sal Volatile Parade)
Read more: Jill, all alone at St Stephen's
Jill's chat with Alan cheered some
[Jill] isn't a fool, after all, and it has been obvious for at least forty years that the centre of Elizabeth's world was, is and most likely ever will be Elizabeth. Jill loves Elizabeth, but not with blinkers on! (Chris Ghoti)
Read more in the Hooray! Jill has noticed thread
Roy's chat with Phoebe had a mixed reception. Phoebe was either blackmailing Roy, or putting forward a sensible case. Most felt that the conversation was a "complete parental chat fail". Does Brian know he's about to be asked to bankroll the trip? This story has elicited hundreds of posts on the message board and the conversation shows no sign of abating.
Oh, Phoebe! You're so much your mother's daughter. Noli and Sipho are your family too (true) and it was sooooooooo hard saying goodbye. (typewrite)
Reminded me of Earl Spencer's "Your blood family" speech.... Roy - you wimp. Godsake! (Doctor Darling)
IMO, Feebs should be allowed to go to SA for a few months, but not for a whole year. She is too young to make a sensible decision for herself at 12. The time has come for Roy to do what he does best: draw up a rota (relapsedpastrychef)
I wouldn't mind betting, though, that when Ruairi reaches his majority and starts to take on some solid family responsibilities (in his capacity as "My Son") he may very well put his foot down about Kate putting both hands in the Aldridge cookie jar... (annieoakley)
Emotional blackmail? Have your say on the message board

Sunday's puppy show had some expressing surprise at Oliver's outburst, and concern for Molly Button's safety...
Concerned Molly Button will come to a sticky end #EvilLily (@Dukeleto77 on Twitter)
The Puppy Show is important for Oliver, as Master of the S. Borsetshire Hunt. Caroline knows this, and should have been there to support him instead of making excuses. I'm with Oliver on this. Caroline is gentry and should have known better. These things do matter within the hunting fraternity. (JudithL)
She's got a business to run and he's just running a puppy show for what sound like objectionable characters who like stuffing their faces on a free tea. (borchesterbouncer)
Read more on the A nasty Oliver! thread

Emma's desire for a bigger house has polarised opinion - is she just being selfish?
Does she ever stop moaning...she was actually a good match with william - both a couple of mean spirited whingers imo... (the_shellgrottolady)
Emma is a downmarket version of Kate. Same sense of entitlement but without the rich Daddy. (Doodlysquat)
Shouldn't Grundys and Carters have aspirations? ... I heart Emma. I know she's a whinge with a badly-behaved past. I like that about her. (Tadpole)
Does Emma deserve a bigger house? Have your say on the message board

Listeners have been penning verses for Ruth's birthday card - from Elizabeth
There was a young lady from Prideaux
Whose husband has made me a widow
May her cows get TB
and her sheep the scrape
Whilst I sob into Nigel's old pillow. (Forgotten-Tractor)
May your birthday be filled with laughter,
Merriment, song and dance.
But I hope you drop dead the day after,
'Cause you stole my inheritance. (rubylou)
Add your birthday wishes for Ruth

Over in Ambridge Extra, most listeners are surprised by Alice's behaviour - they think she's leading Chaz on. Many were pleased that Jamie finally told Steve to get lost....
When's the current ambridge extra season finishing I'm really buying into it I want to push chaz down stairs(@tomwilliams1990 on Twitter)
Chaz is starting to make me laugh now, he's a useless debt collector and a hopelessly inept felon. (wildforces)
He is hopeless isn't he, but what IS Alice doing inviting him in to her bed? Silly girl. Jamie is beginning to grow up and I love him for having a Blowers bear! (ermintrude)
Have to say, I really enjoyed Jamie getting angry with Steve today, when he dared to make fun of the "Blowers" bear that his dad had bought him a few years ago. (PaulHammond26)
Discuss Ambridge Extra on the message board

Tayler Cresswell is host of The Archers message board.