"Uncle Tiger is up to something" - listener discussions to 26 September 2012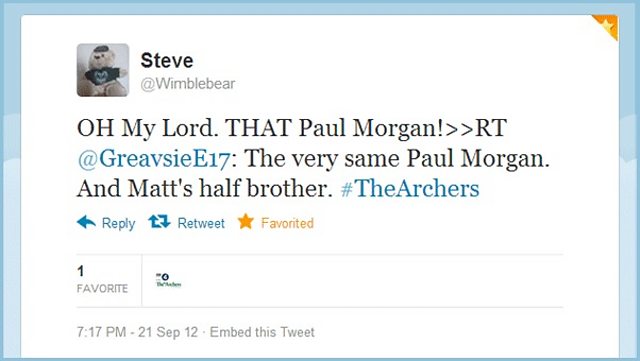 Look out Lilian! Matt Crawford's up to something. Is he whisking her off to Paris because Paul Morgan is back on the scene, or is he hiding problems at Amside?
Romance was in the air at last Thursday's comedy night at The Bull. But who was romancing Kirsty? And will Fallon soon be dating Rhys? Listeners decide she "could do better".
There's relationship advice for Brenda, who's doomed to become the "Cinderella of the Ready Meal" if she's not careful; and financial tips for poor Emma Grundy.
And listeners say goodbye and "thanks for all the fry ups" to Rosalind Adams, better known as "Clarrieluv".
Here's my pick of listener discussions on The Archers message board, Twitter and Facebook between 20-26 September 2012.

Should Lilian get in touch with Paul Morgan? Of course she should! Matt's surprise on Tuesday raised suspicions - is he taking her away to Paris because he wants to hide something sinister going on at Amside or because he feels vulnerable that Paul is on the scene?
I *heart* Paul Morgan. Or, as I like to call him, Lilian's 'Missed Opportunity'. #thearchers (@jtwentyman on Twitter)
Of course she should get in touch with him. She should have dumped Matt long ago. (Christine Jones on Facebook)
No her and Matt are a great double act love Lillian x (Therasa Kay Chapman on Facebook)
I think Uncle Tiger is up to something nefarious. (Dr Vintneres-Driver FRCOG on the message board)
A shiver ran down my spine when Matt said something a bit sinister at the end.. Like, 'don't you ever forget it'. (firesprite on the message board)
Well hopeless old romantic me. I didn't hear menace in Matt's 'Don't you ever forget it'. I heard a vulnerability/need... What better cure for your old lady mooning after a rival than to whisk her away to Paris and spoil her a bit. Matt doesn't want to give up Lillian and he needs her dosh as well as her love. (anniewitchway on the message board)
If Tiger is 'vulnerable and needy', then I truly hope Lilian brings the rotter to his knees; I think she should have a full blown affair with Paul before it's too late (Nemo99 on the message board)
Join the debate on the message board: Now what's that smell of scorched rodent?

After last Thursday's disastrous comedy night at The Bull, silent comic Tug Fowler was named the Marcel Marceau of the comedy circuit. But who was chatting to Kirsty that night? Once listeners realised it was Ifty, they wondered what Tracy would make of it?
I also spent a few puzzled moments trying to figure out who this stranger was... I was rather pleased to hear him and Kirsty hitting it off - he's already been mentioned repeatedly as a nice, nice-looking man, and lord knows Kirsty deserves to meet one after being such a good sport as to agree to tag along and sleep in close proximity to Jazzer for several nights on the recent roadtrip... (charmingAnnielynn on the message board)
blimey he's smooth though isn't it he, with the ladeez.. i hear imran khan. ps - tracey will be furious. hurrah! (irene on the message board)
#thearchers Ifty & Kirsty!! Tracy will scratch her eyes out. (@SteveBrooks13 on Twitter)
Read more on the chaty-up man thread.

Is romance also on the cards for Fallon? After their stilted conversation over a meal in Felpersham, most - but not quite all - think Rhys may be her Mr Wrong.
Rhys wears t-shirts with unfunny and offensive slogans on them, and shirts with the sleeves always rolled up. He has an over-sized 'sports' watch with lots of pointless functions on it, and a big 'look at me' bunch of keys on his belt which he likes to jiggle with. He smells of Lynx. He has a range of unpleasant slouching poses which usually involve splayed legs. (Tadpole on the message board)
Oh Fallon you can do so much better. #thearchers (@TonysConsultant on Twitter)
I just wish Fallon would get the briefcase out of Ambridge before it is too late. (Scarlett the Harlot on the message board)
Reece is DEFINITELY marriage material! Come on Fallon! #thearchers (@mymates263 on Twitter)
Is that it for Fallon then? Have your say on the message board.

Is it Tom's relentless focus on the ready meals that's putting Brenda off marrying him? Listeners say they wouldn't blame her and wonder if Tom's heading for a ready-meal-shaped fall...
Tom, she's looked at Tony and seen the future. #thearchers (@HelenJaneGrady on Twitter)
Brenda, stay with him and you'll end up being the Cinderella of the Ready Meal #thearchers (@boorach2 on Twitter)
Can Tom get enough pigs fattened up in time to have them in pork format by October half-term? If yes, can he pay Neil or whoever for an increased quantity? If no, can he afford to buy in pork/ pigs to meet the deadline? (JacksParakeet on the message board)
If I rented a cottage and they offered a welcome pack offering some dubious chilled pork products from a company I'd never heard of I'd say no thanks and do what I usually do which is stop off at the nearest supermarket to get a pizza and salad... (Vicky S on the message board)
Join the conversation on the Is this really how it works? and Is it just me? threads on the message board.

"Ask Will to pay!" is the almost deafening advice from listeners as Emma struggles to make ends meet
I do wish Emma would sound a bit happier. She is so depressing. I thought Ed and the children and a proper house were all she wanted in life. It seems not. George does have a father who would happily pay for Karate lessons if only he had been asked. (libranmeg on the message board)
I kept shouting at the radio "William can pay!", so if you were in Kent this evening and heard me, I apologise. (Rettergrap on the message board)
Emma is trapped in a prison of her own making and looking over the wall at Will & Nic adds to her bitterness. I think this slow burn SL has years to run and has been very well done so far. (Dailyfix on the message board)
Have your say on the Emma-moaning yet again and Let his father pay for karate threads on the message board.

News that Rosalind Adams is leaving the programme saddened many. There has been some debate about whether her character should be written out rather than recast?
It's a really shame, but I'd MUCH rather have a new Clarrie than have her written out. Much. (Pauline Stroud on Facebook)
yes good effort Rosalind and thanks for all the fry-ups x (Christopher King on Facebook)
@BBCTheArchers I'll miss you Rosalind Adams. You've made me laugh & cry. The scenes when you came back after going missing, so moving. (@missy_t_k on Twitter)
@BCTheArchers will always remember "one day my prince will come" #clarrie (@Gorman6 on Twitter)
I think she deserves a medal for putting up with the Grundies for 25 years! Who would make a good replacement? Pam Ayres, perhaps? (The Famous Eccles on the message board)
What a great character she's made Clarrie over the years. But hope you have a long and happy retirement, Rosalind, and thank you. (ermintrude on the message board)
Add your message for Rosalind on the New actress to play Clarrieluv thread on the message board.

Tayler Cresswell is host of The Archers message board.