"Ian, you get better and better" – Listener discussions to 26 March 2014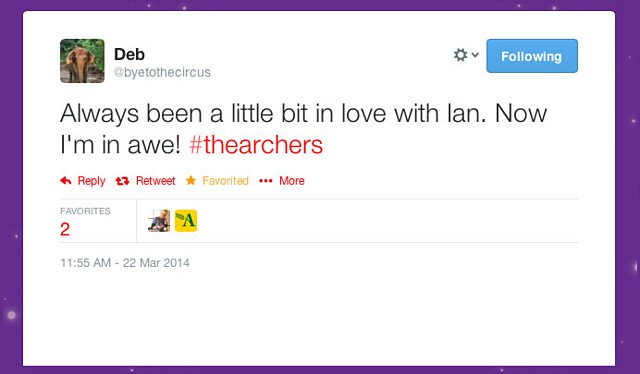 Post from @byetothecircus on Twitter
After Tom's clash with his father over a possible TB outbreak, Tom once again took centre stage in listener discussions thanks to his midweek stag party – though it was Ian who came away with all the praise for his triumph over Rob.
Meanwhile, Kirsty with her newfound extravagance and Jennifer with her snowballing specifications for a new kitchen brought criticism of excessive consumerism from some.
Here's my pick of the listener discussions between 16 and 26 March 2014.
As some listeners took sides (mostly Tony's) in the pigs vs cows debate, there were others who blamed Peggy for the tensions at Bridge Farm.
When is someone going to tell Tom and Tony to look in the mirror over every complaint they have about each other? Like twins. (Ann Burlingham on Archers Addicts Facebook group)
This is the first time I've actually rooted for a disease - #TeamTB to get the pigs #thearchers (@Terry_Ea on Twitter)
#thearchers I know hopeless idealistic fool that I am but I really wanted Tony to be Victorious in the Battle of Bridge Farm. (@MrsTwentyTom on Twitter)
Tom, stop being such a horrible petulant brat. You can't talk to your dad like that. #thearchers (@RachJBurns on Twitter)
This is all down to Peggy telling them about her will, undermining Tony and giving Tom too much praise. It's set so many negative situations on their inevitable course ... (Christine Wilson on Archers Addicts Facebook group)
Tony vs Tom: biggest case of "I told you so" in #thearchers history? (@Andrew_F_Smith on Twitter)
Fortunately there was some escape from the stresses of farm life during the Sport Relief Rough and Tumble Challenge, which gave Ian the chance to shine after he punched Rob!
Thought the Ian/Rob scene was brilliant. Rob sounds more calculating by the week. Just wonder how long it will be until he persuades Peggy to move out into something more suitable for the aged grandparent and Peggy may start, albeit slowly, to realise how manipulative the man really is!! No hope for Helen though. The girl's in it too deep. (sapper on The Archers blog)
Always been a little bit in love with Ian. Now I'm in awe! #thearchers (@byetothecircus on Twitter)
It might be silly, but Ian thumping Rob....let's be fair about it, it's what all of us want to do (Richard Gilbert on BBC The Archers Facebook page)
Thank you Ian, you just earned the gratitude of the entire tweetalong #TheArchers (@Vintage_Maggie on Twitter)
I abhor violence but good on you Ian!!!! (Sian Spencer on BBC The Archers Facebook page)
Yes Ian! Brilliant!  Haven't a clue what's going on as not listening until omnibus but  [Timeline] says Ian is the biz #thearchers (@TheGrumpyBitch on Twitter)
Ian thumping Rob was EXACTLY what the doctor ordered--sublimely staged with Bradley Wiggins watching on. I have loved the episodes these last few days. (Cath on The Archers blog)
Woah. This may have been the only episode EVER of #thearchers when I was too riveted to tweet. VERY satisfying. (@jtwentyman on Twitter)
Well, I thought it was out of character and a bit silly. Most people don't go around thumping each other do they? (Paula Hubbard on BBC The Archers Facebook page)
There was a fair amount of confusion when Tom's stag do came around (not least because of the choice of day), but it was clear who the hero of the hour was.
What was that all about? I thought it was Tom's stag do. Why's Kenton on a train to nowhere? Did I miss something? #thearchers (@GeeHubb on Twitter)
Just to say I didn't find it hard to follow this episode...but I did find it odd that anyone would opt for a Wednesday night for a stag do..... (Nikki Greenall on BBC The Archers Facebook page)
The stag night couldn't happen on a Saturday, they don't have Saturdays in Ambridge. (Susan Barlow on Archers Addicts Facebook group)
What a thoroughly nasty piece of work #Rob Well done, Ian! #thearchers (@yvonnemeli on Twitter)
I was so, so hoping that they'd spike Rob's drinks in revenge and then put HIM on a train to nowhere. Stupid juvenile stuff which can end very badly. At their age, you'd think these blokes would know better. (Margaret Lesley on BBC The Archers Facebook page)
My love for Ian just went through the roof. He's taking Tom to a gay club.  My hero.  #thearchers (@heather1917 on Twitter)
There were few such kind words for Kirsty whose recent display of materialism have some listeners worried that she's behaving out of character and that there are money troubles ahead
Kirsty just comes across as a hypocrite and a phony. She's all «eco-warrior» but doesn't seem to have spared any waste... (Corin Warden on BBC The Archers Facebook page)
And how many bathrooms will you be buying, Kirsty? Same number as wedding dresses? #thearchers (@FifiFanshawe on Twitter)
It's cuz she's insecure and deep down knows Tom still loves Brenda… she needs material proof of Tom's love. (John Tebbet on Archers Addicts Facebook group)
Tom and Kirsty drinking champagne to toast their forthcoming bankruptcy. #thearchers (@EmilyTeacups on Twitter)
To be honest it's all happened a bit fast. I shouldn't be surprised if they slam the brakes on and put it off/downscale... (Katie Willow on Archers Addicts Facebook group)
If I won the lottery I would buy kirsty that dress. Poor girl having to compete with Brenda and the pigs all the time. She deserves some happiness. (Emma Gascoigne on Archers Addicts Facebook group)
There were similar accusations for Jennifer's escalating extravagance in her kitchen planning – though many think that Brian is not entirely without blame
Surely Jennifer Aldridge could buy her own kitchen? She's not poor, she must have a few thousand in the bank. (Nick Lacey on BBC The Archers Facebook page)
Sorry Jenny, can't approve of your tactics. Try compromise - it's more grown up #TheArchers (@Anne_O on Twitter)
Selling your principles for a beer fridge and a wine cooler? That's very Brine. #thearchers (@Real_StefP on Twitter)
@BBCTheArchers hurrah for Jenny! And isn't it typical? After all the resistance Brian adds to the spec. (@mrsnaomicleaver on Twitter)
This storyline, while appalling, will resonate with men from Brine's era. My father (73) has never even boiled an egg. #thearchers (@gingabeans on Twitter)
I'm getting annoyed at the apparent support in the scripts for consumerism as a path to happiness – Jennifer's Kitchen, the ideal wedding, the posh house - when does all this showy consumption end? (Jeannie Shaw on BBC The Archers Facebook page)
Spotlighting Jennifer's pathetically self pitying desire for a kitchen is not an advert for consumerism, quite the contrary, it shows how silly and unnecessary it can be. (Paul Boothroyd on BBC The Archers Facebook page)
So, so SO disappointed with the production team allowing the dreadful portrayal of women in the stories of Kirsty, Jennifer and Helen. How could you? (RosieT on The Archers blog)
I fear we are becoming more obsessed with this kitchen than Jennifer Darling (Sandra McEwan on Archers Addicts Facebook group)
Tayler Cresswell is The Archers' social media host
Join the conversation
Or join the discussions on Archers fan forums: