"Elizabeth! Miaow!" – Listener discussions to 16 April 2014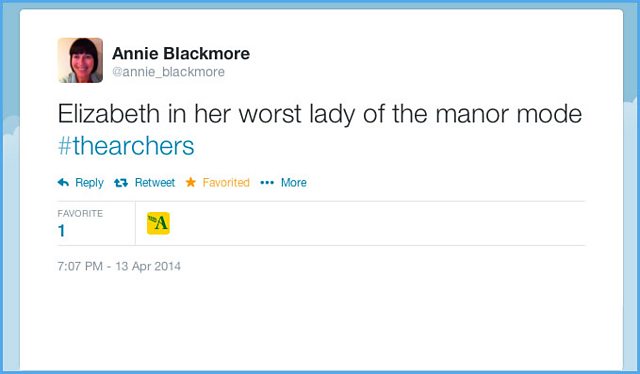 Post from @annie_blackmore on Twitter
There was no let-up in the dislike shown towards "controlling" Rob, who continues to make listeners shudder.
Thankfully, there was a better atmosphere at Brookfield as Jill made a permanent return, though Elizabeth's attitude did threaten to sour the happy occasion.
More criticism for Shula, not much of a welcoming party for Charlie Thomas, and some Joe Grundy-style musings on the future of Tom and Kirsty's relationship…
Here's my pick of the listener discussions between 10 and 16 April 2014.
There was a fresh round of criticism for Rob as he exhibited what listeners thought was his "creepy", controlling nature once again.
Rob's chilling, meticulous step-by-step crushing of Helen is spot-on. I go cold with fear when I hear them together. I sincerely hope that Helen wakes up before the physical abuse starts (Angela Harris on BBC The Archers Facebook page)
@BBCTheArchers I soooo wanted Rob to be a goodun, looks like I'm wrong again. Run away Helen before you're shackled to the kitchen sink. (@alibear64 on Twitter)
Rob Titchy, the more I hear from you the more you make my skin crawl & my foot itch #creepy @BBCTheArchers #thearchers (@Lol58Milne on Twitter)
Someone needs to bring Helen some leaflets on abusive relationships ! (Trisha Lesley McCarthy on BBC The Archers Facebook page)
Ugh. Just lock him in the top field barn, Helen, and throw away the key. He's GHASTLY. #thearchers (@corrie_corfield on Twitter)
Creepy creepy creep. Run Helen you twit #thearchers (@evelafay on Twitter)
I'm looking forward (in a macabre way) to further developments in this (for me) gripping story line. Will Rob build a cellar dungeon under Blossom Hill Cottage and keep Helen there for all eternity/all to himself? Or will the Relationship Fairy, sent there by RELATE arrive and sprinkle oofle dust over him so that he sees the error of his ways? I suspect the final denouement will lie somewhere between the two, but I continue to listen in fascinated horror. Well done! (Nemo399 on The Archers blog)
Over at Brookfield, Jill wasn't just getting affection from Ruth and David as her new living arrangements were confirmed.
Aw. I feel a bit teary at Jill being so welcome. That shows me age. Sigh. #thearchers (@ElizabethBangs on Twitter)
Loved this episode. Glad Jill is going back to Brookfield. (Jane McCarthy on BBC The Archers Facebook page)
Everyone celebrates St Jill being at Brookfield #TheArchers No burnt pizzas (@Dark_Blue_Bpx on Twitter)
Yay! Jill back where she belongs ... smashing (Rachel Cristofoli on BBC The Archers Facebook page)
Jill is the BEST Archer! She's my Radio grandmother!! (Corin Warden on BBC The Archers Facebook page)
It was poignant when Jill said she wasn't suited to living alone and needed to be at the heart of a family. It feels right that she should be back at Brookfield x (Lynda Robertson on BBC The Archers Facebook page)
But Elizabeth's reaction to Jill's move back to Brookfield reminded listeners that she's not always been the easiest of the Archer family to get along with.
Elizabeth why didn't you ask if you wanted Jill to stay with you?  Bit jealous much? #Thearchers (@torie667 on Twitter)
Elizabeth! Miaow! #thearchers (@whatwouldloisdo on Twitter)
An interesting reminder that there is a lot of tension underlying the relationships between Phil and Jill's offspring. Quite a lot is rooted in inheritance and the settlement relating to Brookfield. (Ian Berry on BBC The Archers Facebook page)
Can understand how Elizabeth feels from personal experience. So it's an interesting story line that rings true to me, as it can stir up a lot of family issues not just about the here and now, but also the past. (Paul Justin Hughes on BBC The Archers Facebook page)
Whilst Lizzie is yer stereotype spoilt brat, I think a big part is that she is the youngest and probably feels that they don't think she is grown up enough to be involved. So she goes into baby mode throwing rattle out of pram. She will never change. (Sue Scanlan on Archers Addicts Facebook group)
Elisabeth is the MOST self-centered, selfish and spoilt madam.... we've just (for whatever reason) not seen that side of her in a long while! (Corinna Schicker on Archers Addicts Facebook group)
Meanwhile, Shula got her fair share of feedback as Dan broke in his new boots and she continued to question his decision to join the army.
Time for Shula to let it go. She may not happy with his decision (I wouldn't be either in her position), but Dan has clearly given it a lot of thought so the best thing she can do now is try to support him. Her current behavior will just drive him away. (Brenda Selwyn on BBC The Archers Facebook page)
In my view a parent's role is to guide and advise (when asked!) about careers, but not to push or manipulate. It's Dan's life, it should be his choice whether she agrees or not. (Fran Renwick on Archers Addicts Facebook group)
Shula not my favourite but understand her disappointment in Dan joining the army. #thearchers (@vem1970 on Twitter)
Put your foot down Dan! Get her told #thearchers (@TamsinLisa on Twitter)
Is "shut up Shula" trending yet? #thearchers (@jackieschneider on Twitter)
There was no easy ride for Ambridge newcomer Charlie Thomas either, though some listeners predict "interesting times ahead".
I quite like the sound of Charlie. Is that very wrong? Please tell me before I commit myself. #thearchers (@MsAlliance on Twitter)
Inexperienced and as bent as a nine bob note. I'd trust him about as far as I could chuck him. (Christopher Brownbridge on BBC The Archers Facebook page)
Haven't we had enough of this petty squabbling and in-fighting within BL? We seem to get it every few years now and it's quite boring to some of us. This is TA, Not Dallas or Dynasty. (The Leech Pedlar on The Archers blog)
I love financial shenanigans, and Brian and Matt are past masters of the art.. Can't wait to see how the BL saga plays out, and will our lovely diamond encrusted Brian remain cock of the walk, or is he going daaaaaaan? (Strawberrywhip on The Archers blog)
This all seems very shady. The Aldridges are going to find themselves out of a farm by the end of the year. #thearchers (@ginandcrumpets on Twitter)
I liked the sound of Charlie.. the iron fist in the velvet glove. As Brian said.. interesting times ahead... (Caroline Stevens on Archers Addicts Facebook group)
No doubt inspired by Joe Grundy's musings, as Tom and Kirsty's wedding day draws closer, some listeners foresee clouds on the horizon, even if the sound of a skylark indicated otherwise.
When the lark above do fly, your Groom will leave you high and dry. (Janet Hitchen on BBC The Archers Facebook page)
Red sky in evening - Tony accidentally electrocutes all the pigs on Tom's wedding day. #thearchers #hogroast #dresscoveredindirtyhay (@slackalan on Twitter)
When the bride off does bog, Tom marries his hog (Alison Mccormack on Archers Addicts Facebook group)
Oak out before the ash - us is in for a splash. Ash out before the oak? Us is in for a soak. #OO #ARR #thearchers (@TreacleToo on Twitter)
Blissful end to #thearchers today as a skylark was heard singing overhead & all was suddenly right with the world. #thesimplethings (@AlisonEnticknap on Twitter)
Tayler Cresswell is The Archers' social media host
Join the conversation
Or join the discussions on Archers fan forums: