"I love Tracy Horrobin!" - listener discussions to 11 January 2012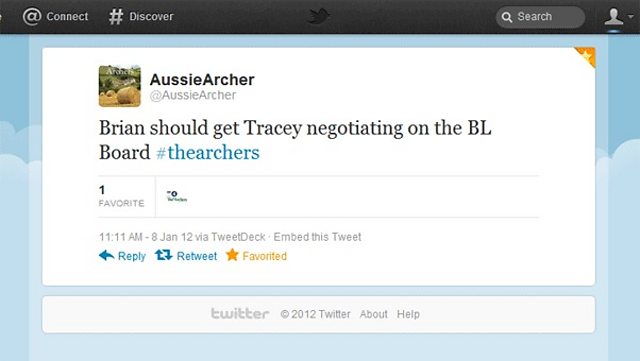 Is Tracy Horrobin out-manipulating Susan? Will Debbie and Brian get the mega dairy off the ground or will they be scuppered by adverse publicity?
Is Tony heading for a health scare, and as the new Grundys arrive home, what will Emma think of "Casa Nueva" being consigned to history?
Here's my pick of listener discussions on The Archers message board, Twitter and Facebook between 5-11 January 2012.

That Tracy Horrobin is "playing a blinder" when it comes to dealing with Susan and Bert. Will she - and should she - get her own way?
If she stays where she is, retains her thick skin, her natural reticence for effort, but stops short of being actively offensive, she could stay with Susan for months. (BlackSheepBoy)
I love Tracy Horrobin! I can't emphasise this enough. I love the sound of Neil's exasperation when talking to her! #thearchers (@mdransfield on Twitter)
Did I hear it right as blackmail from a position of absolutely no strength at all? Spend £X of YOUR money re-decorating, re-building, plumbing, electrics etc etc and I might move in??? Barefaced cheek. (DracsM1)
Would you want to move back home? Have your say on the message board

Debbie and Brian's mega dairy has sparked a heated debate about the issues involved. Most side with the naysayers and hope that the plans are thwarted...
I badly want Debbie housed on concrete - fed regulated amounts of processed food pellets and taken three times a day (not the usual two) - for a spin on a carousel suction device for say a year followed by another year living in a cottage where 'waste material' is sprayed right up to her front door and then tell us what a wonderful idea this is! (fellman)
I want Project Frankencows to go ahead, just so I can see it all come crashing down around Debbie and Brian's ears later #thearchers (@gingabeans on Twitter)
I'm with Adam on this - there's probably more money to be made from arable anyway over the next decade without any need to inflict such a monstrosity on the countryside... It's a huge gamble that probably isn't worth it. (Poorgrass)
There is a contrast in The Archers with the demise of Brokenfield's traditional style of dairying... They lose money with every litre produced. The fully capitalised so called mega dairy will have all the latest equipment methods and care facilities and will be run efficiently. From what I have seen it's not a battery system with animals tied into veal crates. (Lee Shore)
Should I stop eating meat if I can't afford organic / free range? Rubbish! I'm amazed at the nonsense the middle classes will spout in defence of their comfortable position. It's so easy to be considerate when you're well off. What about the rest of us?
(Freda Festive)
Add your thoughts to the What's wrong with the mega dairy? thread.

But who's leaked the story to the Borchester Echo? Adam is the hot favourite, while Andrew Eagleton, Pip, Jill and even Jennifer are suspects
I reckon it's Adam. In fact I'd bet on it being Adam #thearchers (@aboorer on Twitter)
It would be a good twist if Brian accused Adam of leaking the story only to find out it wasn't Adam after all. Think of the bad feeling then. There is nothing like injustice to make you really really fed up. It won't take much more to push Adam to the brink. (pigsrlovely)
Pip or her bloke is the grass. I hope. Come on Lynda! #thearchers (@SredniVashtari on Twitter)
I think it is JD [Jennifer]. Not on purpose but she is such a blabbermouth... (anna kist)
Tell us who gets your vote on the message board

After remarks that Tony was tired, listeners wonder if he's heading for a health scare...
The portents are piling up: Tony talks of being tired lately; Pat is feeling optimistic about their future. Does this mean he's going to pull his last leek in the next week or so? (Jacks Parakeet)
I think he's tired of Tom... Why go struggling on with all that hard graft just so you can leave it to such an ungrateful and insensitive brat? (Rose Sal Volatile Parade)
Add your speculation on the message board: How Long Has Tony Got Left?

On Wednesday, some listeners were touched that Jake and Mia were to take the Grundy name
mia and jake grundy... call me grandma, that's sweet, I love Clarrie #thearchers (@roifield on Twitter)
Ah Clarrie Grundy, could hear the tears in her eyes #thearchers (@Sarahurbanmum on Twitter)

And as "Casa Nueva" is consigned to history, listeners wonder what Emma will make of Greenwood Cottage? Some would love to be a fly on the wall when she finds out...
I'm liking the Will and Nic storyline but I'm not getting enough of Emma's sour grapes to make it really enjoyable. I was convinced she'd do something disruptive at the wedding. (Freddy Danby Appreciation Society)
I am more than happy for Emma's nose to be put out of joint on a regular basis. I bet she curses the day she decided to choose Ed over Will given he is financially secure and she and Ed are anything but! (Scarlett)
Join the debate on the message board

Tayler Cresswell is host of The Archers message board.