What's "Jazzer's mystical allure?" - Listener discussions from 14 to 20 Feb 2011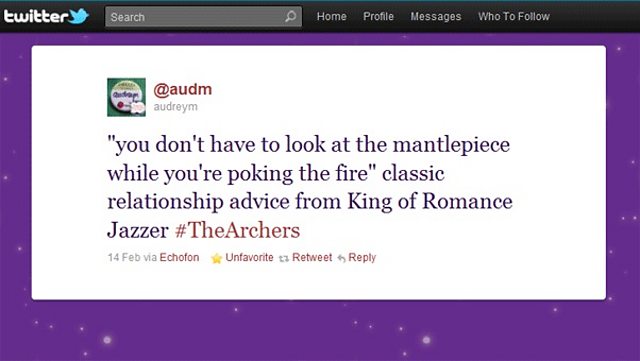 Sympathy for Ruth Archer; suggestions for Usha Franks' book club; outrage at Jazzer McCreary's dating tactics and plenty of talk about the Duchess of Cornwall's visit. Plus Kenton Archer gets a hard time on Twitter for upsetting Jolene Perks and a there's been a plea for more farming stories in Ambridge...
Here's my pick of listener discussions on the message board, Twitter and Facebook between Monday 14 and Sunday 20 February 2011...

Over at Brookfield, is Ruth about to reach boiling point? Many think it's about time she confronted Elizabeth about the effect of David's absence from the farm. And Monday's talk of a roll in the hay with David in the lambing shed certainly painted a vivid picture in some listeners' minds!
Oh lord, David and Ruth Archer have just scampered off to the lambing sheds for a shag. Cover my ears. (@52Betty on Twitter)
Possibly not a popular viewpoint, but my sympathies are all with Ruth. It's a particularly busy time at the farm and David's priorities should be there. (dickie)
Ruth, why don't you go and have a good moan at Elizabeth? Ruth's staggering jealousy at Chief dopey showing some concern for his bereaved sister is really amazing. How sorry does this awful woman feel ...FOR HERSELF! (SredniVashtar07)
Be fair - she put on her "sexy" voice and stripped down to her wellies in the lambing shed and she STILL didn't get her conjugals.... It's hardly surprising she's in a bit of a mood. (Boudicca Queen)

Pip's 18th birthday unsettled a few listeners - was it such a good idea to buy her a car? Pip and auntie Elizabeth's chat moved many, although some weren't impressed with Elizabeth's final doom-laden comment...
That's right Lizzie, depress poor Pip on her birthday. All downhill now she's 18... #thearchers (@revenante on Twitter)
I thought it was a good episode, with everyone acting in character for once, and I had a slight sniff at the end bit. (Lemon Sabotage)
I liked it too, Jill fussing over the puddings, Ruth gossiping with Usha - and a book club! (Our Freda)
Need to stop listening to #thearchers podcast in the morning. Keep arriving at work with tears in my eyes. Poor Elizabeth. (@BeingDoris on Twitter)
Read more on the I'm sorry, but thread

The Duchess of Cornwall's visit on Wednesday was hotly anticipated. Many were thinking out loud about whether they were going to listen in...
I love Camilla; well her persona, anyway and I am sooooooo excited about tonight's episode. If anyone phones me I shall let it go on the answerphone. Thassorl. c/lx (cat_lady)
actively boycotting #archers this evening (not that I listen every day) afeared I won't keep my supper down. Where are the republicans? (@sara_chimene on Twitter)
And after the broadcast...
I thought it was lovely episode and I really liked The Duchess of Cornwall! (Adrian Smith on Facebook)
I'd like to hear someone in Ambridge - anyone! - express either indifference or anti-royalist sentiments. I cannot believe that Jazzer would be particularly interested, and Peggy may well have views on divorcees marrying. Yet all we have is this fawning and forelock tugging, and as you say, it's really unrealistic. I'll bet that Jill is a closet republican! (JudithL)
The line about the visit being fabulous or whatever it was sounded genuine, though. I thought, 'Yup - there's a TA fan'. (Lady Macbeth)
Read more on the message board threads:
Have we stepped into Downton Abbey?
Camilla OK?

Was Kenton right to cancel his date with Jolene? Most thought not. Some wonder if it'll mean trouble for Jamie if Kenton eventually does get his feet under the table at The Bull.
Kenton is handling Jolene very badly. He'll tip her over the edge, right into Matt's property plans. #archers #thearchers (@thearchersfan on Twitter)
#Thearchers Kenton better not hurt Jolene, the "we love the Bull" gang will give him a good talking to (@annsusanballard on Twitter)

Harry and Jazzer's double date on Valentines Day had some outraged - Jazzer was deemed "obnoxious and sexist". Others admitted to laughing out loud at his comments. There's been some discussion about whether Jazzer's character has swung too far from the lovable rogue that tried to woo Fallon.

I still don't understand Jazzer's mystical allure. Smells of the sty, doesn't wash his bedsheets and shags any woman on the round who'll have him. Were I a woman of Grange Spinney or Badgers Leap I'd even buy my milk from Ambridge Organix rather than let that little toley near my doorstep. (afrend)
I like his character, he is certainly outspoken and some of his remarks can come across as rather shocking at times, but this is a great foil to some of the mealy mouthed, holier than thou smug types that inhabit Ambridge. Give me down to earth and plain speaking Jazzer anytime. (Tabitha Twitchit)
Read more on the I couldn't make out a word Jazzer was saying thread and the We asked for realistic dialogue thread

There's been an interesting discussion on the economics of farming in Ambridge on the message board with many sharing their own farming experiences...
The farmers are the heart of Ambridge. Even the veal story had promise, I liked the way it showed Vicky didn't have a real grasp on the situation, but it was very black and white (see what I did there? Subtle dairy calf pun) and lacked the depth it could have had. Though it did get people talking about rose veal, I will admit. (Our Freda)

And finally, Suggestions for Usha's Book Club continue to roll in:
Worr and Peace, Animal Farm, Cold Comfort Farm and Madame Bovine for Ruth (pan shoshana)
The old man and the pee for Mr Pullen (Nelson_G)
The Kate Runner (pan shoshana)
Murder On The Hollerton Express (Freda Fry)
Add yours to the DTA Book Club. Your suggestions... thread

Tayler Cresswell is host of The Archers message board.