'Revenge is a dish best served cold' - listener discussions to 15 May 2013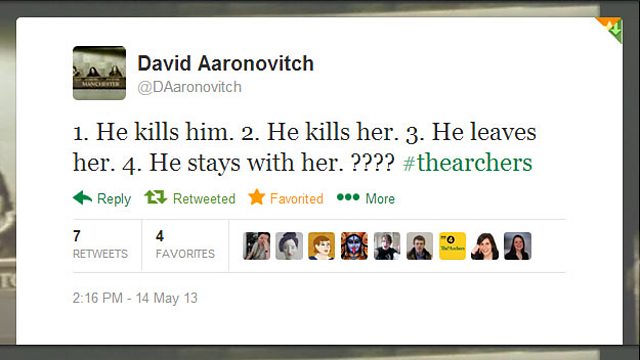 Post from @DAaronovitch on Twitter
Matt's next move and Pip's car troubles have dominated discussions this week. We've had all manner of guesses about what Matt's planning to do about Lilian and Paul, with everything from murder to marriage suggested. There were huge cheers for David for sticking to his guns over Pip's car loan. But they're not so happy with his "push-over of a wife".
Here's my pick of online listener discussions between 9 and 15 May 2013
As Matt Crawford takes his frustration out on his golf balls, listeners wonder if he will be serving up a dish of revenge – served cold? And who will be the target: Paul or Lilian? There's quite a bit of guess work going on…
"Lilian saw the work at Fawcett Magna," said Matt, quietly twisting his six-iron into a pretzel-shaped weapon. #thearchers (@RadioAmbridge on Twitter)   
1. He kills him. 2. He kills her. 3. He leaves her. 4. He stays with her. ???? #thearchers (@DAaronovitch on Twitter)      
See you in the A&E Paul. #thearchers (@HiggsBoz0 on Twitter)    
#theArchers Cluedo: Matt, with a golf club, in Paul's flat...  (@nj_hall on Twitter)    
I've got it! Matt's going to propose to her so any money she's got he gets to share when they break up! #thearchers (@SteveBrooks13 on Twitter)   
I'm still intrigued by the fate of the money and believe Lillian will lose it, either as a result of a nefarious plot by Matt or because she's sunk it into a riverside development where it might literally sink come the next wet summer. (slimpickins on Archers Addicts forum) 
[The trip to Turkey] might be a way of getting Lilian out of the way so he can arrange something nasty or devious to happen to Paul (this seems to be his style!). (Val Johnson on Archers Addicts Facebook group) 
Matt won't confront her. He'll get proof, then devise a dastardly plan for revenge. #thearchers (@skybluemandyloo on Twitter)    
Before they go off, Matt will wall up Paul in the new apartments and get Daryl to do the masonry work. No one will ever know! (Lynda Everington on BBC The Archers Facebook page)  
Daryl was the last person I thought of when it came to spilling the beans on Lillian & Paul's affair... Now I'm just waiting for the cat fight of the century (Tiger v pussycat)!!! (GJ Warner on this blog)
Oh come on - something's got to go right for Darrell - can't he get in into self-help/personal development and let the lion within roar?!!! (Kate Summerside on BBC The Archers Facebook page) 
I hope Matt doesn't hire Darrell as the hit man. He'll forget the bullets then drop the gun on his foot and break his toes before hopping off to blurt out the entire plot to Neil, who will just happen to be having a conversation with an off duty copper at the time. (Olafthe Lofty on Archers Addicts Facebook group) 
I hope they string it out. Revenge is a dish best served cold ... (Christine Wilson on BBC The Archers Facebook page) 
We've been inundated with requests from listeners volunteering to tell Pip Archer about Josh's loan for the hen business
#thearchers please can I tell Pip? Please, please, please? (@readyricecrispy on Twitter)    
@BBCTheArchers we should club together and send her a singing telegram #thearchers (@Ifwehadanyham on Twitter)    
@BBCTheArchers I'd walk there to tell her if that's any help? #thearchers (@janeskinner2 on Twitter)
Oooh Pip, KARMA-geddon is coming with your name on it. #thearchers #Pipgetscomeuppance (@LadyDanni1 on Twitter)    
David gets a big cheer for standing firm on helping his daughter buy a new car, but listeners are distinctly unimpressed with Ruth
Yay David! I was SO chuffed that he stood his ground and told her a few more home truths to that horrid ungrateful little manipulative brat. Here's hoping that when she goes sobbing to granny that she too holds firm. Poor Josh is going to get the full vicious onslaught I fear. Awesome and (sadly) realistic scenario acted perfectly. (Helen Sherwood on BBC The Archers Facebook page) 
I don't often cheer David on but I am now #thearchers (@DustySubstances on Twitter)   
Good for you David - you tell that spoilt little brat of a daughter ..... And stick to it. Don't let that push over of a wife persuade you otherwise! Pip needs to be taken down a peg or two. (Jill Nicholls on BBC The Archers Facebook page) 
Even my 8 year old was exasperated with Ruth today!! Don't just chuck Pip out David, get rid of Ruth at same time!! Then invoice them both for the petrol for driving them to Hollerton Junction to catch a train to Timbuktu. (Victoria Hogan on BBC The Archers Facebook page) 
Bet Ruth lends her some money on the sly. (Lowri Williams on BBC The Archers Facebook page)
#thearchers having to re-listen as that episode was so good! Pip's sweet & reasonable pitch for the £800 is the highlight of my year so far! (@broady964 on Twitter)    
The only way I think Pip 'might' realise what a little snot she's been is if Spencer grows a pair and confronts her with the fact that she's turned into a truly hideous individual. I doubt anyone else could through to the little madam.  (Marc Ng on BBC The Archers Facebook page) 
In other comments eyebrows are raised about Jennifer's taste in pasta, there's speculation about the strawberry pickers and praise for Lynda in the battle over the Highland Games…
Pasta quills Jennifer? Penne not good enough for you then .... Surprised you don't make your own #thearchers (@nosila_63 on Twitter)   
Adam's strawberry pickers are soon to arrive, will this mean the return of Pavel?? (Matt Collins on BBC The Archers Facebook page) 
What Jazzer did was great, but here's what makes me love Linda. I'm sure once she goes home and readjusts her nose (that was put out of joint) she'll throw herself 100% into Highland Games. Not many people would be that gracious in defeat. (Laura Jo Elzinga on Archers Addicts Facebook group) 
Tayler Cresswell is The Archers' social media host.
Or join the discussions on Archers fan forums: