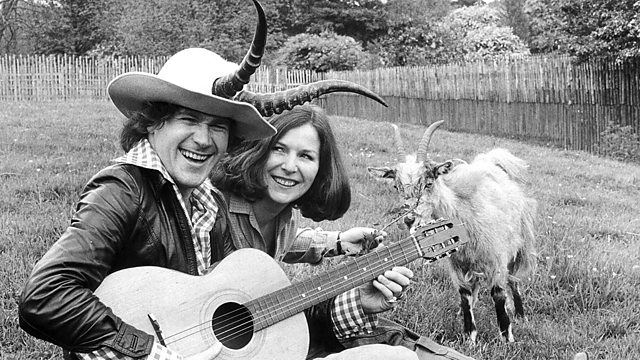 Trevor Harrison and Heather Bell (Eddie and Clarrie Grundy)
As Clarrie celebrates her 60th birthday in 70s style, we highlight some of the major moments in her life.
Clarrie was born on 12 May 1954, the daughter of Brookfield farm worker Jethro Larkin and his wife Lizzie. Clarrie was a bright girl but in 1976 she was made redundant from her job in a travel agency.
She found work as a domestic help in various Ambridge houses and has worked in the village ever since. In 1979, she started as a barmaid at the Bull. And since 1995 she has been one of the dairy workers at Bridge Farm (with one  break – 'eClarrie' below).
Clarrie and Eddie
In 1980, Jethro was outraged when Clarrie approached his boss Phil Archer and asked Phil to contribute to improving the kitchen in their tied cottage. The man contracted to do the work was a country music enthusiast called Eddie Grundy who wore a cowboy hat with horns. They had grown up in the village together, but Eddie looked upon Clarrie anew. A Chinese meal kicked off their relationship.
The following March, it looked like Eddie was about to propose. But the moment was interrupted by a phone call from local country music siren  Jolene Rogers (now Archer), who invited Eddie to make a tape with her. Clarrie feared that she had a love rival in the glamorous Jolene
Eddie borrowed from his friend Baggy to finance the recording. But Nashville didn't call and Baggy soon wanted his money back. Clarrie had received £500 from her mother's life insurance and offered to pay the debt – if Eddie would marry her. The ceremony was on 22 November 1981. Eddie was only ten minutes late.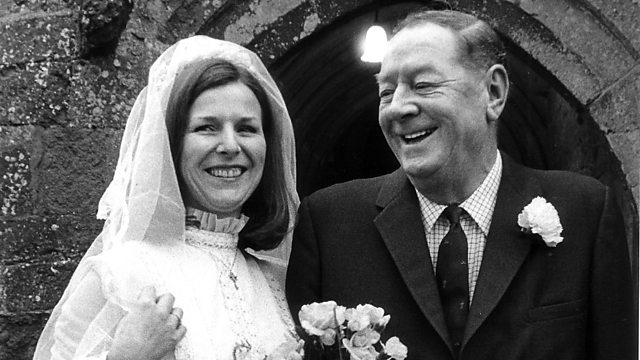 Heather Bell and George Hart (Clarrie and Jethro Larkin)


William and Edward
Clarrie moved in with Eddie and his father Joe at their ramshackle tenanted holding Grange Farm, and it wasn't long before she was pregnant. Now they had a lady in the house, Eddie and Joe fitted a new carpet in the parlour. But typically they cut corners and used off-cuts. Disappointed Clarrie decided to save up for proper carpet, hoping to get it fitted before the baby was due.
But any source of money struck Eddie as fair game. He helped himself to £10 of the carpet fund to spend on a night at The Bull. On his return, he and Clarrie quarrelled. Eddie stormed out and went to stay with his brother Alf in Gloucester.
Clarrie tried to carry on as normal. She continued to decorate the baby's room, look after Joe and run the household. She was so busy running between the nursery and the kitchen that she took a tumble and was taken into hospital.
In the middle of the night, Neil Carter was sent to Gloucester to find Eddie and bring him home. Very shaken, Eddie willingly came back to Ambridge and went straight to the hospital. Their row was soon forgotten and Eddie stayed by her bedside until they knew all was well.
Clarrie was in hospital for three nights and back home by the weekend. However she was told that she had to stay in bed and Eddie and Joe had to cope with the house. It ended happily. William was born a big healthy baby on 9 February 1983.
Their second baby was born in Great Yarmouth on 28 September 1984. Clarrie was there helping her sister Rosie nurse Rosie's husband. They named him Edward after his father.
L'Entente Cordiale
It was always a struggle at Grange Farm. In 1992, Clarrie persuaded Eddie to consider buying a farm in France. They took a tent across the channel for an exploratory trip. Although the idea of a farm soon fizzled out, it revitalised Clarrie's interest in les choses francaises.  She was a prime mover in getting Ambridge twinned with the village of Meyruelle and was part of the first delegation to visit.
She also struck up a friendship with the then head chef at Grey Gables, Jean-Paul Aubert. He even created a dessert for her: 'Delice Clarice'. Sadly Eddie assumed they were whipping up more than the occasional soufflé, and punched the chef on his distinguished nose. Clarrie was mortified.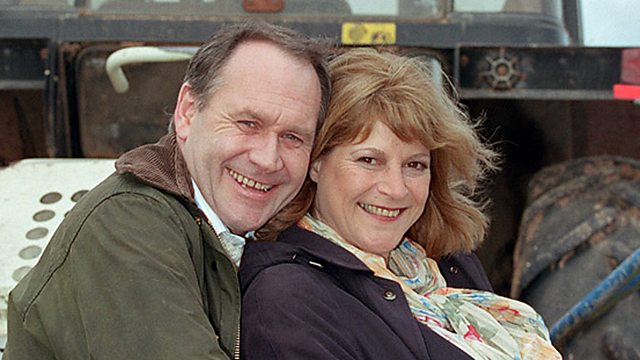 Trevor Harrison and Rosalind Adams (Eddie and Clarrie Grundy) in 2000
Eviction
Eventually Joe and Eddie lost their tenuous grip on Grange Farm. In 2000 Clarrie faced her lowest moment as the family was evicted and moved into a fifth-floor two-bedroom flat in Borchester's misleadingly named Meadow Rise estate.
Farmers without a farm, Eddie scratched around for work and Joe sank into depression. Ed went off the rails and started living rough in the woods. As the main breadwinner, desperate Clarrie struggled to keep the family together. Eventually Eddie managed to find them a house in Ambridge again: Keeper's Cottage, where they still live.
E Clarrie
That nadir was almost matched in 2011. Environmental health officers informed Clarrie's employer Pat Archer that an outbreak of E coli 0157 had been linked to Bridge Farm ice cream. It was soon traced to Clarrie, who had suffered an upset tummy when she was off work, and had miscalculated the statutory 48 hours before returning. The bug hospitalised several people; two children and three adults seriously.


Clarrie resigns over the E coli (Aug 2011)
In the storm of gossip and headlines, all Bridge Farm's products were tainted by association. Clarrie felt she had no option but to resign. Bridge Farm nearly went under. For a while Clarrie disappeared, terrifying the family until it transpired that she had sought refuge with her sister in Norfolk.
Pat and Tony eventually re-launched under the Ambridge Organics label. As business began to trickle back, they were able to re-employ a penitent and  grateful Clarrie.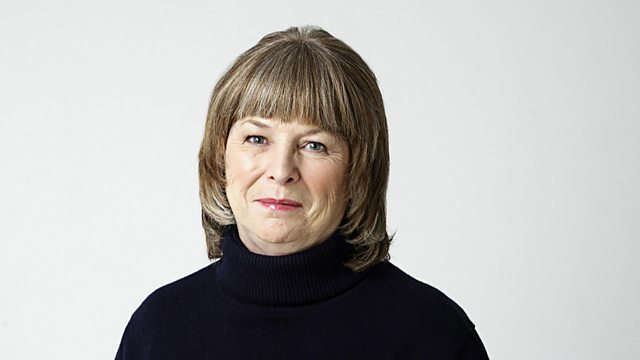 Heather Bell returned to the role in 2012
Clarrie at 60
As she looks back, Clarrie may feel she hasn't achieved much. As a mother, she hasn't been able to heal the rift between William and Edward. And Eddie will never be more than a few pints of cider away from a bonkers idea.
But there is a huge amount of respect and affection for Clarrie in the village. And, we suspect, much further afield too.
Keri Davies is an Archers scriptwriter and web producer
Read the full story of Bridge Farm, including its near collapse because of eColi
Read about Clarrie's one-time rival: Jolene – the Lily of Layton Cross
Learn more about Clarrie, Eddie, Joe, William, Edward, Rosie, Pat, Jolene,  Neil  - and the actors who play them – in our Who's Who