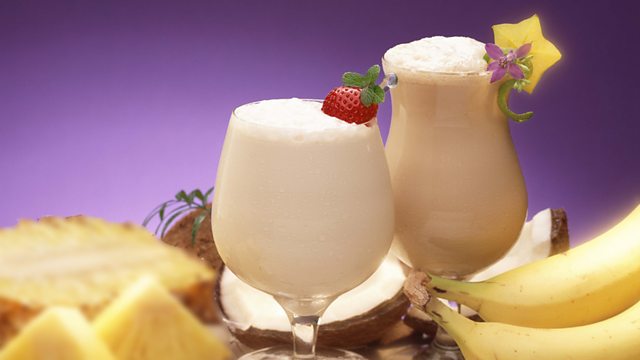 Cocktails
I wrote Sunday's script (9 February) in which Susan enthused about the Dirty Banana cocktails she had in St Lucia. 

The Archers: Susan remembers the Dirty Banana cocktail (Feb 2014)
This wasn't an attempt to get onto
Innuendo Bingo
on Scott Mills' BBC Radio 1 show (although clips from The Archers feature on that surprisingly often). The Dirty Banana is a real cocktail popular throughout the Caribbean. If you like your cocktails rich and creamy, almost like a milkshake, this one's for you.
Recipes vary, but these are the key ingredients:
1 banana, sliced
1 measure milk 
1 measure coconut cream
1.5 measures coffee liqueur 
1.5 measures light rum  
Some people use banana liqueur as well as coffee liqueur, and some use cream or ice cream as well as milk. You can also add a squirt of chocolate syrup if you like.
Whatever the recipe, the method is the same. You put all the ingredients in a blender with plenty of ice. Mix well and garnish with a pineapple wedge. A luxurious taste of the tropics for a gloomy winter's day.
It made a change from the usual sort of research I do for my scripts, which is more along the lines of "how exactly do you artificially inseminate a cow?"
Keri Davies is an Archers bartender – sorry, scriptwriter – and web producer.
More cocktail recipes from BBC Food