'Oh come on Helen, he is SO playing you' – Listener discussions to 19 February 2014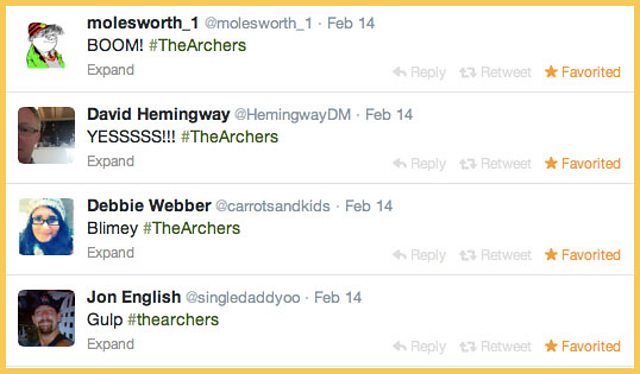 Jess visits Helen - the reaction on Twitter
Listeners let out a collective gasp – and the odd fist pump – as Jess showed up on Rob's doorstep for an unexpected confrontation with Helen. As for Rob himself, there's definitely something fishy about his aversion to tuna.
Elsewhere, there were concerns that the flood at The Bull hadn't just wreaked havoc with Jolene's wardrobe but also with her personality. No such worries with Jennifer whose snobbery is as evident as always.
Here's my pick of the listener discussions between 13 and 19 February 2014
Jess's appearance at Blossom Hill Cottage on Friday had EVERYONE talking - and "Jess" was trending on Twitter at the end of the Sunday omnibus.
Jess is at the door! My happiness is complete! #thearchers (@psalotti on Twitter)
BOOM! #TheArchers (@molesworth_1 on Twitter)
Blimey #TheArchers (carrotsandkids on Twitter)
This is ridiculous. I am hopping up and down with excitement at #thearchers (@Lucyvfreeman on Twitter)
Poor Helen @BBCTheArchers. She always seems to pick the rotters. (@LochanArts on Twitter)
@BBCTheArchers Alarmed the cat by shouting YES and doing a fist pump at that closing line! Brilliant!(@byetothecircus on Twitter)
So if Rob's not with Helen or Jess, who is he with on this ....oh so turbulent valentines night ?#thearchers (@budgie500 on Twitter)
@BBCTheArchers can you please broadcast Sunday's episode tomorrow? Can wait 2 days to hear what happens next. Go on, please! (@AngR100 on Twitter)
I hate to wish the day away but roll on 7pm...... (Dominique Simpson on BBC The Archers Facebook page)
Opinions were sharply divided by the time Rob had made his excuses to Helen: either he's a pathological liar or it's Helen's who's deluded – or maybe a little bit of both?
@BBCTheArchers Rob Titchener, what a man, fast thinking on his feet, he saves Jess's life and buys Helen a new bed. And he's still in there! (@Colin_AZ on Twitter)
Oh come on Helen, he is SO playing you! (Hex Tor on BBC The Archers Facebook page)
Nooooooo! He's pushed the Greg button! Downright & dirty tactics! Helen's gone to mush in his tentacular arms! #TheArchers @BBCTheArchers (@Cardifolderol on Twitter)
Coo - he's good. Really good. #thearchers (But where was he the night Jess came looking for him?) (@ElizabethBangs on Twitter)
I would say Rob was a sociopath wrapped in an enigma wrapped in a creep (Pogle Jones on BBC The Archers Facebook page)
@BBCTheArchers gosh he's wriggled out of it! HE HAS WRIGGLED OUT OF IT! (@ortrudethevegan on Twitter)
Such a manipulative swine, now he is trying to make her feel guilty! (Williams Catherine on BBC The Archers Facebook page)
He's tying me in knots! Angel or demon? I guess I'm not too good at judging charmers! #thearchers (@elizabeth_snook on Twitter)
Rob is obviously completely innocent. Helen is an irrational paranoid. Poor Rob. Surely he can do better than Helen? (Chris Kondic on BBC The Archers Facebook page)
The Rob discussions veered off in a different direction when he revealed his Kryptonite: tuna.
Can't stand the smell of tuna? THAT'S very telling. *scribbles furiously in evidence-gathering notebook*#thearchers (@jtwentyman on Twitter)
Will Rob try and drive Helen nuts, a la "Gaslight"? (I'm thinking about the tuna controversy. He knew it was included, he did hear it mentioned on the 'phone). (Nick Lacey on BBC The Archers Facebook page)
Rob should now be wearing the tuna pasta (Margaret Lang on Archers Addicts Facebook page)
Another master-class from Rob in the art of manipulation and cunningly making Helen feel worthless. The man is unbelievable! (Claire Kulagowski on Archers Addicts Facebook page)
Ah ha! We have found his kryptonite. Someone drench Helen in oily fish #thearchers (@SmithPeterScott on Twitter)
Although he is fictional Rob Titchener is probably the most hated man in Britain #thearchers (@MadeleineTeahan on Twitter)
Dampening the mood elsewhere in Ambridge, the flood at The Bull left some listeners concerned that Jolene was having a bit of a crisis over her sodden costumes.
Oh J'lene, there is no such thing as a lovely suede waistcoat, bone dry or otherwise. #thearchers (@janewright on Twitter)
What's Kenton done that's so dreadfully wrong? He's only made a mistake that anyone might make. That's no reason to treat him like a pariah. (Avril Rennie on Archers Addicts Facebook page)
More proof that rhinestones and cowboys don't mix... (Lucy Ireland on Archers Addicts Facebook page)
Jolene was the most laid back person in Ambridge.......whatever happened to her? (Linda Bryson onArchers Addicts Facebook page)
So sad to hear Jolene's character behaving and shouting completely out of her normal behaviour pattern - stressed or not, the Jolene we are used to is a calm, loving, humorous and insightful person who loves Kenton very much (felineazure on The Archers blog)
@BBCTheArchers I don't like listening to Jolene fight :( On the other hand man she must have REALLY liked that suede waistcoat.. (@Vikx993 on Twitter)
I think Kenton should take his pillow and walk out... I'd have him (Jane Willcocks on BBC The Archers Facebook page)
Just you lot wait till you begin to feel, rightly or wrongly, that the best bits may be behind you....in Jolene's case the stage gear is proof that she once 'was someone'. (Lorna McLaren on BBC The Archers Facebook page)
Get over yourself, Jolene. You've lost a few ancient cowgirl costumes, not your livelihood or your daughter…. (Nutmeg Cat on BBC The Archers Facebook page)
Giving "unconsciously hideous" Jennifer the chance to shine in all her snobbish glory, Clarrie's playful gossiping provided some welcome comedy during Tuesday's episode.
Clarrie exposes Jennifer for the petty snob she is! You could just hear her anxiety that The Natural Order Of Things would be destroyed if Susan had money! (Maggie Mumford on BBC The Archers Facebook page)
Oooh Clarrie, you little tinker  ; )) @BBCTheArchers (@Lol58Milne on Twitter)
"Four thousand five hundred? That's nothing." #thearchers Jennifer: unconsciously hideous (@RabTDog on Twitter)
I only wish Susan had won 500m to rub Jennifer's nose in it. Why doesn't someone mention her less than conventional past! (Jackie Woollam on BBC The Archers Facebook page)
@BBCTheArchers that was class #jennifersface (@dinsy on Twitter)
I liked the way Jennifer put down the underclass wasting money when they win the lotto, as she sits there in a £200 hair do. #TheArchers (@Airscaper on Twitter)
Tayler Cresswell is The Archers' social media host
Join the conversation
Or join the discussions on Archers fan forums: