'I've solved the mystery of the invisible wife!' – Listener discussions to 17 July 2013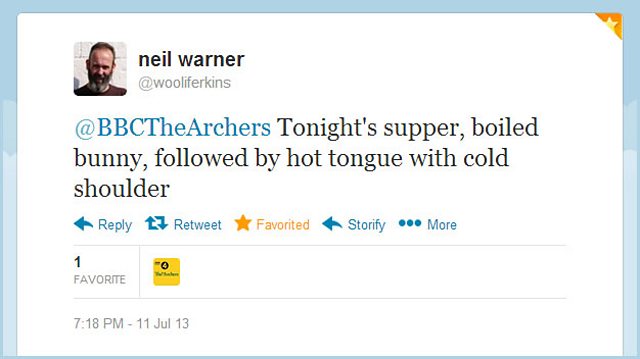 Post from @wooliferkins on Twitter
Wednesday's awkward dinner at Bridge Farm, Kenton's pensive mood and Thursday's "smorgasbord of delight" at the Swishing event all captured listeners' imaginations this week.
There was no sympathy for Lilian as she struggled at Amside. And as Brenda flew out to join Matt in St Petersburg – and Ambridge Extra - some wondered why "he's suddenly gone daft?"
Here's my pick of online discussions between 11 and 17 July 2013
Guess who's coming to dinner? As Rob arrives at Bridge Farm, listeners admit to feeling as uncomfortable as Tony… More wine Helen?
#thearchers This is a bit like "Guess who's coming to dinner?" Just as uncomfortable. (@languedoclinda on Twitter)  
@BBCTheArchers Tonight's supper, boiled bunny, followed by hot tongue with cold shoulder (@wooliferkins on Twitter)  
EEEEwwwwwwwwwwwwww!!!!! Helen and Titchy get a ROOM! #TheArchers (@clioclothed on Twitter)
Aww, Helen. I find it a bit cute, actually. #TheArchers (@kitty_gamble on Twitter)  
Rob the smarmy charmer makes friends with Henry. He is the type that would compliment your dog to get around you.  (Lynda Everington on BBC The Archers Facebook page)
Finally an Ambridgite poses the question we've all been asking for ages. Where *is* Rob's wife? #thearchers (@vencut2 on Twitter)
In a mental institution. Or maybe just in Rob's attic, like Mrs Rochester. I bet Helen really fancies herself as Jane Eyre. (Sarah Litt on BBC The Archers Facebook page)
I reckon she's left him and he is hiding it. Shifty if you ask me - Helen is going to be hurt....look out Helen" (Ruth Cook on BBC The Archers Facebook page)
Prison sounds most likely. Pat is very restrained - if I was making googly eyes at a married man in front of my mother I'd be clipped around the ear! (Louise Holohan on BBC The Archers Facebook page)
I've solved the mystery of the invisible wife!! She's a mail-order wife and hasn't arrived yet! *and collapses with relief* #TheArchers (@Septemberdaisy9 on Twitter)
Kenton's been in a thoughtful mood this week, prompting some to talk of buying a new hat!  
@BBCTheArchers rare display of self awareness from Kenton. Is he finally growing up? (@CEOHousingOps on Twitter)  
Kenton has a history of restless feet and I feel that a life in The Bull may be too restricting for him.. (Polly Tunnel on Archers Addicts Facebook group)
Kenton's going to propose....  OBVIOUSLY.  Can't wait for an Archers Wedding and he's my absolute favourite... And if my younger brother spoke to me with such disdain and disrespect he'd know all about it. David, wind your neck in! (Jane Willcocks on BBC The Archers Facebook page)
Yes, I hope Kenton will propose - he & Jolene are great together & are a rare non-square-bear adult Ambridge couple.x (Maggie Mumford on BBC The Archers Facebook page)
I prefer Kenton single I think. He's more fun! (Christine Wilson on BBC The Archers Facebook page)
New hats all round! Presumably for a Jolene wedding they should be cowboy hats though? (Thom Beckett on Archers Addicts Facebook group)
Sabrina Thwaite's ears were burning on Thursday as listeners discussed the Swishing fundraiser  
Sabrina Thwaite's a skiny minx???? I always thought 'voluptuous vixen' #TheArchers (@hugzee on Twitter)
Burgundy ankle boots, tie dyed kaftan it's a smorgasbord of delight down Ambridge way #thearchers (@marob23 on Twitter)
Muted Tomato? Embellished Vest? Swishing, or prog rock night? #TheArchers (@CulturalSnow on Twitter)
Listeners offered no sympathy for Lilian as she struggles to manage Amside.  
Am I the only one who snickered every time Brenda's out-going message came on - just knowing Lilian would be gnashing her teeth? ROFL (Manda Liversage on Archers Addicts Facebook group)
And the award for best dramatic performance in the shortest scene ever in the archers goes to Lillian for Brenda please call me #archers (@daviddunninguk on Twitter)
Let Lillian be an example to us all: never mistreat your minions. #TheArchers (@ginandcrumpets on Twitter)
Oh Lilian. Have you forgotten what being human means? Btw, loving the sass Brenda! #thearchers (@violacat1 on Twitter)
There was delight and trepidation as Brenda stuffs Vicky's parting gift, Ivan The Teddible, into her suitcase and flies off to some excitement in her life  
Rusher! And with Matt Crawford? Moike struggles to think beyond the horizon. #TheArchers (@SueHomeyard on Twitter)
But it might spice up her boring life - I say go to Russia and enjoy the experience Brenda! Then sue Matt after - if he gets out of the Mafia alive.... (then will go whimpering back to his Pussy Cat) (Helen Box on BBC The Archers Facebook page)
@BBCTheArchers I imagine leaving Ambridge is like the end of The Truman Show. Look out Brenda, you're abt to hit the backdrop! #thearchers (@lauradavies24 on Twitter)
Ivan the Teddible! #thearchers Vicki just keeps on getting more - well, more Vicki than Vicki. (@JasperBarry2 on Twitter)
Which brings me to Ambridge Extra. There's surprise at Matt's naivety - and state of undress as he meets Vitaly in the sauna – has all that Russian vodka gone to his head? And what are those Russians saying about Matt?
Don't scratch anyone's back Matt, let alone in a Russian sauna with echoey water drip sound effects. #ambridgeextra  (@katbrown82 on Twitter)
Eeeew Matt's naked THANKS AMBRIDGE EXTRA #ambridgeextra (@RhiannonLitt on Twitter)
Love the way they keep including whole Russian conversations. Nicely done #ambridgeextra (@PollyMcMichael on Twitter)
@BBCTheArchers Can we have subtitles with the conversations in Russian please. My knowledge isn't what is used to be (@sheilaherrando on Twitter) 
Worth listening to #AmbridgeExtra if only to hear Brenda having some fun for a change. (@Annette1Hardy on Twitter)
My god, that architect friend of Brenda's has one sexy voice! Oh yes Brenda, you lucky, lucky girl! Bye bye sausage man. (Pam Tonothy on Archers Addicts Facebook group)
I like the bold Brenda. But why has Matt suddenly gone daft? The thing I like about him usually is his sharpness. He needs to cut back on the vodka, though I fear it's too late. (Stephen Āh Burroughs on BBC The Archers Facebook page)
Did Matt leave his brain and common sense in Ambridge! #AmbridgeExtra #TheArchers (@juneh49 on Twitter)
I think he is just wanting to get back at Lilian ~ perhaps he is not thinking with his brain ~ and wants to show her how clever he is without her. I'm sure you're right about the vodka ~ it has been known to block inhibitions! (Jean Bell on BBC The Archers Facebook page)
I'm loving the Russian storyline!! Can't wait for the next episode of Ambex - Brenda will probably have to rescue Matt from the sleazy Mafia man tho - well the sky's the limit when it comes to what might befall them both!!! Bring it on!!! (Jennie Towan on BBC The Archers Facebook page)
Tayler Cresswell is The Archers' social media host
Join the conversation
Or join the discussions on Archers fan forums: