'Is David cursed or just evil?' – Listener discussions to 25 September 2013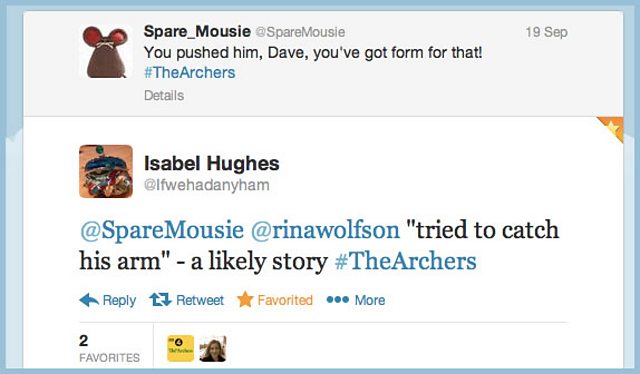 Post from @Ifwehadanyham on Twitter
After Joe's fall at Grey Gables' Mexican night, listeners play the blame game, and David Archer seems to be the prime suspect!
In other news, is Martyn going to get his comeuppance? Can Tom see past his ready meals? And we need to talk about Darrell...
Here's my pick of online discussions between 12 and 18 September 2013
Listeners were all dressed up for Grey Gables' Mexican Night but talk soon turned to #carpetgate and they wondered if it was curtains for Joe?
@BBCTheArchers *sinks into poncho* #thearchers (@lomelindi12 on Twitter)
Even as we tweet, Linda is trying to undo the only chance of real, drunken, tasteless fun that Ambridge will ever have. #thearchers (@paultrueman74 on Twitter)
The Grundys as the two amigos - makes you wish it was telly. #thearchers (@AWeltch on Twitter)
#TheArchers Oh no, hope this is not the end of Joe (@Mistress_Fiona on Twitter) https://twitter.com/Mistress_Fiona/status/380757088231620608
Ask not for whom the bell tolls - is Joe off to join Mr Pullen/Poor Ivy/Arthur in the sky? #thearchers (@gingabeans on Twitter)
Joe Grundy is the 'old timer' who has pearls of wisdom and humour. No one will take his place, love his voice and cheek. (Lynda Everington on BBC The Archers Facebook page)
Will be very unhappy if he doesn't make 100 (Gill Merrick on BBC The Archers Facebook page)
Was it David, with the carpet, in the hallway? Listeners suspect he was behind Joe's fall
First Nigel. Then Joe. Is David cursed or just evil? (Dave Yates on BBC The Archers Facebook page)
You pushed him, Dave, you've got form for that! #TheArchers (@SpareMousie on Twitter)
"tried to catch his arm" - a likely story #TheArchers (@Ifwehadanyham on Twitter)
Lynda sighs and removes her 'employee of the month' badge. Which she'd worn for approximately 5 hours. #TheArchers (@annemariewyley on Twitter)
Aw Lynda, bless your heart you poor thing. It was Ray's fault, and Oliver's and Joe's and David's fault, but not yours. #thearchers (@fairy_with_hair on Twitter)
@BBCTheArchers god I HATE Eddie and his grasping ways. None of this is out of compassion for his dad. I shouldn't be so bothered by this... (@HappyMandys76 on Twitter)
As long as Eddie keeps blaming Caroline and GG he doesn't have to admit that he knew how much Joe had to drink and should have been keeping an eye on him. (Sue Woods on Archers Addicts Facebook group)
Sue, Eddie, sue the pants off them. #thearchers (@penstemon22 on Twitter)
@BBCTheArchers 'Compensation culture' reaches Ambridge #carpetgate (@ewenmacgregor on Twitter)
Being anti-litigious is all very well, but realistically, the Grundies don't have the luxury of plenty of time. (Sally Owen on BBC The Archers Facebook page)
Accept graciously any ex gratia offer Caroline may make. Eddie, for haven sake stop talking about suing Grey Gables for every penny they've got. Just makes you look stupid and greedy. (Rosa on The Archers blog)
As Kathy finally resigns from her job at the Golf Club! Listeners are glad she's left, but they're still waiting for Martyn to get his comeuppance
@BBCTheArchers #TheArchers Please let this work out for Kathy ... new career, new man #happiness  (@sh52mjh on Twitter)
Martyn has achieved his goal... (Lorna McLaren on BBC The Archers Facebook page)
What a rotter!! I hope the gold club falls down around your ears Martin. (G J Martin on The Archers blog)
Do the arrogant toerag for constructive dismissal!!! (Teresa Turpin on BBC The Archers Facebook page)
@BBCTheArchers @BBCRadio4 Please let Martyn get drunk at Grey Gables and go upstairs with David Archer - before the carpet is tightened. (@Xanthippie on Twitter)
I do hope this story does not end here ~ it is important that Martyn is unmasked as a vile and manipulative bully. Many of us have already posted that Kathy should become the new manager of the Health Suite at Grey Gables, but her intimidation at the Golf Club should be made known to the B L Board. (Jean Bell on BBC The Archers Facebook page)
Yaay Kathy! Good for her! She can go to Grey Gables and take Roy's old job!!...wait till the revolution comes to Ambridge...the whole BL board will be the first against the wall! (Corin Warden on BBC The Archers Facebook page)
As Brenda arrives back in Ambridge, Tom goes from "zero to hero" – but most think he can't see what's happening right under his nose.
Tom, get on with it and kiss her already! #thearchers #catchup (@greebstreebling on Twitter)
I don't think Tom has much of a clue about women...he only understands ready meals... (Jeff Slade on BBC The Archers Facebook page)
@BBCTheArchers OMG he's gone from Tommy zero to Tommy hero in five minutes - who's he going to choose? #thearchers (@sewingsoooo on Twitter)
Oooh Kirsty made a hasty exit. Feeling a little hick like now that the glamorous Brenda is making a cameo in Tom's life? #thearchers (@LadySanni1 on Twitter)
I don't think for a moment he meant to hurt her. He is probably still thinking of her as a friend and he's far too self absorbed to see that her feelings for him are being rekindled. Despite the fact that it's obvious to everyone else (i.e. us!). He'd probably be really upset if he realised! (Cathy Simpson on Archers Addicts Facebook group)
Am I the only person who likes Tom? I hate his parents and his dimwit sister but I know he is destined to spend his life with lovely Kirsty. She always showed a great interest in his business and they will have lots of beautiful babies together....so there! (Wendy Stephens on BBC The Archers Facebook page)
And poor Darrell - having to deal with Eric and Shula. Listeners can't agree how to resolve his problems
Poor Darryl, I was afraid of this happening after intervention from Shula. Very well-meaning but displayed a remarkable lack of foresight and imagination. (Pauline Stroud on Archers Addicts Facebook group)
Only Daryl could mange to fall foul of the Homeless Godfather. #thearchers (@beckyblackbooks on Twitter)
Is it just me or is The Archers very depressing at the moment? Not much good news is there? (Neil Powell on BBC The Archers Facebook group)
There are points to be made about homeless people and the 'invisibles' in our culture but TA [The Archers] doesn't feel it can address them, all we get is Alan and Shula scratching the surface. (Crispin Taylor on Archers Addicts Facebook group)
One can hardly expect Darrell to be totally rational at the moment. He has not been eating properly and experienced sleep deprivation, is probably depressed. He is clinging on by his fingernails at the moment, and his faux bravado is his way of "whistling a happy tune". (Sandra Davidson on Archers Addicts Facebook group)
Perhaps some people have to reach rock bottom before they even realise how much they need help. I find Darrell's character very unlikeable but have sympathy with his situation. Not everyone who has been in prison can be a tough nut, some only survive by being submissive and keeping a low profile - I guess if you use that survival technique for long enough it's a difficult thing to change. (Olafthe Lofty on Archers Addicts Facebook group)
Tayler Cresswell is The Archers' social media host
Join the conversation
Or join the discussions on Archers fan forums: