'I love Lynda' - listener discussions to 23 January 2013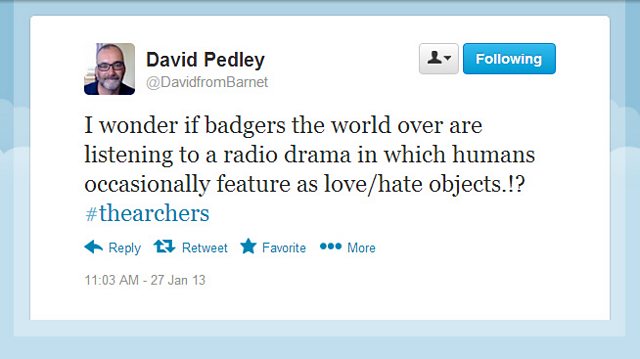 Post from @DavidfromBarnet on Twitter
Lynda and David aren't the only ones drawing battle lines over a wounded badger - listeners have their say.
At Willow Farm, Bethany is home from hospital and listeners debate what the future has in store for her, Mike and Vicky.
As Paul bids a tearful goodbye to Lilian, many wonder: is that it?
There's speculation about what's in store for Alan and Usha in Ambridge Extra.
And who would be your Desert Island Archer?
Here's my pick of listener discussions on The Archers message board, Twitter and Facebook between 17-23 January 2013
Badgers are back in Ambridge and it's Team David vs Team Lynda!
I love Lynda and I hate David. Thats all. (gillian54 on the message board)
I love Linda too but there are just too many badgers and it's about time they were taken off the protected list…  Good for David, I'm just amazed he hasn't secretly reduced the number of badgers on his land. (Ira Scible on the message board)
She's well-meaning, yes, but very naive. David may have seemed harsh, but he's being realistic. (JudithL on the message board)
So it appears we are overrun with badgers, the majority of which have Tb and cause those poor farmers who only have the best interest of their pampered cows at heart? Does anyone really believe this? (frederica on the message board)
Have your say on the I love Lynda thread on the message board 
With Bethany Claire Tucker home from hospital, listeners wonder if Mike and Vicky made the right decision in having her, and whether they will face any negative views from people in the village
I am sure Bethany's immediate family is thrilled that she has arrived safely … but at the same time there must be at least a tinge of sadness that she has DS and that her life is consequently going to be more challenging. It would be nice to see that being acknowledged - because what parent would wish a life full of additional challenges for their child? (Mieteka on the message board)
Perfect? Good for Vicky, I'm with her on this one. It's all about bonding, isn't it? (Nessa Brodgar aka SixtiesRelic)
I think it is good that they are focussing on the baby not the condition. (Ginslinger Redux)
I have a daughter with autism. I am pleased to see disability finally being recognised own the programme, and that it isn't being portrayed as unmitigated gloom. Yes, there are grim times, but the birth of a child - unless there are immediate issues - is a time of hope and joy and I'm glad that has been recognised. (Vicarshusband on The Archers blog) 
Join the debate on the What does 'she's perfect' mean? thread on the message board  
Has Lilian really finished with Paul? Is their brief encounter doomed to be just a memory?  Listeners are divided over whether she's made the right choice – and many think there's more to come
Lilian is about to realise she can't have her cake and eat it. #TheArchers (@FreakHedd on Twitter) 
o'eck Lillian you've broken his heart :( #thearchers  (@williamshankly on Twitter)  
@BBCTheArchers wrong decision Lillian, wrong, wrong, and wrong brother. (@KatyEasey on Twitter)  
I rather hope Paul turns up at the Dower House and Matt puts him out of our misery. (Feral Raph on the message board)
Paul couldn't possibly keep Lils in the life-style which she could - arguably - pay for. She likes being pampered including being wined & dined. She doesn't really love Paul but her relationship with Matt's going through a fallow period. Anyway that's what I think (exxers on the message board)
Don't forget there was a part of "Tiger" than Lillian couldn't resist wasn't there? He was a bit of a bad boy, a risk taker, someone she could cackle with conspiratorially over her G&T n fags, I think he still has a bit of that hold over her (Kate Summerside on Facebook)
It's not the end Or is it? Read more on the message board.
As Ambridge Extra moves on to its final storyline of the series, vicar Alan Franks looks like he's in for a tough time
 While I was dreading Alan & Usha featuring for the final stretch, yesterday's episode was - genuinely - very good. A storyline that would be out of place in The Archers, but one which really promises some much deeper exploration of Alan's character, and an issue that is interesting and has the potential for some strong and searching dialogue. (Mustafa Grumble on the message board)
I am gripped by the story. I hope Usha will be supportive over Alan's efforts to help Michael after all she put up with a hell of a lot of unjustified abuse from Amy she should not object to something which is so clearly part of Alan's job. That said alcoholics are very hard to live with… I am really looking forward to next episode. (Dailyfix on the message board)
I like the sound of this vicar. He could be an Anglican Father Jack. #ambridgeextra  #thearchers (@BorsetshireEcho on Twitter)
I think Archdeacon Rachel has great dramatic possibilities… and would be more than happy to hear of the ecclesiastical shenanigans of Borsetshire in future series of AmEx (ermintrude on the message board) 
Read more on the Ambridge Extra topic on the message board 
And I'll leave you with a selection of listeners' 'Desert Island Archers'
Imagine yourself stranded on a desert island with no hope of rescue, you choose one character from The Archers to keep you company, who would it be?  (Isobel on the message board)
It has to be Matt or Brian - at least their one liners would keep me laughing. (LaughingGas on the message board)
Lillian we would die quickly but have a laugh on the way (Kate Aspin on Facebook)
Kenton, we could build a hut out of banana skins, coconuts and have fun. (Lynda Everington on Facebook)
Easy peasy, Brenda, she's always good in a crisis and I'd be saving her from life with Tom and his sausages. (Clare Slee on Facebook)
This is so hard, I keep changing my mind. Can I take 3 and leave it to chance which one is saved when Kirsty's wave washes over the beach? (Vicky S on the message board)
Read all the Desert Island Archer choices on the Fantasy Archers thread on the message board and on our Facebook page.
Tayler Cresswell is host of The Archers message board.