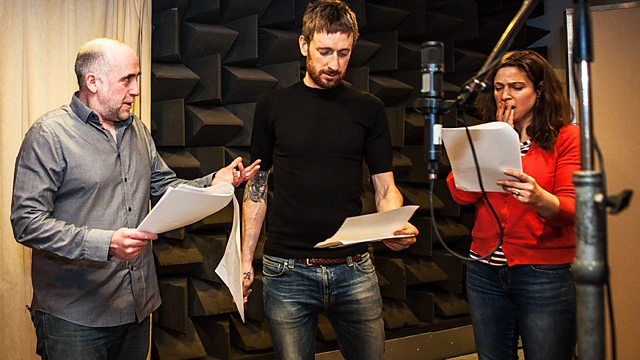 Stephen Kennedy (Ian), Sir Bradley Wiggins and Joanna Van Kampen (Fallon)
On meeting Sir Bradley:
Carole:  "He was delightful – and it was a thrill to get his autograph! He seemed rather shy and quiet, but always listening and utterly focused." 
Joanna: "It was a privilege to meet someone from a completely different world to me, who's at the absolute top of their game. There was a real buzz in the studio. This experience is one of the reasons I love working on The Archers. It was quite special."
Ian punches Rob in front of Sir Bradley Wiggins (Mar 2014)
In the episode, Sir Bradley's arrival causes Lynda Snell to lose control of her bike, and Carole Boyd herself admitted to being "quite in awe."
Carole also recalls the amusing ice-breaker moment when everyone introduced themselves in the green room:
"He asked "which one is the bossy one?" I said "I think that must be me.""
Thoughts about celebrity cameos:
Carole:  The real world meets Ambridge – it's what we have over other soaps. There's an outlandish reality to it – after all, why shouldn't Bradley Wiggins come to Ambridge?!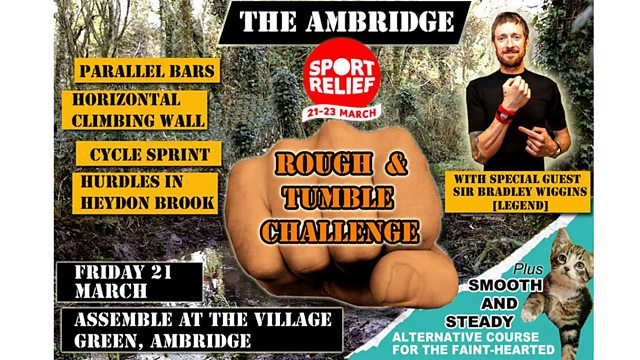 On the Sport Relief storyline:
 
Joanna: "It's a very funny episode and was fun to do. I think the listeners will really enjoy it – particularly those moments where things don't go quite to plan!"
Carole: "It has been wonderful building up to the episode – playing the genuine excitement from Fallon and co. Lynda challenging her so obviously makes it easier for Fallon to keep her mouth shut about the mystery star guest.
…and anything which involves Lynda falling off her bike – a running gag – is always a good thing."
The read-through of the script brought much amusement too, as Lynda tried to guess Bradley's identity before the big reveal, initially assuming 'he' was going to be a 'she'.
 
In the script, Bradley is described as wearing a smart 'Mod' suit. In the studio, though, it was a more casual affair. Speaking of dressing up – don't the cast look fetching in their Sport Relief t-shirts and headbands?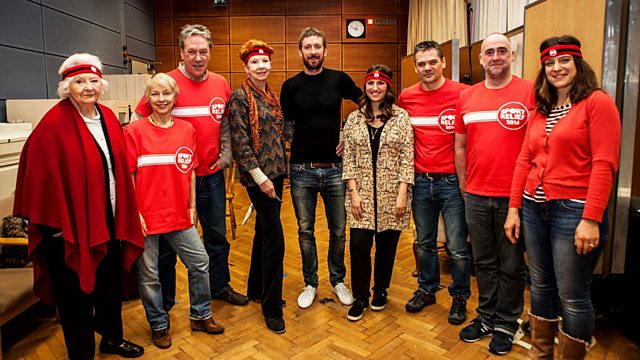 L to r: Patricia Greene (Jill), Felicity Finch (Ruth), Timothy Bentinck (David), Carole Boyd (Lynda), Sir Bradley Wiggins (Himself), Louiza Patikas (Helen), Timothy Watson (Rob), Stephen Kennedy (Ian) and Joanna Van Kampen (Fallon)
Kim Greengrass directed the episode in our Birmingham studio. Here's what she made of the recording, and working with Sir Bradley:
"Welcoming a celebrity visitor to Ambridge is always an exciting occasion and we were thrilled that Sir Bradley obviously felt so at home in studio. If he was at all nervous about his first taste of acting, then it certainly didn't show.
 
The amount of movement and physical action involved in radio acting is often a surprise to those new to a drama studio, but Bradley soon got into the swing of things, laughing and joking with the cast and crew as he worked.  He even tweaked a few of his scripted lines to make them more 'himself'.  And I think he was quite amused by the tatty old bike which we use for sound effects.  It doesn't even have a saddle, so it's not quite up to Sir Bradley's usual standards!"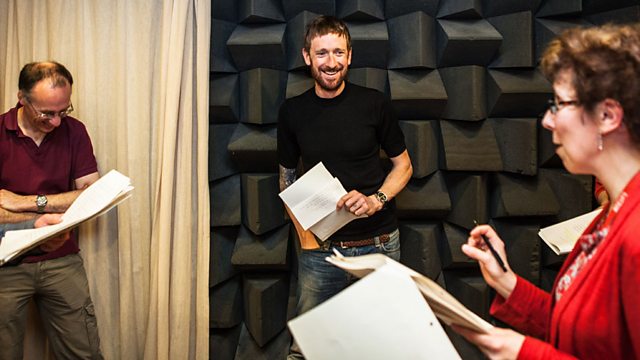 Bradley shares a joke with the director and crew
Archers Editor, Sean O'Connor, was as chuffed as Fallon when Sir Bradley was confirmed to appear: "His visit is a wonderful collusion of two huge and much-loved British icons. We couldn't be more thrilled to have him in the programme. It'll be a real treat for listeners and sports fans alike - and all to mark a great charitable cause." 
Finally, here's what Wiggo himself had to say about his appearance:
"When I was asked to record a
Sport Relief
special for The Archers, there was no way I could turn it down. I grew up with it on the radio in the house, and it's not every day you get to star in the world's longest running soap opera!"
"Meeting the cast, the writer and the director was an honour and I really hope the story line will raise awareness about Sport Relief's amazing work, and that it shows people that everyone can get involved in Sport Relief this year."
 
Sport Relief - get involved
Catch up with The Archers
Follow BBC The Archers on Facebook and Twitter