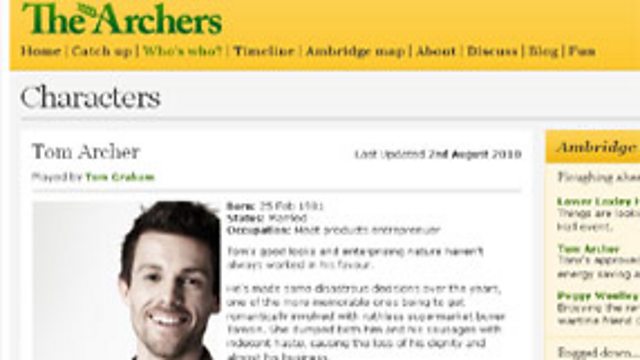 Welcome to the new official website for The Archers.
We hope you'll find that it has all the information you need to get the most out of The Archers, presented in an easy-to-use way.
To familiarise yourself with everything that it has to offer, we recommend that you take the site tour
If you're a user of the old site, you'll recognise many of the features, although they have been spruced up a bit. But there are some completely new areas too.
Blog
One of the most important is this blog. This will be the main source of news about and concerning The Archers (like our old Backstage News area). But now, you can respond directly to the news items using the comments box at the bottom of every post.
Discuss
There are more opportunities to discuss the programme - or see what others are saying - via our Discuss page, which summarises conversations both on out own message board, and elsewhere, such as Facebook and Twitter.
Feedback
Do tell us what you think about the new site. We are currently making some updates and corrections to content, and we'll continue to make improvements in the light of your experiences.
NB - you can get these blog posts delivered (free of charge) to your computer, without having to come back to the site every time. The panel on the right: 'Subscribe to The Archers blog' tells you how.
Keri Davies is an Archers scriptwriter and web producer.