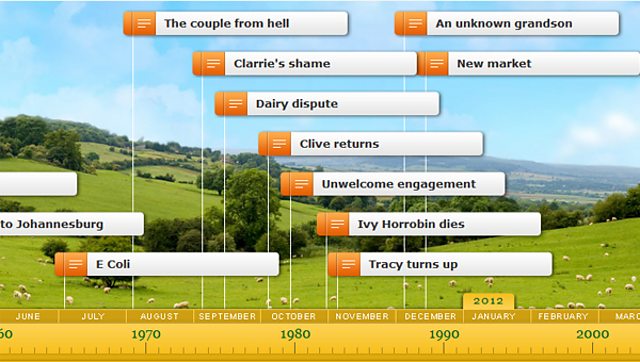 We've updated The Archers Timeline with the main events from 2011. It's been a busy year, beginning with Nigel's death - and of course Henry's birth - and closing with the emotional upheaval caused by the discovery of John's son Rich.
Along the way Ambridge was visited by royalty and by a rather less welcome Clive Horrobin. Farming was to the fore, with E coli and a mega-dairy proposal creating ripples all over the place. And there were lots more stories, big and small.
The Timeline lists the major events in Archers history right back to the beginning of the programme in 1951. It's well worth a browse to remind yourself about stories you heard in the past - the time when Ed saved Emma's life, perhaps. And go back even further, to discover what was happening in the village before you started to listen - Kenton joining the navy, or Nelson Gabriel going into the casino business, for example.
And if you want an even more thorough summary of Ambridge history, may I recommend the 'diamond decades' blog posts I wrote in the run-up to the 60th anniversary, which contain an even greater wealth of storyline detail.
Keri Davies is an Archers scriptwriter and web producer
Browse The Archers Timeline
Read the 'diamond decades' blog posts
Picture shows an extract from The Archers Timeline