'Go on Helen, tell Jess - We're right behind you' - Listener discussions to 20 November 2013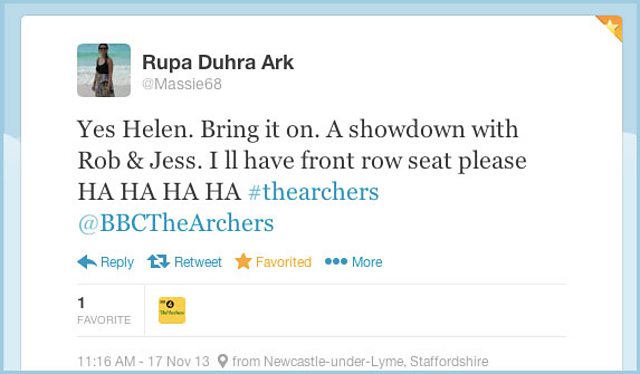 Post from @Massie68 on Twitter
Oh dear Helen. Listeners urge her not to tell Jess about her affair with Rob, but in the same breath, they hope she'll spill the beans! Some suspect Rob may face further dramas at Lynda's panto rehearsals. 
Over at the Stables, there's a welcome home for Daniel. But when it comes to Darrell's wellbeing, Ambridge is found wanting.
Listeners are divided over Ed's run in with Will – who is worse? And as Brian turns 70, many wonder if his philandering days are over…
Here's my pick of online discussions between 14 and 20 November 2013
As Helen threatens to tell Jess about her affair with Rob, most listeners agree it's a bad move, but some can't help wanting her to spill the beans
@BBCTheArchers He deserves a whole lot more, but Jess doesn't & it wouldn't help Helen. She would appear vindictive & petty -  just a mo ...  (@busydawn on Twitter)
#thearchers Bad idea Helen. But then they are your speciality. (@SteveBrooks13 on Twitter)
This is going to lead to one almighty Christmas mess! Bring it on! (William A Tyler on BBC The Archers Facebook page)
A showdown with Rob & Jess. I'll have front row seat please HA HA HA HA #thearchers @BBCTheArchers (@Massie68 on Twitter)
Oh go on Helen, tell Jess. We're right behind you. #TheArchers (@Airscaper on Twitter)
She fell for the "my wife doesn't understand me" line she knew he was married I don't understand how she has the nerve to complain or cry on people's shoulders she has no shame. (Trish Taylor on Archers Addicts Facebook group)
Hooray for Kirstie talking sense on @BBCTheArchers - Helen is sending my blood pressure through the roof (@kathycaton on Twitter)  
And while most have little sympathy for the adulterous pair, some think there may be a future for her and Rob
Helen and Rob are made for each other! Jess may turn out to be one of those people who give all their time and attention to anyone in need, except their own partner... (Lorna McLaren on BBC The Archers Facebook page)
As Kirsty faces the prospect of a love duet with Rob, listeners suspect it could lead to yet more complications…
Only in Ambridge would yr girlfriend have to sing a love duet with the two-timing rat who cheated on his wife with your sister. #thearchers (@hannahbeckernan on Twitter)
It's going to be the best panto ever! (@olympians on Twitter)
I think Kirsty and Rob are going to fall for each other despite everything!!! (Christine Wilson on BBC The Archers Facebook page)
There's a warm welcome home for Daniel. But there's a big debate over whether he being selfish about not wanting Darrell around
New actor, old name 'Dan' #thearchers those are some shoes to fill (@Dark_Blue_Box on Twitter)
@BBCThearchers….Daniel sounds quite dishy… (@SarahBrummitt on Twitter)
Perhaps Dan's being a bit selfish. He's a boy who has everything... He's living a charmed life that boy. Parents who earn far above the national average; he can horse ride when ever he pleases. Spoilt brat (nicely played by the actor by the way) (Barbara Bates on BBC The Archers Facebook page)
@BBCTheArchers frankly it sounds like a great opportunity for Dan to learn the world doesn't revolve around him! (@ktwill1 on Twitter)
Maybe if Darryl can get a decent hostel place then he can access some help but NOT because spoilt 'Dan ' is throwing a hissy fit! (Trisha Lesley McCarthy on BBC The Archers Facebook page)
@BBCTheArchers Shula needs her head testing #DarrylOrDaniel - no contest .... DANIEL.  HE'S YOUR SON YOU STUPID WOMAN. (@briansmylie on Twitter)
Shula is never going to get back that moment in time when Dan needed a hug and the love and comfort of his mother. And Dan is justifiably upset that Darrell was her priority. Darrell tore his own family apart and I don't want to see him tear the H-L's apart too. (Claire Kulagowski on Archers Addicts Facebook group) 
#thearchers If I were Shula I'd ride off into the sunset on Topper & leave them all to it. (@feistyoatcake on Twitter)
Well off Ambridge-ites are found wanting when it comes to helping Darrell…
Once again the haves have no time for the have nots. Shame on you Lillian Bellamy #thearchers (@Anne_O on Twitter)
I feel really uncomfortable with this - why is Jill being so mean too - Shula is the only one out of that mean lot to offer hand of friendship and support I feel let down by Alan Usha et al (Annie Gardiner on BBC The Archers Facebook page)
I'm with Jill on this one. Darrell just ruined the atmosphere at Dan's birthday meal and is very volatile. Who knows what else he might do? Shula - listen to your Mum - she knows best. (Sue Prosser on Archers Addicts Facebook group)
There MUST be an outbuilding on farm land + comfy chair and warm bed. Club together for a small old caravan? Is it too much to ask for a fellow human being? Anywhere dry and warm. Come on Ambridge!!!! (Jill Read on BBC The Archers Facebook page)
They're all a load of NIMBYs apart from St Shula!! (Lynn Aconley on BBC The Archers Facebook page)
I hope Darrell finds help and a flat somewhere else! I'm tired of him and his problems. Most of all I'm tired of him not doing one damn thing to help himself. (Moya Stone on BBC The Archers Facebook page)
It is surely time that Darrell is admitted to a psychiatric hospital. He is suffering from depression and needs professional help ,drugs etc that can only be given by professional staff? (jaywex on the BBC blog)
There's trouble on Borsetshire land as Ed Grundy squares up to his brother Will. And listeners are quick to take sides
Oh joy!  It's Wiwyum.  Great! #thearchers  Ooh, punch up coming. #ed (@languedoclinda on Twitter)
So Ed thinks cos times are tough he can threaten people. What a nasty little man (@HiggsBoz0 on Twitter)
When is Ed anything else but ferocious, should have stayed with Fallon not gone for the glamour grabbing Emma (Ian Johnson on BBC The Archers Facebook page)
I know Ed gets angry but Will is so smug! he deserves a slap, he just wants to see Ed fail. Will's the nasty one. (Zoe Eaglesfield on BBC The Archers Facebook page)
@BBCTheArchers Ed is right to be mad. Will has the empathy levels of a hyena. (@Kay_GravitasPR on Twitter)
I think Ed should call it a day with the heard it's just not worth all that effort for hardly a living wage. Sell up have a few pounds inyour pocket with your background you would walk into a job at the mega dairy. (Keith Rawlings on Archers Addicts Facebook group) 
Will the brothers Grun still be locking zimmer frames when they're Joe's age?! Not sure I can cope! #thearchers (@LuciferEllis on Twitter)  
And finally, it's happy birthday Brian! But has Jennifer finally tamed him?
What a lovely birthday. Debbie's present to Brian was priceless.."Some other important events that happened on that day"! I'm opening his Cognac and having a mini lamb-burger.... anyone fancy one? (Andrew Owen on Archers Addicts Facebook group) 
Is Brian suffering from amnesia and forgotten all of the affairs he has had whilst being married to the 'wonderful Jenny'… #thearchers (@skillsacademic on Twitter)   
Oh look Brian. Is that a candle for every indiscretion? #TheArchers (@peptalkfanzine on Twitter)
His womanising days must be truly over (Estelle Seymour on BBC The Archers Facebook page)
Tayler Cresswell is The Archers' social media host
Join the conversation
Or join the discussions on Archers fan forums: