"Come on Peggy, your country needs you!" - Listener discussions from 10 to 13 Feb 2011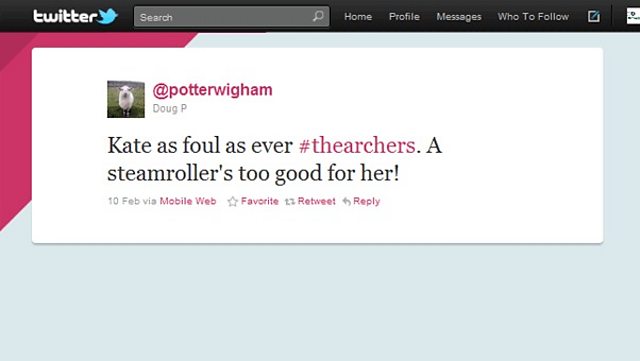 Kate Madikane's "arrogance" and dependence on the "Bank of Brian"; The Duchess of Cornwall's impending visit; Matt Crawford's dastardly plans for The Bull and Helen Archer's "transformation" and the Felpersham science museum... here's my pick of listener discussions between 10-13 February 2011.

Kate dominated discussions on Thursday night with umpteen tweets and comments. Does/should she pay anything towards Phoebe's upkeep? Does Brian? Why does Kate expect everyone else to pay for Phoebe's presents and flight to SA? Perhaps Roy should call her and Phoebe's bluff and offer to send Phoebe off to SA for good?
When IS that appalling female going to get her comeuppance? Come on, Peggy, your country needs you! (mountetna2)
Here we go again, kate being a spoilt brat as usual and selfish, #thearchers (@ beckyballball on Twitter)
Vile, horrid Kate; I was convinced that there was something 'odd' going on between her and Lucas before Christmas. Let's hope that she has been deceiving everyone like the wicked, manipulative rascal that she is. (By heaven, I wish I could swear on these MBs...) (thecynic)
And Phoebe sounds to be going the same way. Poor, poor Roy and Hayley (especially Hayley). (StargazerwithOscar)
Read more on the message board threads:
"So what if Phoebe has a few days out from school"
Kate and her &*&*& arrogance
The Bank of Brine

Matt Crawford's designs on The Bull have many wondering if the pub's days are numbered. What will happen if Lilian doesn't want to sell her 51%?
Ooo that Matt's a bad 'un. Don't do it Jolene #TheArchers (@carlylou on Twitter)
I hope that Jolene will sell up and that the pub stays with new landlords. She is a hopeless businesswoman - not a single fresh idea - has to wait for others to come up with them. People often move on when their partner dies so why shouldn't Jolene? (anna kist)
Find out more in the Small row of mews cottages thread

Chat about the Duchess of Cornwall's impending visit has continued. Many wondered where the Ambridge republicans were hiding, why no one referred to HRH as "Camilla" and what would become of Ian's now infamous shortbread? Many on the message board gave themselves royal titles for the duration and we saw a few Earls, Dukes, Ladies and Countesses!

Lynda Snell's attempts to make sure she had a ring-side seat for the Duchess of Cornwall's visit had some laughing out loud. Others felt sorry for Lynda and felt that she was acting out of character over the Duchess' visit.
Read all the opinions in the Lynda is Priceless! thread

New mum Helen Archer's character is still being debated as her storyline progresses. Most bemoan the loss of the Helen they loved to hate and want her back. It's been noted on the message board that whether it's good Helen or bad Helen, she still riles many, particularly with her attitude to Tony.
The village is full of more-or-less coping 'normal' mothers, why on earth do they need yet another one, especially when former, real, Helen would be such a rich vein of imperfect mother stories? (Tadpole)
That smug, condescending comment by Pat about how wonderful it was that Helen was now house-slutting around like the rest of us made me SOOOOOOOOO cross ... as far as I'm concerned the programme is depressing me greatly and I can't do anything about it because I'm addicted. Where is my light and shade coming from? (Dusty Substances)
I like the storyline. Having a child can change one's attitude to the world and others and I see this as a positive development. It's good to have a happy storyline, for a change. On the other hand, there is always the possibility that some little thing may push Helen over the edge and this means there is still some tension in the Helen scenes (for me, anyway). (mike)
Read more in the *Why* the transformation of Helen? thread

Message board folk were surprised to hear that there was a Science museum in Felpersham, but came up with a few ideas for suitable exhibits...
The Gyrating Lilian machine, an early precursor to the Spinning Jenny, I believe, and the only one of its kind. Built in, er, um, ... well before the other machine anyway and powered by recycled gin. (cheshire-cat)
The science museum also contains models of how not to cut tree branches (courtesy of J. Larkin) and how to shoot badgers without being caught (loaned by A Local Farmer). (maggiechow)
Roll up, roll up for a tour of the science museum in Felpersham

Tayler Cresswell is host of The Archers message board.