"Lizzie cracks at last" - Listener discussions from 3 to 6 Feb 2011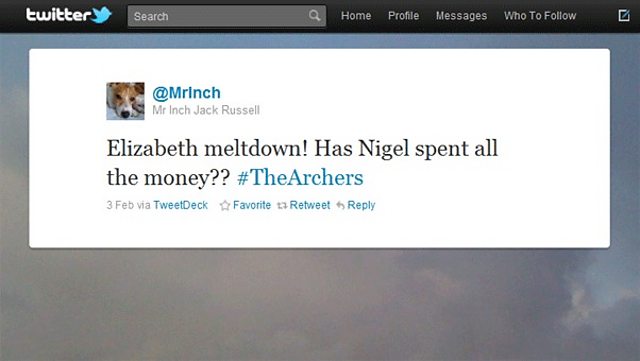 This is my pick of discussions from The Archers' listeners between Thurs 3 and Sun 6 February, from Elizabeth Pargetter's outburst, David Archer's guilt and Kenton Archer's future to Helen Archer's not-so-perfect motherhood and Kathy Perks' lonely birthday. Comments about The Archers' 60th anniversary are still colouring conversations across the message board, Facebook and Twitter as well as The Archers' blog.

After Elizabeth's outburst on Thursday 4th, many were relieved to hear that she'd stopped bottling it all up. And whilst they've all been waiting for a revelation from David about his "man or mouse" comment, some think he'll never tell and the guilt may eat away at him for some time to come. Perhaps it's time for David to get back to Brookfield and leave Elizabeth to face her future.
And out of the blue. First time for weeks I actually stopped what I was doing to listen. Then Ruth starting to steam. Things are looking up. (LizzyMapp)
Yes I thought it was well done - could almost hear David weighing up "to tell or not to tell" and imagine him feeling guiltier by the second. (Mild at heart)
I'm really interested to see how the guilt question plays out among the four siblings - who sides with whom and also what attitude Jill will take. She's usually fairly vocal so I don't see her sitting meekly in a corner over this. (Malahide)
How blinded [Elizabeth] is came out in that amazing scene with David clearly implying that she tacitly expects him to carry on doing what he's doing at LoLo [Lower Loxley] with not a shred of recognition that there is a full-time farm to be curated by this man - her brother the full-time farmer and father - just down the road. Worrying. (DracsM1)
Share your thoughts on the Lizzie cracks at last message board thread

What's to become of Kenton - will he end up as manager of Lower Loxley? Or The Bull? And looking after Elizabeth or Jolene?
I really hope they do not create any more widows in Ambridge in the near future, as Kenton will simply not be able to cope! (mrsroxanne)
More from the This may seem hard, but... message board thread

There's been a fascinating discussion about the longer term ramifications of Nigel's death which really has polarised listeners' opinions...
Only in soap operas does life revolve around 'major plotlines' and their associated 'ripples in the pond'. TA [The Archers] was never supposed to be a 'soap' ... recent events have only served to dramatically shift the whole premise of the programme to a place where many of us feel very uncomfortable. I am glad that other people are enjoying listening ... indeed I am very envious as I have loved TA for many years. However ... I miss TA for its gentle and perceptive portrayal of rural life and that I can't see the point of listening anymore if it's only going to do what all the other 'soap's do. (shelnews)
[Since Jan 2] I have found The Archers both gripping and moving (sometimes close to tears), at least in respect of Nigel's death. The scripts have been well written and well acted. I find Helen's transformation harder to take, but we have been given the odd tantalising hint of the Old Helen underneath. In short, I'd really rather the SATTC hadn't happened and I don't feel it is justified by what has followed since, excellent though it is...I don't think SATTC was the best SL ever... I am however glued to the radio to hear how it will all turn out. (Pat_Clifton)
More from the SATTC - best ever storyline? thread

And so to Helen - after Friday 4th's episode most were heartened that motherhood wasn't turning out quite as perfect as it first seemed ...
SHE CAN'T COPE? I can't cope. She's driving me mad. I'm 3,500 miles away - you'd think this would deaden the pain but it doesn't. AAaaagh! (bozley)
Why is Helen treated like a china doll? Helen has one baby, oodles of helpers, tons of family members and lives over a shop. Doggedly independent my foot. (FearlessAlison)
And it's the beginning of the meltdown that a lot of us have been waiting for... Farewell Saint Hellin...welcome back, Mad Hellqueen! Hope the scriptwriters hold their nerve on this one and we see her unravel to full on baby - blues induced insanity by Easter. (hovedogs05)
Read more on the She CAN'T cope thread

Was Kathy's lonely birthday an act of cutting her nose off to spite her face?
Is it really *that* sad to sit in with a glass of wine by the fire on your birthday? (Our_Freda)
Kathy's refusal to go out with Pat was martyrdom coupled with a wish to punish Pat by making her feel guilty. She is really horrible and although I've gone off Pat herself a lot recently, I admire her for bothering with Kathy at all. (pollyanna)

Tayler Cresswell is the host of The Archers message board.