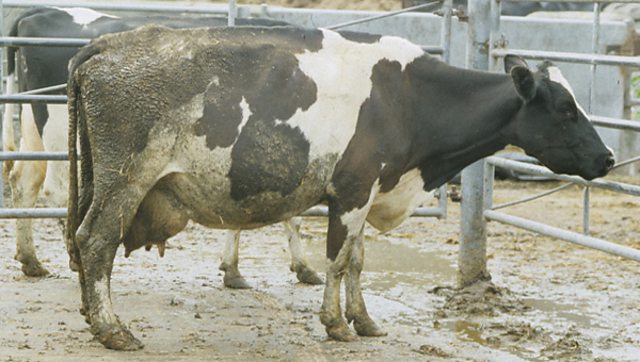 As Alistair confirms Johne's disease in Brookfield's herd, large animal vet Keith Cutler explains why Ruth and David are so dismayed.
Johne's disease is a chronic, insidious disease of cattle (and other species) for which there is no treatment and which is ultimately invariably fatal. It is caused by the bacterium Mycobacterium avium subspecies paratuberculosis.
Most affected animals are infected within the first weeks of life, generally through exposure to faeces from infected adults. But clinical signs of disease, including profuse diarrhoea and weight loss, are not usually seen until the animal reaches between three and six years of age. Before this, during the preclinical phase of the disease, fertility and milk yield will be compromised and there will be an increased susceptibility to a range of other diseases to which cattle can succumb.
Owners of herds infected with Johne's disease have to cull more animals at a younger age, need to rear more heifers to replace them and are less profitable than herds which are free of the disease.
Keith Cutler BSc BVSc DipECBHM MRCVS is a partner in Endell Veterinary Group in Salisbury
Picture shows a dairy cow suffering from Johne's disease. The weight loss is especially apparent around the back legs and spine.
Picture courtesy of Endell Veterinary Group.