"Forget #hackgate, there's e coli on #thearchers" - listener discussions to 19 July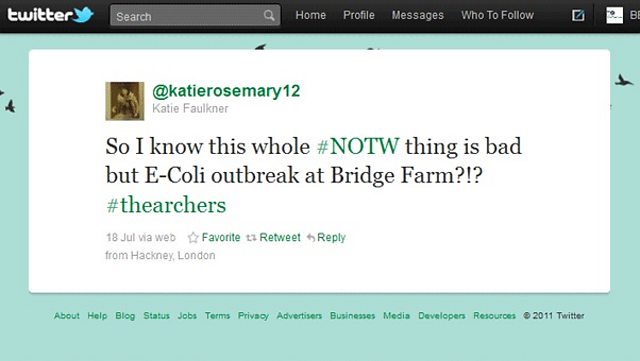 Everyone's talking about e-coli at Bridge Farm. On Tuesday, many drew parallels with Murdoch's appearance at the select committee. On Sunday Emma was lambasted for being "a cow!" and there's been a huge amount of praise for the scene with Jack and Peggy at The Laurels on Tuesday.
Forget #hackgate, there's e coli on #thearchers!! (@ reesmf on Twitter)
Here's my pick of The Archers discussions on The Archers message board, Twitter and Facebook between 16-19 July.

What IS wrong with Emma? Is she jealous of Nic? And why didn't Nic stick up for herself at the Christening?
Meeeowww Emma! Neither Nic nor Mia really deserved that #thearchers (@archelina on Twitter)
I rather think Emma wanted "the whole family" and rich godparents to show off and she wanted to rub Will's nose in it. I don't think she can bear the fact he seems over her at last and is more successful than her in something that concerns George. (Ginslinger Redux)
Emma has always been self centred encouraged by Susan and Neil and as for accusing little Mia of wanting to be the centre of attention - pot and kettle spring to mind! (fabsupergran)
Nic was very restrained - I hope she can get her own back some time - revenge is a dish best served cold! (Ruralrambler)
Who's side are you on? Have your say on the message board threads: Nic should have stood up to Emma's rudeness and What IS wrong with Emma?

After Monday's episode and the shock at Bridge Farm, twitter and the message board lit up! Would guests at the Christening be affected? Were Tom's sausages to blame? Is baby Henry in danger? Will Helen flip out?
Stop press! Clarrie Grundy brings down Bridge Farm Dairy! #thearchers (@revenante on Twitter)
Right from the first deeply hysterical reaction from the Straw: "HENRY, my bay-bee ..."
to Pol Pat's utter affronted incredulity that any such thing could befall her sacred dairy.
It made my day. (MsMumbo-Jumbo)
Can't wait for the Echo reporter to spill the beans about the nasty disease the Family Smug are spreading round the village! Specially after their efforts to keep it quiet! (toffee)
If Clarrie loses her job there will be long-term ramifications for the Grundy family finances and things could get very frosty between the Grundys and the Archers. (Dragonfly)
If this turns out to be Clarrie's fault rather than one of the sainted Archers, I'll be bloody furious #classwar #thearchers (@Jo_dB on Twitter)
Poor Tony. Helen will be disinfecting everything in sight before insisting he pays for a freshly fumigated flat for her and Henry to move into. (Feral_Ralph)
Join the debate on the message board: Oh frabjous day!

It caused a row on Twitter between Eddie and Tom
@BBCTheArchers What makes you think Tom Archer's sausages are alright then? I recon Environmental Health should have 'em tested. (@eddie_grundy on Twitter)
@eddie_grundy @BBCTheArchers There's nothing wrong with my sausages! I challenge you to repeat that. #thearchers (@EatMySausage on Twitter aka Tom Archer)

Some anxiously awaited Tuesday's episode...
Almost time for #theArchers - dum di dum di dum di dum ... I wonder how Clarrie is today *eek!* (@pollypanad on Twitter)
Is this the end of Bridge Farm?
The irony of a Grundy being the cause of Pat n Tone n Hellin n Cheesus having to move to Meadow Rise is too delicious to contemplate! (clancy_wiggum)
Oh no Clarrie ! IT IS your fault. I see a dismissal coming. Oh dear :( #TheArchers
(@jjjen on Twitter)
With a biz this small / niche. they could be history within weeks. And even e-coli is NOT sourced from BF, the damage to their brand will be irreparable in the short term. With the mortgage, debts etc, their fortunes tied to organic brands - already a threatened market - there is serious financial white water just around the bend. (DracsM1)
Read more on the message board: Will Bridge Farm go bankrupt?

After Tues epi coming just after Murdoch's appearance at the Select Committee, some have seen quite a few parallels...
Clarrie has lied just like some other people who have been asked questions today. #thearchers (@NGT67 on Twitter)
Was Rupert Murdcoch splatted with a pie covered in Bridge Farm cream - lethal #thearchers (@Fivepoundshake on Twitter)
Clarrie resigns saying her conscience is clear, Susan blows the whistle on everybody, Pat chokes on Stirling Gold #yoghurtgate #Archers (@pureartifice on Twitter)

Many praised the scene at The Laurels on Tuesday
The whole way The Archers has treated Jack's story has been sensitive, dignified but realistic, hasn't pulled any punches. (Kate Jones on Facebook)
The birthday scenes were very moving. The acting was spot-on - but it was only possible because of such sensitive writing. (Fifi on the blog)
Excellent performance - especially from an 87 year old - and I hadn't quite realised that June Spencer is quite so old - 91! (BartelbysBestFriend)
Have your say on the message board thread: A great insight to Jack! or on the blog

Tayler Cresswell is host of The Archers message board.