Twitter is teeming with Ambridge residents thanks to fans of The Archers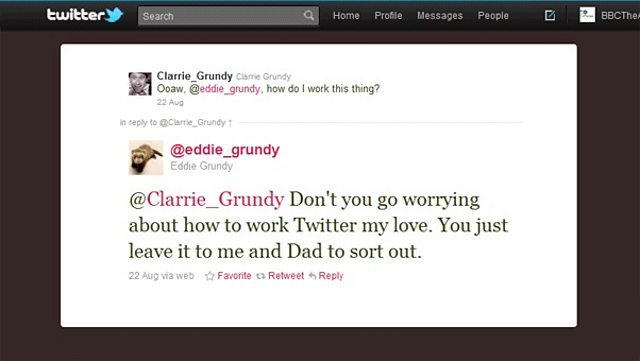 Keeping up with events in Ambridge has never been so easy - podcasts, iPlayer, email synopses... and now Twitter. The social networking site is teeming with Ambridge residents tweeting their thoughts on events in Ambridge as well as chatting - and sometimes arguing - with each other.

"Imposters!"
This virtual village has been created entirely by fans of the show, although any accusation about these not being the real Ambridge residents is met with howls of outrage. When @BBCRadio4 tweeted a link to a programme featuring Trevor Harrison (the actor who plays Eddie Grundy), Twitter's Eddie Grundy cried "Imposter!"
The Twitter characters provide a running commentary on events aired in the programme. You'll find Eddie Grundy, who will "tell you all about the goings on in Ambridge if you make it worth me while", as well as "pillar of the community" Lynda Snell; "executive property manager" and "leaflet maker" Brenda Tucker; "frazzled father" David Archer and "gin loving" Lilian Bellamy.
Harry Mason's "We Love The Bull" campaign popped up on Twitter as well as Facebook after it appeared in the show with Harry imploring people to help save the pub.

Not-so-silent silents
You can even hear from silent characters like the unborn (Helen's foetus "Get me out of here" whose Twitter icon is Edvard Munch's The Scream); "super-fit yummy mummy" Sabrina Thwaite and Bartleby, Joe Grundy's long-suffering pony.

The ghosts of Ambridge
There are conversations between dead characters like father and son, Walter and Nelson Gabriel as well as Sid Perks, Jack Woolley and Jack's dog, Captain. The Ambridge Mice are all-seeing Ambridge residents who are always on the lookout for food opportunities around the enclave - from Susan Carter's Christmas Eve soiree to the Bridge Farm Dairy, once trainee Vicky Tucker arrived.

Ambridge's "cult status"
Eddie Grundy was the second character to appear on Twitter in November 2009. (The first was An Ambridge Sheep which has since stopped bleating!) He says he's seen as "a loveable rogue" and that "The Archers makes good Twitter as something happens most days." It has "cult status."
His first tweet was in keeping with the character we hear on air:

You can find and follow all the characters via this Twitter list.

There's a listener tweet-along every Sunday morning for The Archers Omnibus, plus special Anniversary tweet-alongs on the 2nd and 3rd of January from 7pm.
Search for #thearchers on Twitter to see the conversation, and don't forget to add #thearchers to your own tweets to join in.
Find out more about the anniversary tweet-along and how to join in.

Tayler Cresswell is the host of The Archers message board.