"An entire nation screams at their radios" - listener discussions to 25 April 2012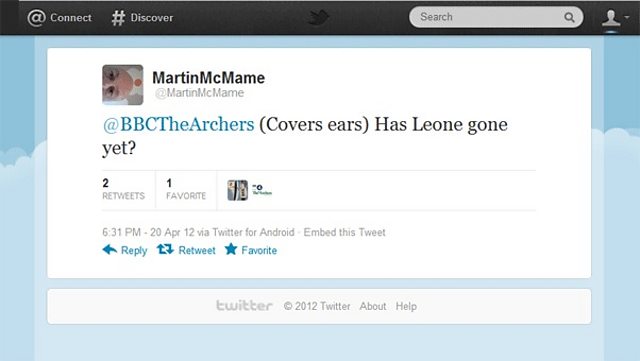 "Spoiled, obnoxious, arrogant, ignorant, self-obsessed" Leonie has induced listeners to scream at their radios this week. And with Peggy sticking up for grandson Tom, they're wondering why she's so reluctant to support her son, Tony.
Rumours have been flying about Amy's new boyfriend Carl - from being a long-lost relative, a woman, an undercover reporter... now we know he's married, listeners want to know if Amy's in on the secret.
And finally, it's Lily versus Freddie. Whose side are you on?
Here's my pick of listener discussions on The Archers message board, Twitter and Facebook between 19-25 April 2012 (with apologies for the late publication, which is due to technical problems).

Love her or hate her, selfish Leonie Snell has fuelled plenty of discussion this week.
"You really don't want me here, do you?" An entire nation screams at their radios, "No Leonie, we bloody don't." #thearchers (@katbrown82 on Twitter)
Spoiled, obnoxious, arrogant, ignorant, self-obsessed and so dislikeable she makes my teeth itch. If only she would suffer some sort of illness or accident that removes her voice... (deckmonkey)
"She drank a whole bottle of wine and got maudlin." I am starting to love Leonie. #thearchers (@marzillk on Twitter)
I really, REALLY, *REEEAAALLLYY* want Leonie and Tom to get together. #thearchers #karma (@lordbothwell on Twitter)
Never mind the fate of the mega dairy - what happened to the afghan rug? I think we should be told #thearchers (@_AnneBell on Twitter)
@BBCTheArchers (Covers ears) Has Leone gone yet? (@MartinMcMame on Twitter)
Get it out of your system on the Leonie, the new Hellqueen? thread.

As Peggy speaks out for Tom and his (shelved) ready meals, some wonder what she's got against Tony and Pat?
What a fantastic MIL. Wouldn't you just love her to come round and tell you were you were going wrong. (binocular)
I think she despises Tony for not being a successful businessman. She only really likes those types. She has no karma with hands-on Tony and ungroomed Pat. (Rose Sal Volatile Parade)
She has absolutely no idea what kind of a cock-up Tony's making in the office, (which I loathe to admit, must be trying for the SLT [Tom]) and is suddenly describing as 'humdrum' the work her son's done all his life. What in the name of god can she know about 'ready meals'? (TufTanya)
I'm still reeling at the fact he's been paying LIST PRICE for cattle feed all these years. #thearchers (@KiriThomas on Twitter)
Tell us what you think on the What an interfering old baggage thread.

The mystery surrounding Carl has had listeners guessing. Would Carl would turn out to be Carla, related to Mabel or an undercover reporter? Would Carl turn out to be Clive Horrobin? Whilst most guessed that he was married, they're not sure if Amy knows - is that why she was keeping him away from her family and friends?
There has to be something wrong with him? Let's start a sweep-stake. #thearchers (@Airscaper on Twitter)
thearchers Bet they're related...(@SardineTin on Twitter)
Did Carl's granny steal Mabel's boyf before they left Jamaica? #thearchers (@MrInch on Twitter)
Carl and Usha, kissing by Christmas? #thearchers (@duncanrsteele on Twitter)
OMG Annabelle lifts the lid #carlsarat #thearchers (@paul_clarkson1 on Twitter)
Mince him up for a Tom Archer sausage..........the cad, the bounder!! (Angela Stepney)
You'd think he'd want to keep his distance from Amy's family. I'm surprised he agreed to go and meet them. Leon quite rightly avoided Plague Farm like the plague (JustJanie - Fairweather Jogger)
Either Carl is remarkably bad at this whole 'leading a double life' thing, or Amy knows he's married #thearchers (@archelina on Twitter)
I'm a bit disappointed that this storyline appears to be coming to a head so quickly... I suspected that all was not as it seemed with the gorgeous Carl, but I would have liked to see it stretched out for a few weeks with hints and suspicions before being categorically informed that he is a cad. (Giant Cuddly Squid)
Read all about it on the message board: OMG He is married

Here comes interfering Jennifer. Are her frequent visits to Alice's cottage because she's lonely? Some suggest she should have an affair if her family have so little time for her. Perhaps one of Chris's new clients would fit the bill?
Chris needs two big padlocks. One for his van and one to keep the mother in law out #TheArchers (@Jay4Jennifer on Twitter)
Presumably Jenny doesn't want any more grand-children the way she keeps turning up uninvited at Alice & Chris's! #theArchers (@SocialistGreen on Twitter)
I feel sorry for Jenny, I don't think that I've ever perceived her to be mean spirited yet she is often dismissed as if she is of no consequence. How rude to make your mother the object of derision. Vile (Sylvee)
I do feel a bit sorry for Jenny as well. No one seems to really want her around or have any time for her. Including her husband. (Auntie Molly)
Time for a Jenny affair I say. Brian's being even more obnoxious and blind to her than usual. Would it kill him to even pretend to listen to her talk? She listens attentively whilst he rants on for hours on end. (beligerent_londoner101)
Join the conversation on the message board threads: How rude! and Time for a Jenny Affair I Say

Lily and Freddie have divided listeners. You can sign up to Freddie's fan club on the message board, or give Lily a round of applause...
Hooray for Lily. Winding up the Young Prategger. Tee hee (Dinah Shore)
Yes, I gave a small cheer at that. I have high hopes of Lily causing mayhem in future. (Tadpole)
I like Lilly, she has a bit of spirit in her... I couldn't bear a life of saccharin sweetness. Of course there's a bit of sibling rivalry, but as she herself said she knows when to lay off. (Nelson_G)
I think Freddie comes out well compared to his 'mummy clone' sister, I hearted Nigel, and Freddie is much more like his dad than his ghastly mum.... (esmeandsebastiansgrannynic)
Freddy could win Hickstead, have a number one record and win the Nobel Prize for Literature and still they would be wittering on about Lily. have you noticed how everything that ghastly child does is wonderful - first hockey, then bell-ringing, now French. No doubt this weekend she will find a cure for poverty and starvation (Mieteka)
Take your pick: Hooray for Lily or I HEART Freddie

Tayler Cresswell is host of The Archers message board.