Predictions for the big #SATTC event. Listener discussions to 19 Dec 2010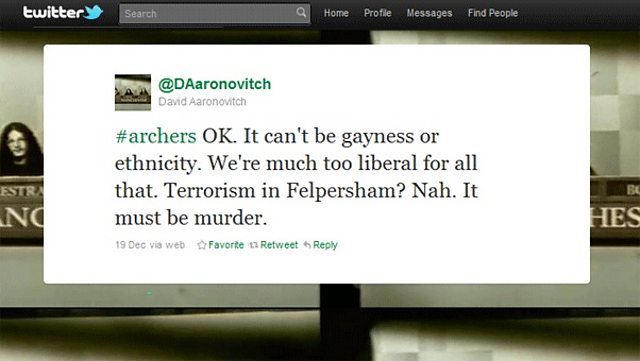 Everyone's looking for clues... scanning #WikiLeaks for insider info and poring over press reports and interviews for hints on the storyline for the big 60th anniversary on January 2.
Twitter is alive with #SATTC. The acronym for Shaking Ambridge To The Core has been adopted as a hashtag. There are plenty of predictions on The Archers' message board, on Mumsnet and on Twitter
#archers OK. It can't be gayness or ethnicity. We're much too liberal for all that. Terrorism in Felpersham? Nah. It must be murder. (@DAaronovitch)
#Archers knife fight at New year's eve teenagers party - Jamie on life support, Daniel arrested Josh is witness Shula needs Usha (@michelegrant)
Hellen asks for a second helping of Christmas pud with cream AND brandy butter. (Bom Bom Bholenath)
My prediction for the big #Archers episode is that Ian will leave Adam for Helen. #SATTC (@adhodgson)

How can Ambridge never be the same - no more Panto, Stir Up Sunday, Turkey plucking? Surely not? (spoons3)
Add your prediction to the message board thread

Helen Archer's outburst at her dad Tony last week provoked the largest number of threads on the message board and a huge number of tweets. It had them "throwing things at the radio". Tony's reaction was seen as "heart breaking". Some wonder whether this situation will put an intolerable strain on Pat and Tony's marriage. Is it Helen's hormones raging that has tipped her over the edge, or is she just "vile"? Not all have sided with Tony - though they're in the majority. Some think he should be more supportive towards his pregnant daughter.
Oh that scene with Helen and Tony was horrible; must give my dad a big hug next time I see him (@LouiseBrown)

Last night at 7.15 I found myself wishing I could take Tony for a pint or three. Poor man. (Catwomyn)
Poor Tony - I imagined his glasses all sideways on his face as he cringed against the shrill hysteria of his artificially pregnant daughter. His voice sounded genuinely upset, and hers became more like Bette Davis in "Baby Jane". (Earldunda)
Poor baby. I hope it loves its granddad best of all. (Alma)
You see, I don't think Helen has done anything wrong in deciding to have this baby by herself. And Tony does and, my god, does he let Helen know it at every opportunity. (susierratic)
He deserved the 'hairdryer' treatment he got from Hels! Perhaps it will make him reconsider his uncaring behaviour. (bazza001)
On the message board, there's a growing Friends of Tony thread where they've had a whip round and have bought him the shed they promised a couple of weeks ago. It's now kitted out with a top of the range espresso maker and a Kindle where "he can sit and read and philosophise to his heart's content" (Mandleson Mistletoe Probe)

In other threads
Lily and Freddy Pargetter get some sympathy and dad Nigel was praised for his handling of their little set-to over the panto.
What would you buy the characters for Christmas? Vicky Tucker and Susan Carter get a cauldron, there's a kiss me quick hat for Harry Mason. For the Grundy clan, there's some ready-made pastry for Joe, a food processor and plenty of Mills and Boon books for Clarrie and some ammunition for Will!
Add your virtual Christmas gift on the Happy Christmas Mr Archer! thread

Your favourite characters: Elizabeth Pargetter
I do like Lizzie; her voice and the way she interacts with Nigel, who I like too. I enjoy the dynamics between them, and the way two very different personalities have such a good relationship. Lizzie is smart and can be funny or serious, her dry sense of humour adding a little piquancy to an otherwise straightforward conversation. I do wince a bit, though when she's being particularly awful, and she certainly can be. But mostly I can see where she's coming from. (sunshinyday)
Who's your favourite character on The Archers? Add yours on the message board here or on the My Archers page.

Tayler Cresswell is the host of The Archers message board.