"You utter, utter swine!" – The Archers listener discussions to 23 July 2014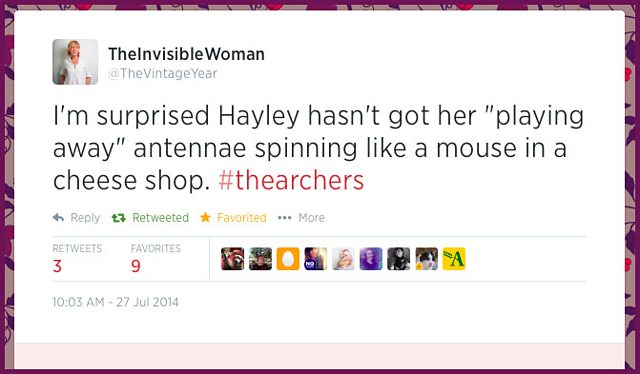 Post from @TheVintageYear on Twitter
Listeners have been shouting at Roy Tucker after he put his family in second place, and debated whether Rob Titchener ever invited his parents to dinner.
Many joined the Route B Ramble and shared memories of the Tregorrans. There's been plenty of advice for Ed Grundy. And Kirstie Allsopp admited that she was thrilled to be opening the village fete.
Here's my pick of listener discussions between 17 and 23 July 2014.
Roy Tucker had almost everyone shouting at the radio after he missed his daughter's school show.
You swine, Roy! You utter, utter swine! No decent Dad misses the end of term show!  #thearchers (@archerslistener on Twitter)
I'm surprised Hayley hasn't got her "playing away" antennae spinning like a mouse in a cheese shop. #thearchers (@TheVintageYear on Twitter)
Then it'll end in tears when Hayley finds out her 'Roy' ain't so Mr.perfect after all. Glad when it's done and dusted (Henry B Moffatt on Archers Addicts Facebook group)
Roy's got more to lose than Elizabeth has; neither of them comes out of this looking very good, and Elizabeth has a long history of using people and then discarding them. However, Roy risks family and livelihood if he continues the way he has been... (Cathy Simpson on BBC The Archers Facebook page)
Roy seems to have undergone such a personality change I'm worried he's gonna get all Fatal Attraction on us. Will he start stalking Elizabeth? Wll Casper the pony end up literally in the soup? (Denise Lowe on Archers Addicts Facebook group)
Lizzie, LET HIM GO!! #thearchers @BBCTheArchers (@Massie68 on Twitter)
@BBCTheArchers still not convinced that Elizabeth won't succumb to Roy's charms despite the guilt trip over Hayley hmmm fun ahead (@rover600 on Twitter)
After Friday's awkward dinner at Blossom Hill Cottage, most listeners suspect Rob Titchener's a liar and are disappointed that Pat and Tony seem to have been taken in.
Getting ready for the big dinner. Salmon, check. Hide turkey baster, check. Earrings made in fake jewellery class, check. #thearchers (@CelloSuze on Twitter)
Just caught up on #thearchers. Nobody believes Rob's parents were ever actually invited, right? (@stevenperkins on Twitter)
#thearchers Is Rob using Henry's Fisher Price phone to make the phone call! (@PJNashwriter on Twitter)
When Rob said, "I've got Helen and Henry, what else could I need…" That. Creepy (Ivan pope on Archers Addicts Facebook group)
Rob is demonstrating classic, abusive behaviours and now getting Hellins parents on side is really sinister… (Sarah Wilson on Archers Addicts Facebook group)
"We're your family now". Game, set and match to Rob. Isolation and removal from society complete. Helen's doomed. #thearchers (@Mudkipstoat23 on Twitter)
"Who knew Rob had such a dysfunctional family?" Or Helen such a gullible one? #TheArchers (@DavieBerg on Twitter)
The SAVE Ambridge campaign is well under way, and the news that Susan and Lynda have joined Twitter to help promote the campaign had some running for cover.  A few listeners really got into the spirit and joined Lynda and the campaigners on their ramble along the proposed Route B. 
I'm miffed that @SAVEAmbridge didn't wait for me... I was stopped by a bloke showing off his bull! #TheArchers (@Mistress_Fiona on Twitter)
@SAVEAmbridge I'll be there! Having difficulty finding Ambridge in Road Atlas, can you send me a link on Google Maps #RouteBRamble (@ukmoose on Twitter)
Will you be issuing maps of Route B? We wouldn't want any stragglers to get lost. (Brenda Selwyn on BBC The Archers Facebook page)  
@SAVEAmbridge @BBCTheArchers If this route & digester go through, it will make a mockery of my "I'd rather be in Ambridge" mug! #thearchers (@Ioan_Said on Twitter)
Susan would really love twitter - all the speculation and judging of others  #thearchers (@MrsJBoo on Twitter)
Susan & Lynda on Twitter....we have gone thro' the looking glass
#thearchers (@salvatorRosa on Twitter)
As preparations for John Tregorran's funeral got underway, listeners shared their memories of Carol and John Tregorran – and some joined Susan in gossiping about Jennifer…
Jenny DESPERATE to be part of JT's funeral.   We all know why don't we? #thearchers (@iowauthor on Twitter)  
Ooh, Soosan'll want a front seat for *that* funeral. #thearchers (@woolminer on Twitter)  
Would people (Jill and Peggy) be putting Jennifer off interfering in the funeral to save the feelings and possibly the wrath, of The Widow Tregorran? She was not, as I recall, best pleased at the suggestion that hanky panky might have been on the cards between the Ambridge Intellectuals… (Jane Deane on BBC The Archers Facebook page)
I expect John's funeral isn't of much interest to listeners who've joined the show in the last 20 years, but this is a treat for those of us who've listened since the 50s! I remember his crush on Jennifer in '81 very well, and even have a copy of the book they 'wrote' together. (Sue Gedge on BBC The Archers Facebook page)
It was a good story that left you guessing though many of us believed they were having an affair at the time. (Beth on The Archers blog)
Yes, Brian putting his foot down over a shared interest in local history now seems quite OTT, given that he went on to have Ruari with Siobhan. A clear case of double standards... (jill robinson on The Archers blog)
Poor Ed Grundy – what's he to do now Emma's 30th birthday is looming? 
#TheArchers Will Ed Grundy ever get a scene where he isn't sighing and saying "Well I suppose I'll have to now..."? He deserves better. (@dinogoldie on Twitter)
Just buy her some petrol station flowers Ed, she'll be delighted #TheArchers (@hugzee on Twitter)
Ed's right for once - what use is a business that makes no money? #thearchers (@HeatherChloeDog on Twitter)
Ed Grundy: you're living off your in laws & you're still short of money - time to admit you can't run a business #thearchers @BBCTheArchers (@AnneLiddon on Twitter)
Please can we have a sweet Adam-Ed friendship/bromance? I think it would be good for Adam to mentor someone like Ed, & Adam could offer Ed some great work experience & career opportunities. (Maggie Mumford BBC The Archers Facebook page)
Farming people: how physical is Ed's job? i.e. could Emma do it if he did a part-time college course? #thearchers (@MagneticFlea on Twitter)
Maybe if Ed went to do some lessons he'd be more aware about profitable farm practice #thearchers (@Dark_Blue_Box on Twitter)
Never too late Ed #thearchers (@helenmawalker on Twitter)
I am a bit concerned over why in 21st century Britain the prospects of Ed, Emma and family seem to be determined by Ed's abilities alone to provide for their family. What's happened to equality? Why isn't Emma making any plans to improve their long term prospects? (Elaine Masters on BBC The Archers Facebook page)
And finally, Kirstie Allsopp announced that she was thrilled to be opening the fete
It goes without saying that I am thrilled & honoured to be opening the Ambridge Fete, keeping the invitation secret has almost killed me. (@KirstieMAllsopp on Twitter)
Will Kirstie give Fallon some upcycling advice? #theArchers (@MrsPanad on Twitter)
So pleased to hear Kirstie is to visit Ambridge. When she has finished buying a T shirt she can maybe help Roy find a new home. He will need one when Haley finds out... (Jean Moodie on Archers Addicts Facebook group)
Tayler Cresswell is The Archers' social media host
Join the conversation
Have your say about the SAVE campaign
Or join the discussions on Archers fan forums: