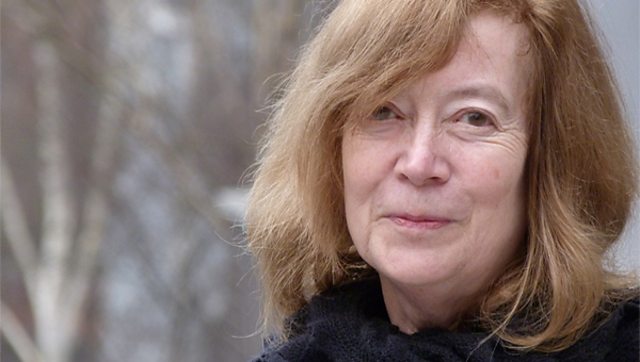 The monumental scene between David and Elizabeth last week was written - as was the whole week - by a new writer to The Archers. We asked Carolyn Sally Jones to share her impressions of joining the team.
It was a cold, dark January morning when I arrived at my first Archers script meeting - and walked through a door into a parallel universe.
In the outside world I knew that snow still lingered on the ground and dejected Christmas trees had been stacked against dustbins as I'd trudged to the station. But as soon as I entered the room, I found it was March and there were stirrings on the farm, lambs about to spring forth with a little help from Ruth, and topsoil to be dressed with nutrients.
Living two months ahead of oneself is just one of the leaps one makes in the world of Ambridge. Fellow writers told me this time warp was particularly weird at Christmas when everything has been done and dusted by the end of October. It can trigger a moment's panic as you wonder if you've missed something important and reach for the phone to apologise.
I've written for series before and enjoyed a chequered career as a writer for The Bill, so I fondly imagined I might be pretty hardened. But it still feels a huge challenge to pick up on a series which has been the familiar and much-loved backdrop to so many of our lives.
Growing Panic
I 'tuned in' at the first script meetings and got used to hearing voices like Eddie's or Clarrie's in my sleep - it comes with the territory evidently. But I felt a growing panic that I was actually going to write a week of episodes, and soon. Two months after I'd joined, in fact.
I loved my visit to the studio to hear the actors and the sound team work their magic, briefly soothed. But it still felt as if I was trying to jump on board a high-speed train. Hands were reaching down to haul me on board, but it was obvious that unless there was to be a huge gaping hole in the schedules, this particular train was not going to be able to stop!
What amazed me too was the fantastic speed of turnaround time for delivering scripts. That might have been when I started lying down in dark rooms - although perhaps that was when I was actually writing. It became a bit of a blur in the end...a pleasant one though.
And despite the speed at which it has to move, the team couldn't have been more helpful, fielding calls and offering advice, sharing their own ways of weaving the threads together. It may be a high-speed train but there is a painstaking attention to every detail to attain an emotional accuracy which helps achieve the slow burn of the stories. The payoff when it comes seems so much more satisfying and credible as a result.
And thanks to Graham Harvey and now Steve Peacock, the new agricultural advisor, I've become an expert on milk yields and top dressing, and could even try my hand at silage-making should David and Ruth ever be shorthanded again!
It's been exciting to hear that so-familiar theme tune and to listen to my episodes go out. I felt lucky too to be carrying a major storyline, so beautifully set up in the preceding months. And so far - despite my longing, (unfulfilled as yet) to christen a new character or even possibly a sheepdog - inhabiting that famous parallel universe has been a hugely satisfying if mind-blowing experience.
I wouldn't have missed it.
Carolyn Sally Jones is an Archers scriptwriter.