Best Laid Plans - why Matt and Lilian went to Montenegro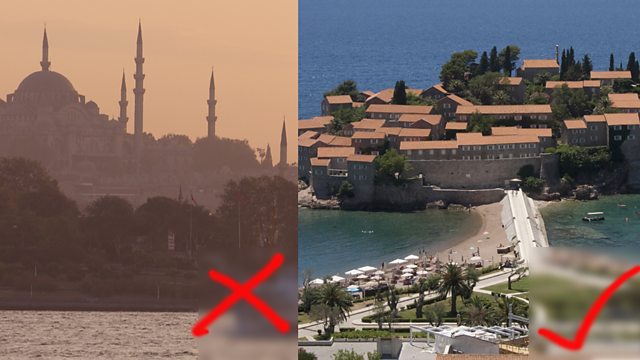 Not Istanbul but Montenegro
Writing for a show like Ambridge Extra, one starts to have a strange reaction to current events. While embarking on series three and the story involving Phoebe's trip to South Africa we worried about the possibility of Nelson Mandela's death. Not because of his global standing, but because of the effect it might have on our little show!
However, we weren't anticipating any such problems when we decided to start series five (the current one) in Istanbul.
Somewhere on an audio file in the bowels of the BBC there are scenes with glorious sound effects recorded live in the Grand Bazaar, in mosques and in the bustling streets of Taksim (by a local - we don't have the budget to fly out there ourselves). I know Istanbul fairly well so was excited about hearing it come to life on air.
When the protests kicked off I kept checking the news, hoping that they would abate, forgetting completely that there were rather more important issues at stake. Eventually though, we had to accept that whatever happened in Turkey it would be unlikely that Matt and Lilian would still go there – or that it wouldn't pull focus away from our story.
The whole production team did an amazing job, rewriting, recording and re-editing four episodes in only a couple of weeks. And I now know much more about Montenegro!
Brainstorming
But why send Matt and Lilian to Istanbul in the first place? At the start of every series we meet for a brainstorming session. Our golden rule is that the Ambridge Extra tail mustn't wag The Archers dog, so we have to consider which characters we can use without disrupting storylines that have already been plotted for The Archers.
However, we also have to use characters that we think listeners will want to follow. As it happens, in the meeting we only mentioned Matt and Lilian briefly. We knew the end of Lilian's affair with Paul would be a great jumping off point – and that they would be popular characters – but we didn't have a story idea. It was only at the end of the meeting that commissioning editor Jeremy Howe challenged us to 'send Matt to Russia'.
My fellow writer Sarah Bradshaw and I set out doing our research, talking to journalists and even (minor) oligarchs. At the same time we had to remember that, although Russia might provide an intriguing setting, our overarching story must always be Matt and his relationship with Lilian. Fortunately, Matt doesn't like dwelling on his emotions and always uses action as a way of working them through – even more so where money is involved. The possibility of doing the deal of his life in Russia and regaining his virility might be too much to resist. There are plenty of wealthy Russians in Istanbul, so why not send Matt and Lilian on holiday there?
Well, there are wealthy Russians in Montenegro, too. So as Matt prepares to leave there, we can only keep our fingers crossed that real events won't interfere again with our little, but I hope very gripping, tale.
Tim Stimpson is an Archers and Ambridge Extra scriptwriter