'This is a whole slice of awkward with extra side orders of squirm' – Listener discussions to 27 November 2013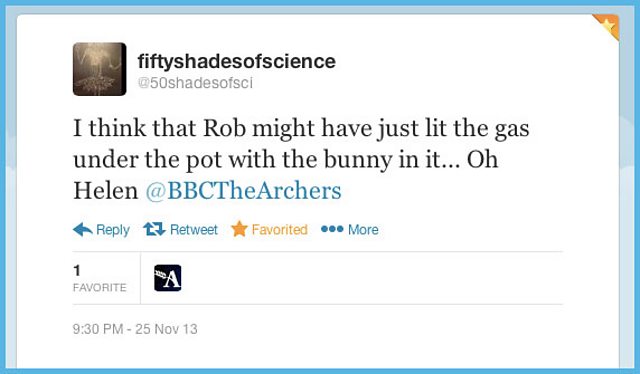 Post from @50shadesofsci on Twitter
Listeners laughed out loud during "squiffy" Helen's night out and Lynda's trust exercises with Kirsty and Rob at panto rehearsals.
Plus there's been plenty of discussion about Darrell's panic attack, young Dan's attitude and Oliver's olive branch…
Here's my pick of online discussions between 21 and 27 November 2013
Whilst Kirsty may not have enjoyed her night out with Helen, listeners loved every minute…
I like squiffy Hellon, #thearchers (@Riffraff64 on Twitter)
#TheArchers HAHAHAHAHA LOVE !!! (@SamLLeigh on Twitter)
I think that Rob might have just lit the gas under the pot with the bunny in it... Oh Helen @BBCTheArchers (@50shadesofsci on Twitter)
'Mind blowing sex?' Isn't a little TMI! (Christine Wilson on BBC The Archers Facebook page)
I'm looking at Rob in a new light #thearchers (@barefootmower on Twitter)
She's not missing Rob, she's just missing the sex. Yes get on with your life Helen and stop wallowing in self pity. (Jill Nichols on BBC The Archers Facebook page)
Since when did marriage wreckers get to occupy the moral high ground? Helen is making me cross. #thearchers (@nikkijenkins333 on Twitter)
Helen needs to grow up, and realise she cant have it all her own way.... and how many times has the last man been "the only one" She's as culpable as Rob. Helen, open your eyes to reality. (Karen Salisbury on The Archers blog)
Have a heart, she is heartbroken! All I want to do is give her a hug! (Carol Lynne Smith on Archers Addicts Facebook group)
There was sympathy for Henry after a second snub from Rob while out Christmas shopping. Speculation is rife: Jess knows; Rob has done this before; Helen's being manipulative…
This is a whole slice of awkward with extra side orders of squirm.  #thearchers (@Dyskadores on Twitter)
[Rob] should have been open and friendly with Henry when he met him and Helen in the street. Now, he's more likely to have aroused Jess's suspicions, silly man! I love this plot, can't wait for the fallout! (Sue Gedge on BBC The Archers Facebook page)
@BBCTheArchers bet Jess knows he's a bad un. Surely this isn't the first time??? (@clairekerry on Twitter)
He strikes me as the serial adulterer type. And yes - Jess's insistence that they go to speak to Helen, and that Rob should pick up Henry, smacks of game playing. (Kathy Bartlett on Archers Addicts Facebook group)
History has shown that there is a far higher-than-average number of highly eligible, honourable and unattached men in Borsetshire who are ready to take on newly-single women - even those with children. So I'm sure Helen will be able to find someone far more suitable than Rob. She's well shot of him. (Jess probably would be, too!) (MrsMMM on The Archers blog)
What a lovely addition to the really annoying people you hate list Jess is.. #thearchers (@MUSEmunkey on Twitter)
Sometimes the wife really is the last to know. Trust is a double edged sword. (Hils Sharpe on Archers Addicts Facebook group)
I have decided that Jess has potential to be another Robert Snell. One of the rare genuinely likeable characters in #thearchers (@jdg_99 on Twitter)
Rob has 'bastard' riven through him like a stick of rock come on Helen accept he was using you #thearchers (@Labourcat on Twitter)
Sod the fun when Jess finds out about Rob and Helen. I will be happier when the news reaches Pat and Tony. (Keith Rawlings on Archers Addicts Facebook group)
And so to the Christmas panto rehearsals and Lynda's trust exercises for Rob and Kirsty. Listeners enjoyed every squirm-inducing minute!
It's 'Look Back in Anger' meets 'Who's Afraid of Virginia Woolf'!!!!  Great!  #thearchers (@archerslistener on Twitter)
Oh my god, is this the best #TheArchers scene ever! Genius. (@LukeVernon on Twitter)
Well I think we can assume that Rob now knows that Helen confided in Kirsty! (Tracy Mac on Archers Addicts Facebook group) 
@BBCTheArchers the Alicia/Edmund scene was sheer genius...wiping away tears of mirth! Go Kirsty! #thearchers (@MozartsGirl on Twitter)
Brilliant! Rob and Kirsty playing 2 truths and a lie. Awkward. #thearchers (@hebdensnapper on Twitter)
@BBCTheArchers Sometimes The Archers is genius. (@davidboydon on Twitter)
Excruciatingly awkward. Loved it #thearchers (@Cuttsrich on Twitter)
I had to sit down mid-cooking meal and enjoy. More of the same please. (Caroline Agazzi Brooks on Archers Addicts Facebook group)
As Alistair attempted to take Darrell to a hostel, listeners shared differing viewpoints on his actions - and some wondered if the storyline was showing an overly negative view of homelessness. Many praised Dan Hagley's (Darrell) acting in the scene.
Nice one, Alistair. Shula's not around to derail the plan. #TheArchers (@SpareMousie on Twitter)
Well played whoever plays Darrell. That was an unsettling episode tonight, very good. (Stephen Ãh Burroughs on BBC The Archers Facebook page)
Can hardly type through my tears ~ wonderfully acted and I was yelling at Alistair "You can't leave him"!!! (Jean Bell on BBC The Archers Facebook page)
The writing on Sun night's ep of #thearchers was really rather brilliant: I felt every palpitation of Darrell's panic attack. (@hannahbeckerman on Twitter)
I wish they hadn't made #Darrell so whiney, pathetic and acopic, perpetuating a stereotype might put people off trying to help #thearchers  (@theladydoctor1 on Twitter)
That Darrell's problem is a psychiatric one is the most optimistic take on his situation. It is also possible that he is a scrounger and a manipulator, Shula being his main victim. Very frustrating indeed. (Squinancy on The Archers blog)
When do we get #TheArchers storyline which shows that it's possible to support vulnerable people without it ripping your family apart? (@Hivemeitner on Twitter)
Daryl has them all wrapped around his little finger - against all the odds he has proven to be a Master of Manipulation! (JD Rackrun on on Archers Addicts Facebook group)
Young Dan's gripes over Darrell's presence earned him a ticking off from listeners, though some think he's right to complain
Daniel confirms he is An Archer. #thearchers (@alliethinks on Twitter)
At least Darrell is sounding chirpy this evening. Not like misery guts Dan (@shellstinyworld on Twitter)  
Expecting him to bond with some bloke that mum has decided is HER ticket to heaven does feel a bit unreasonable. (Jayne Callaghan on BBC The Archers Facebook page)
I am with Dan ! #TheArchers @BBCTheArchers (@Massie68 on Twitter)
And finally, there was a collective "aww" as Joe and Oliver made up over a bottle of sloe gin and a Christmas turkey order
Oliver, you charmer! #TheArchers (@Lyndaaa on Twitter)
Hatchet well & truly buried then #thearchers (@Dark_Blue_Box on Twitter)
Awww. The old Joe's back! #AndAboutTime #TheArchers (@Wimblebear on Twitter)
Glad Joe is happy again. We have enough depressed people to think about! We need Joe in cheerfully gloomy mode, not as a symbol of the passing of years/ sadness of ageing! I want my Archers elders living unrealistically long & healthy lives wherever possible! x (Maggie Mumford on BBC The Archers Facebook page)
Tayler Cresswell is The Archers' social media host
Join the conversation
Or join the discussions on Archers fan forums: