'Let's blame Mr Smarmy Paul instead of the gal' - listener discussions to 26 December 2012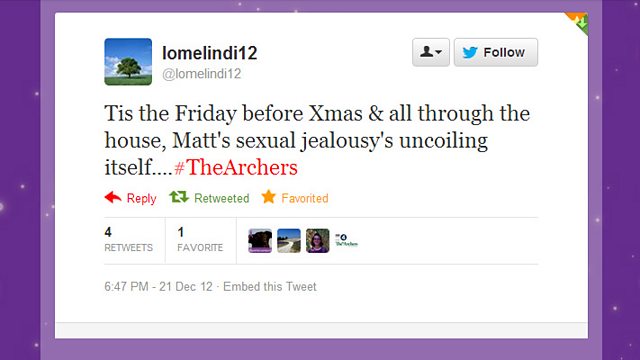 Post from @lomelindi12 on Twitter
It's Christmas at Ambridge View for Ed, Emma, George and Kiera, but listeners wonder how they'll cope living with Susan and Neil.
As Matt whisks Lilian off to New York for a pre-Christmas treat, some say they're "disappointed" by Lilian's lies and think she should come clean.
Perhaps Rhys will do better with his present of tickets to the rugby? Though some think it would be grounds for Fallon to ditch him.
And over in Ambridge Extra, as the current storyline comes to an "exciting, tense" conclusion, Donna's dog Poochie is nominated "character of the year" but listeners debate whether it was right to focus on the Horrobins.
Here's my pick of listener discussions on The Archers message board, Twitter and Facebook between 20-26 December 2012
As Ed and Emma move to Ambridge View, listeners discuss how they'll manage, but should they be offering to do more around the house?
Ed sounds Up. Dunkirk spirit I 'spose, what with the prospect of living with Susan. #PoorEd #TheArchers (@Airscaper on Twitter)   
Susan and Neil have taken them into their home and given every indication that they will not be expecting any financial contribution and the best Emma is prepared to offer is that she will take it in turns to cook, shop and clean. (Mrs Miggins on the message board)
Maybe Emma is being tactful? You don't just move into somebody else's home and then announce you will be taking over the running of that house - that is really presumptuous and guaranteed to put most people's backs up. (Mieteka on the message board)
Perhaps Neil & Susan don't want her to do all the cooking, unless they intend to live on spam & lentil casserole! (Curmy on the message board)
Will it work out? Add your speculation on the message board thread: Take it in turns to cook, shop and clean. 
Listeners have debated what Lilian should do next. Some urge her to be honest with Matt and leave him. Others have encouraged her in her affair with Paul.  And some wondered about Matt's surprise trip to New York – did he lie about his criminal conviction on the Visa waiver form? And if he was arrested, would it solve all Lilian's problems?
You LOVE him already, Lillian?? If we had a girly sleepover I'd be saying "Seriously?! THIS SOON?!" #thearchers (@LReb82 on Twitter)   
I'm finding Lil's behaviour quite disappointing. She should tell Matt to sling his hook if she's unhappy, and then find herself another bloke. Carrying on like she is makes her look cheap. (Froginasock on the message board)
But here there are no young children here, but there is an immoral current partner. I see Lillian as having reached an understanding of this finally and trying very clumsily to secure a new future (Captain on the message board)
Deceitfulness will eventually become a burden to Lillian. That frock of purple maybe holds the answer. Let's blame Mr Smarmy Paul instead of the gal. (Lynda Everington on Facebook)
Lynda Robertson But how did Matt manage to get into the USA at all, with HIS criminal record??? (nichawick on the message board)
Oh wouldn't that be just glorious if he got stopped and they had to come home? (cherrytree on the message board)
Have your say on the Matt's visa and Fagash is a naughty naughty spoilt woman threads on the message board. 
As Christmas presents go, some thought Fallon got a bad deal after Rhys brought her tickets to the rugby for Christmas – others were quite envious! 
What a ghastly self-centred bloke Rhys is, buying something for himself and having the cheek to pretend it's a present for someone else. And how stupid is Fallon for falling for it. Ugh. (old cath on the message board)
Fallon... when you get to Cardiff and are surrounded by Welsh rugby fans... surely you can exchange Rhys for a better model? #thearchers (@Wimblebear on Twitter)
If all he wanted was to go and see Wales he could have saved himself a lot of dosh by not booking the five star spa hotel and the hair do for Fallon. The atmosphere in Cardiff and the Millennium Stadium will be amazing and Fallon will have a fantastic time. (Auntie Molly on the message board)
Was Rhys right or wrong? Add your thoughts to the message board thread: Sorry did I just hear correctly? 
There was speculation about what would happen on Christmas day to mark the "end of an era". A few guessed it was poor (silent) Mr Pullen who would be shuffling off this mortal coil.  His name was one of the top trending topics on Twitter the night he died. A fitting tribute perhaps!
End of an era tomorrow? What? #thearchers (@katievmallam on Twitter)   
Lots if speculation for Jack's passing this evening. BUT we could all be in for a shock. Jill joining Phil? Fire at the Bull? (@jco0872 on Twitter)  
Or perhaps Clarrie has been found with Pawel #thearchers (@2ndcitysuit on Twitter)   
Mr Pullen's dead. Oh dear. Who actually was Mr Pullen? Someone remind me. #TheArchers (@FreakHedd on Twitter)   
He was one of the great silent characters. A huge loss. (Kathryn Baird on Facebook)
He never said a foolish word. (typewhite christmas on the message board)
Let's have two minutes' silence in tribute to Bob Pullen's many decades of silence. #thearchers (@Mudkipstoat23 on Twitter)   
Add your special message to the Condolence book on the message board. 
And finally, over in Ambridge Extra, Donna's brave dog, Poochie, has been nominated "character of the year" and named "the best of the Horrobins". But as for the rest of them – some can't see any redeeming qualities, putting them off listening. Others disagree, resulting in some interesting debates about the programme in comparison with The Archers.
Poochie knows ... you should listen to him, Donna! #ambridgeextra (@SpareMousie on Twitter)    
I think Poochie is the most fantastically sympathetic character. Good judge of character. Loyal despite bad treatment from owner. Feisty & up for it. Poochie rocks! (acebass from the realms of glory on the message board)
The revenge of Poochie as he sinks his teeth in! I hope Cloive gets to share a cell with Keith. (@johnjohn21 on Twitter)
Well done Poochie indeed. Hope she gets a permanent part in TA! A secondary well done to Tracy. She has rather grown on me during this series. (Pat_Clifton on the message board)
Oh double eM Gee!!!! That was so exciting and tense and also a bit funny if you think about it. I've enjoyed every minute of it. Brilliant!!!! (Rock on Pooch!) (Alsdoublenezer Scrooge on the message board)
The Horrobins simply aren't interesting enough to warrant an entire series devoted to them.  (Paul237 on the message board)
Well, they haven't got much hope, nor have vast numbers of people, including many of my friends, or me for that matter, but I can't see that they live in a moral vacuum or are without values and nor do/are we. Most of the middler-class Archers and Co. have had extra-marital affairs or lied or cheated or hurt their families - they just do it with posher accents and whine to the vicar about it. (2pa on the message board)
Join the conversation on the Ambridge Extra topic on the message board 
Tayler Cresswell is host of The Archers message board.