"Well done Nic!" Listener discussions to 30 September 2011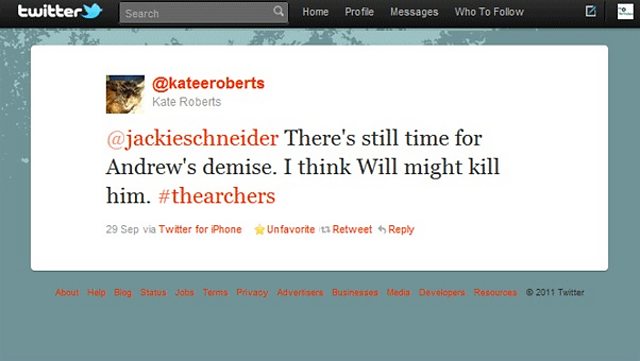 With Elona set to move into No 3 The Green, and Kenton into Jolene's arms at The Bull, listeners have voiced concerns. Is Peggy being set up? Is Jolene making a big mistake?
There was a cheer for Nic after her heart-to-heart with Will. And Friday's wince-inducing chat between Jennifer and Tony had one listener shouting "TONY and PAT - are you listening?? GET IN TOUCH WITH THE NFU ..!!!!"
Here's my pick of listener discussions on The Archers message board, Twitter and Facebook.

Does Elona have designs on Jack and Peggy's money? Is her errant husband Darrell a bad apple? Or is Peggy the one being manipulative? Listeners can't agree, but one thing they are united on: Robert Snell should not be usurped as Ambridge's handyman.
Nice to hear Peggy so happy after all she's been through. Let's just hope Elona isn't a con artist though... #thearchers (@MazHappy on Twitter)
I think Elona can be trusted, but we haven't met Darrell yet. (Marcel Van Gool on Facebook)
Peggy had a bad husband herself (Jack Archer) she is no fool. (Christine Jones on Facebook)
If Darrell takes work from Robert then I shall be most dischuffed, Robert rocks. (La Sharpissima)
All this Lady Bountiful act to suit her own 'needs' is sick-making. She has pots of money and several under-employed relatives. (antiquelemonsqeeze1)
#thearchers watch out Tony. Piggy's money is heading off into the distance (@ Noelgoodboo on Twitter)
Add your thoughts on the message board, Twitter and Facebook.


With Kenton about to move into The Bull, listeners are asking if he's "a leech or a cuckoo"? Or perhaps just misunderstood...
Someone always has to back him, house him. he is a parasite. Bone idle and a cheat. (Country Squire)
Yes - fun as he can be, he is very reliant on other people. I'd avoid him with a barge-pole in real life! (Bette)
And why on earth does he need to get Elizabeth's approval to move from LoLo, where he's been bed-blocking and reducing her profits for nearly a year? (Fuming Jacks Parakeet)
I 'heart' 'heart' ' heart' Kenton......so THERE (happysadarchersfan)
Kenton - leech or cuckoo? Share your thoughts on the message board.

Nic was applauded on Friday after her discussion with Will - but will it do any good?
Well done Nic! (Dusty Substances)
Agreed. That took courage and needed to be said. I may have to quite like her. (typewright)
I wish she'd just let rip. We'd all applaud. #TheArchers (@MsAlliance on Twitter)
Will was only trying to be a supportive partner, but at least Nic can be honest with him - they are going from strength to strength. (Auntie Molly)
All the time Will continues this feud with Ed she must come to the conclusion that he regards her, Nic, as second best. (wessexwanderer37)
Add your congrats or commiserations on the message board: thread Well done Nic!

On Friday, listeners winced at the awkward silence between Jennifer and Tony. Many thought that Jenifer was cruel to ignore her brother's pleas. But should she help financially? And why aren't the family rallying round in Pat and Tony's hour of need?
I know the Archers are a dysfunctional family but I thought Jennifer was actually cruel to Tony. It was vile to listen to. She couldn't even be sympathetic let alone helpful. (Skyebird)
Tony and Jenny should win the BAFTA for Best Awkward Silence. #theArchers (@grimbletweets on Twitter)
JD is far too busy worrying about whether Chris can afford to provide Alice with sufficient caviar and cashmere sweaters to make life tolerable to give a thought to her brother's real problems... Peggy's contempt for her son has infected the way her daughters treat him. (Polly Tunnel)
But I did enjoy Jenny's hasty 'Oh, no, no, mustn't ask Mum for money'. I could just imagine her seeing her inheritance draining away. (JustJanie - Fairweather Jogger)
I have never hated Jennifer more than I hate her now #thearchers (@No8marketing on Twitter)
I am just surprised that Tony has to even ask his family for help... Why don't they pool money together and give it to them. This is such a devastating loss for T & P. I can't believe no one is coming to their aid. (dreamadream)
I can't imagine any sane person being prepared to put money into BF. They've no plan, no way of making profits, they're a lost cause. (old cath)
TONY and PAT - are you listening?? GET IN TOUCH WITH THE NFU ..!!!!
(JustPresidentBunnikins_Socialist)
Read more in the Jenny Darling - smug or what? and the I know the Archers are a dysfunctional family... threads.

Tayler Cresswell is host of The Archers message board.
.