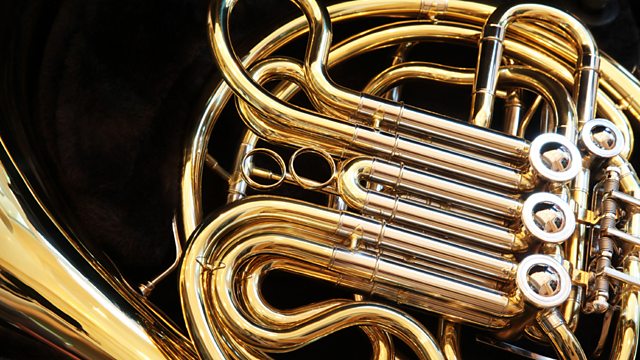 French horn
Regular listeners may have noticed something out of the ordinary this week, when the credits for The Archers were read out after Thursday evening's episode, rather than Friday's as normal. But this was as nothing compared to the unusual event 24 hours later.
Friday's episode ended, not with the regular version of our signature tune, but with a live performance by the BBC Philharmonic, linking into the following programme.
Roger Turner, the orchestra's music librarian explains more.
One approaches any attempt to tinker with the signature tune to The Archers with a certain degree of trepidation.  I remember the reaction in the early 90s, when it was re-recorded in stereo to replace the old mono recording.
When the BBC Philharmonic's manager Kathy Jones suggested in a production meeting that it could be played live by the orchestra to link into our Listening Project Symphony programme, everybody thought it a neat idea.  I then heard myself say that it might be nice to tweak it a bit so that it would have an element of the sound world Gary Carpenter, the composer of the symphony, had created for his piece.
The Archers editor Vanessa Whitburn bought in to the idea – with the proviso that it should not be wildly different to what the audience expects and that it should suit the mood of the episode it was to follow. 
Initially there were thoughts that, being broadcast on a Friday, it should be long enough for the credits to be read over it.  As all the world surely knows, the signature tune is taken from Barwick Green, the last movement of the suite My Native Heath by Yorkshire composer Arthur Wood.  So we started going through the rest of the movement looking for a quieter passage that could be read over, to link to the tum-ti, tum-ti, tum-ti bit that everyone sings along to in the car. 
But in the end, it was decided to read the credits on Thursday instead, so that orchestra could simply come in with the well-known tune.
So how is it different?  Well the change is quite subtle. Why not try listening again? 
The BBC Philharmonic plays out The Archers on 14 December 2012
In the meantime, I've found a nice nuclear bunker where I can spend Christmas.
Keri Davies is an Archers scriptwriter and web producer