'Stop feeling sorry for yourself Darrell' – Listener discussions to 2 October 2013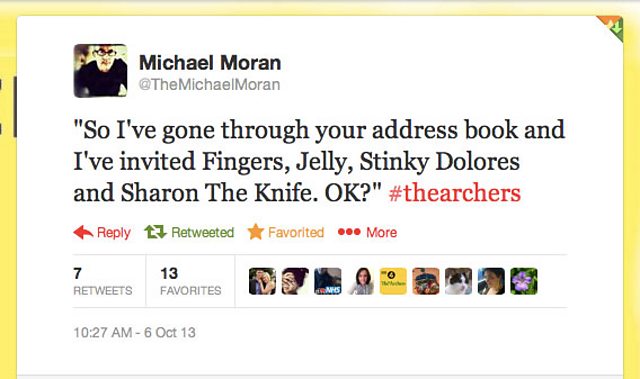 'Stop feeling sorry for yourself Darrell' – Listener discussions to 2 October 2013
Will Susan enjoy a happy 50
th
birthday party? Does Darrell deserve his fate? And what of  "jealous" Emma and "spiteful" Ed? "Listeners pass judgement.
There are tears for Joe, hopes for a "catastrophe" when it comes to Helen and Rob and a big cheer for the Brookfield badgers.
Here's my pick of online discussions between 26 September and 2 October 2013
Listeners are looking forward to Susan's 50th birthday party - for all the wrong reasons...
Yay! Gossfest. It's Susan, and Trace to boot.  #TheArchers (@Airscaper on Twitter)
Invite Maureen, it'll be someone for Neil to chat to! #TheArchers  (@pmduk69 on Twitter)
Soosan's party is going to be #thearchers meets Prisoner Cell Block H (@jamspangle on Twitter)
"So I've gone through your address book and I've invited Fingers, Jelly, Stinky Dolores and Sharon The Knife. OK?" #thearchers (@TheMichaelMoran on Twitter)  
Oh Darrell – does he deserve to be in dire straights? Rosa was castigated for being so harsh and some applauded his rant at Shula
Well said Darrell, it's like a down & outs Gettysburg address #TheArchers (@salvatorRosa on Twitter)
I'm warming to Darrell #thearchers  (@DustySubstances on Twitter)
Getting mixed up with Shula the worst mistake ever? Darryl speaking for the nation, there. #TheArchers (@Wimblebear on Twitter)
Well done Darryl, the one time you find a backbone it's to attack the one person that wants to help. You're an idiot. #thearchers (@LukeVernon on Twitter)
The Darryl story is heart-breaking-- there must be a job for him somewhere. I don't want to see him become an alcoholic or something. That would be too too bleak. (Pattipeg Snyder Harjo on BBC The Archers Facebook page)
Stop feeling sorry for yourself Darrell. You deserve everything. #TheArchers (@AndromP on Twitter)
I find it unbelievable that none of the residents of Ambridge (including his own daughter), apart from Saint Shula, seem remotely concerned about Darrell. How will they all feel when he is found dead under a bush on the green? (Lauraine Reynolds on BBC The Archers Facebook page)
Of course Darrell's lashing out - he's lost all pride and purpose Lovely performance. Some people just don't get it. #The Archers (@Rayn1951 on Twitter)
Can't believe how quickly his situation has escalated, or how anyone could have anything other than compassion for him. Yes, he made some bad decisions and was easily led, but really, no deserves to go through what he as been through recently. And I'm sure it happens in reality every day too during this period of 'austerity'. Great little inclusion from the SWs. (Penney Mischeef Percival on Archers Addicts Facebook group)
So if Rosa knows Darrell is homeless so must Elona. I know they've split but I'd have thought she'd give him a bit of support in some way. (Stephen Āh Burroughs on BBC The Archers Facebook page)
Awww Rosa, give your dad a break!!! What's happening to me, feeling sorry for Darryl!!!! #theArchers (@MrsPanad on Twitter)
Rosa. All the embarrassability of youth. And the callousness #TheArchers (@lomelindi12 on Twitter)
Ed earned some brownie points with listeners after he took Bartleby to see Joe
He's a good lad, that Ed Grundy! #thearchers (@easedale on Twitter)
Good old Bartleby's put the sparkle back in Joe's eye :-) #goodpony #thearchers @BBCTheArchers (@Cardifolderol on Twitter)
#thearchers That scene with Joe & Bartleby was adorable. No-one does pathos like Joe. (@feistyoatcake on Twitter)
@BBCTheArchers Stop, stop. My tears are flooding my iPad. Bartleby! (@1943pete66 on Twitter)
Rude and whinging Joe is still there Clarrie. You're just going deaf. #thearchers (@HiggsBoz0 on Twitter)
But after some unkind remarks about Nic and Will's new baby, Poppy, Ed and Emma were back in some people's bad books
Jealousy continues with Emma and Ed's spiteful remarks about baby Poppy. What has Poppy done to deserve such a negative Aunt and Uncle? (Lynda Everington on BBC The Archers Facebook page)
#thearchers Emma to Nic:  Any baby you can have I can have better, I can have any baby better than you. (@SteveBrooks13 on Twitter)
Gotta heart Emma, she's the only one who doesn't think Nic is a Saint.  #TheArchers (@SpareMousie on Twitter)
I can't wait for Emmur to tell Nic that they named their daughter after a cow, as she surely will. (David Clarke on Archers Addicts Facebook group)
Oh go on Ed - buy your brother a drink and congratulate him on his new baby - be a man! #thearchers (@busydawn on Twitter)
Emma was really unkind about baby Poppy! I think she is really insecure and says such things to make herself feel better. Emma is slowly but surely turning into Susan.. And Clarrie doesn't help by clearly favouring Nic over Emma. (Tracy Macheta on Archers Addict Facebook group)
As for Ed, I always thought he was a better person than that - what a gossiping traitor he is to his family. Oh I forgot he is still living with gossip Susan isn't he - it must be rubbing off on him. Time for Ed and Emma to move out and get their own place I think (Jill Nicholls on BBC The Archers Facebook page)
She did stand up to be counted over the Archer's barn fire putting herself at odds with her family so perhaps there's hope for her yet (Maggieisabella Powell on Archers Addicts Facebook group)
As Rob and Helen get it on at the dairy, listeners cross their fingers and hope that Jess will soon bring a "juicy catastrophe" to the village…
Blushing at The Archers #awkwardsmooching (@2dScrumptious on Twitter)
#thearchers First time I'm grateful to Darryl for interrupting those ghastly noises.  (@HeatherOnHerWay on Twitter)
If the Mega Dairy is to be successful Rob should concentrate on the impregnation of his heifers and not ....... (Jean Bell on BBC The Archers Facebook page)
I do think, in all seriousness, that Rob needs to man-up a bit now and decide whether his marriage to Jess is over. If it is, then he needs to be more decisive and take action. (Sue Gedge on BBC The Archers Facebook page)
The fact that Jess has remained a silent character has distorted our view of Rob! A bit dodgy in a way but somehow symbolic of the fantasy element of their affair?  (Maggie Mumford on BBC The Archers Facebook page)
Shall we track Jess down and tell her? It is time we had a juicy catastrophe. (Hilary Marson on BBC The Archers Facebook page)
The Brookfield badgers  have almost unanimous support from listeners
WooHoo! It's BADGERS!!!! God this is going to be a great day #thearchers (@jdg_99 on Twitter)
Badgers 1 - 0 Brookfield Go badgers! #revengeofthebadgers #thearchers (@opheliaknee on Twitter)
YES! The badgers return! I *like* David and Ruth, really I do - but those badgers are intent on wreaking their revenge - and I love it!  (Claire Kulagowski on Archers Addicts Facebook group)
The badgers are only written in purely for Twitter folks entertainment, I swear. #thearchers (@SueHomeyard on Twitter)
Tayler Cresswell is The Archers' social media host
Join the conversation
Or join the discussions on Archers fan forums: