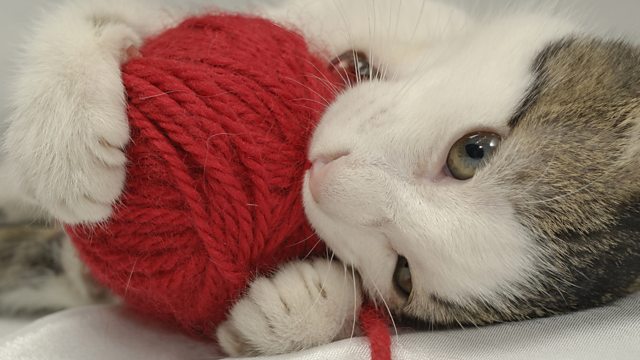 Following the sad demise of Peggy's cat Ben, we remember how she came by him and Bill, and also the life of her previous much loved moggy, Sammy.
Sammy first came into Peggy's life on 14 June 1983, when Jill gave her a kitten from a litter of farm cats at Brookfield.
In December, Sammy went missing after a fire at Peggy's home, Blossom Hill Cottage. Nigel Pargetter got into Peggy's good books by finding the missing cat.
Peggy took Sammy with her to Home Farm while her cottage was repaired. Her son-in-law Brian Aldridge found his presence irritating on several counts. Fearing that Sammy might be run over, Peggy told the drivers of sugar beet lorries to slow down near the house. Peggy feared that Sammy would eat the rat poison that Brian put down in the barn. When Sammy clawed the sofa, Brian and Jennifer gossiped about how awful he was.  Peggy overheard, and was upset.  When Tony invited her to move to Bridge Farm, she accepted with alacrity.
Sammy the matchmaker
In November 1989, Jack Woolley had a rival for Peggy's affections: Godfrey Wendover. But a dinner with the interloper was not a success. Godfrey laughed at her idea to show Sammy at the cat show at the NEC. Jack pointed out that Godfrey was not an animal lover, whereas Jack understood how Peggy felt about Sammy because of his feelings for his dog Captain. Peggy admitted she wanted to go to the cat show but not by herself.
So Jack escorted her and they had dinner together afterwards. The following year she accepted his proposal of marriage.
In December 1998, Peggy had sold the Bull to Sid and Kathy Perks in partnership with Guy Pemberton (Caroline Sterling's former husband). Peggy invited Sid and Kathy for tea and a ceremonial handover of her artefacts and keepsakes. However, Sammy took against a cute picture of two kittens playing with a ball of wool. Although he thought he'd seen the last of the ghastly object, Sid felt obliged to return it to the Bull and give it pride of place as a memory of Peggy's happy days there.
By August 1999, Sammy was past his best. He had developed a very nasty dribble and spent hours staring at the wall. In October 2000, he went missing. Jack walked for miles looking for Sammy and eventually found him dead under a tree in the Country Park.  Peggy was sad, but glad that at least he hadn't been run over.  They buried him near the golf course next to Captain, who had died in 1991.
Bill and Ben
Meanwhile, Will Grundy had found two orphaned feral kittens. His then boss Greg Turner reckoned the kindest thing would be to drown them. Caroline, with whom Will was lodging, didn't want them either.
The rest of the family were living in a caravan, as they tried to recover from their eviction from Grange Farm. Nonetheless, William managed to persuade his grandfather Joe to care for them – by threatening to expose the truth over the supposedly ancient Borsetshire sport of spile troshing, which Joe had in fact made up out of thin air, or possibly pipe smoke and cider fumes.
Joe named the two kittens Bill and Ben. Hearing of Peggy's loss, he brought them to her as a present, if she wanted them. He knew they could never replace her Sammy, but if she could them a home he would be very grateful. Peggy was smitten instantly. Bill and Ben had found a permanent home.
Keri Davies is an Archers scriptwriter and web producer.
Combating loneliness - advice from Age UK

Learn more about  Peggy, Jill, Brian, Jennifer, Tony, Kathy, Caroline, Will and Joe in our Who's Who