"Aw Jazzer – you are breaking my heart" – Listener discussions to 2 April 2014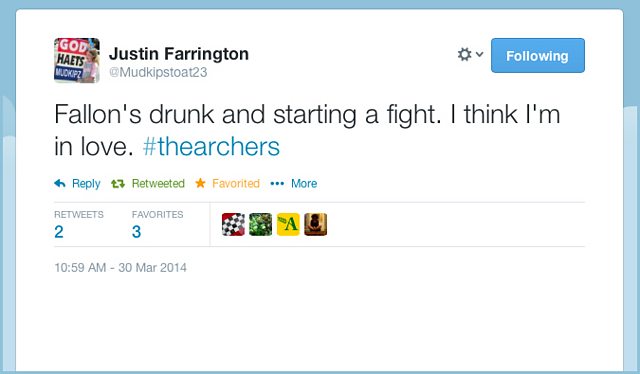 Post from @Mudkipstoat on Twitter
Kirsty's hen party brought on a flurry of bets on whether Fallon will soon have a new boyfriend – some wonder if there's a dark cloud on the horizon of Kirsty and Tom's wedding?
Meanwhile Rob's sunk even lower in listeners' estimations; Ruth's miscarriage storyline moved many to tears and the mystery of what's up with Dan had imaginations running riot…
Here's my pick of the listener discussions between 27 March and 2 April 2014.
After Kirsty's eventful hen party, listeners were less concerned about the bride-to-be than they were about Fallon and whether a new romance is on the cards with PC Burns… some still hope that there's a chance for poor Jazzer.
aw Jazzer - you are breaking my heart with the torch you are still carrying #thearchers (@Erastes on Twitter)
#thearchers I'm campaigning for a Fallon and Jazzer union #fallonandjazzer (@verabling on Twitter)
Money on Fallon and Burns. Don't suppose I'll get good odds?! (Victoria Hogan on BBC The Archers Facebook page)
I really hope Fallon doesn't go out with that copper, she's better than that. (Stephen Āh Burroughs on BBC The Archers Facebook page)
Fallon's drunk and starting a fight. I think I'm in love. #thearchers (@Mudkipstoat23 on Twitter)
There was no love lost for Rob in the wake of the stag and hen parties as many remarked on his "manipulative" streak and distinct lack of humour.
Rob went to the police? Titchener? More like Snitchener. #thearchers (@yokelbear on Twitter)
Ooh, Rob's not pleased. 'Gentleman's club' OK for men; women must act with perfect propriety. #DoubleStandard #ControllingGit #TheArchers (@SpareMousie on Twitter)
Rob has no Sense of Humour. Another demerit mark. I think he's at minus 50 in my book at the moment(Rachel Fleming on Archers Addicts Facebook group)
I think he's a selfish, charming when he wants to be, manipulative bully. And yes, it probably stems from problems of his own, but it's his responsibility to resolve them. (Sally Owen on Archers Addicts Facebook group)
#robgate he's hideous isn't he? #thearchers (@Kate_MB on Twitter)
Rob taking the moral high ground. *Skin crawls across the floor and out of the door*. #thearchers (@AHARPER87 on Twitter)
As for Tom and Kirsty, recent storylines have led some listeners to wonder about their wedding – though others remain optimistic.
I'd really like Tom and Kirsty's marriage to last a very long time and be content and happy. More like Roy and Hayley, and less like Will and Emma. Helen and Rob can fill the dysfunctional relationship slot. (Elaine MacGlone on Archers Addicts Facebook group)
Anyone else wondering if Tom and Krusty are actually going to get married? Tom seemed to be cooling off last night and Krusty is now focussing on anything (wedding dresses, kitchens etc) rather than actually being married. Mind you, if I were getting her in laws I'd need distracting too. (Lynne Jenkins on BBC The Archers Facebook page)
#thearchers. if this wedding takes place, I'll eat a Tom Archer sausage! (@GeeHubb on Twitter)
Don't worry, Kirsty. You've only another estimated forty years of this. #TheArchers (@Drwallington on Twitter)
There was plenty of praise for the "poignant" writing and acting around Ruth's miscarriage – though some felt that the timing of the storyline could have been more sensitive.
Oh, Jill and Ruth.  I've got something in my eye. Sad.  #thearchers (@heather1917 on Twitter)
Just listened to podcast. It was really touching. A hard topic to cover well which makes it even more impressive (@lissygreen1 on Twitter)
Sunday lunch, champagne and crying at #thearchers omnibus with mum. What a lovely day.(@Charlotte_Tee on Twitter)
It was well written, very well acted and handled with sensitivity ~ just the sort of quality we love in The Archers. (Jean Bell on BBC The Archers Facebook page)
Poignant , well written and delivered. (Paula Meeds on BBC The Archers Facebook page)
I want to shake everyone in The Archers who is officiously deciding how she should feel. That would include Jill, Shula, Dave, Jennifer. Next thing you know there'll be hurt feelings that she's 'shutting them out'… the story has taken a turn for the better as far as I am concerned.I remain in hopes that will Ruth lose it and tell them all to stop pestering her. (cath on The Archers blog)
Oh No! Poor Ruth! This is sad! #thearchers @BBCTheArchers Sorry but very bad timing for this story line. Could have delayed it by a week! (@MsMigot on Twitter)
I too think the timing of this storyline was totally insensitive. Listening to the omnibus edition on Sunday morning, Mothering Sunday, I was reduced to tears on hearing about the miscarriage. (Sue on The Archers blog)
Dan proved a big talking point and caused all kinds of speculation. Just what sort of a surprise is Shula in for?
So, what's Dan's bombshell? My money's on he's joining one of the armed forces. (Kerry Cann on Archers Addicts Facebook group)
Is he going to come out as gay? Whatever it is, I bet sanctimonious Shula will blow her top! (Anna Karsay Shackleford on Archers Addicts Facebook group)
Male anorexia storyline coming up? Or is Dan getting in shape to pull Fallon? #thearchers (@MagneticFlea on Twitter)
Is there something sinister afoot in #thearchers with Dan's sudden exercise kick or am I just paranoid?(@gherkinette on Twitter)
My immediate thought was the exercise stuff was a blind and it's to do with drugs. Not sure where the aftershave fits in with that, though. (Nigel Cropper on BBC The Archers Facebook page)
Maybe he's changed his mind about going to university to study Law. (Cathy Bowden on Archers Addicts Facebook group)
So we're all agreed, it's Dan the anorexic, gay, army cadet. (Joe Totale on BBC The Archers Facebook page)
Just want it to be something to upset the Sainted Shula. (Gillian Berg on BBC The Archers Facebook page)
Whatever happens, there's one thing listeners can always rely on for a bit of light relief: theSnell sniff – which came in for high praise during the passion play preparations.
Supersize Linda sniff there #thearchers (@40lucyjordan on Twitter)
Lynda Snell in full flow is one of the greatest things on radio never mind #thearchers! (@potterwigham on Twitter)
I heart Linda. No one does outraged in quite the same way. #thearchers (@AnnaEdwa on Twitter)
Lyyyndaaaa is quite a comedian...love her dead pan delivery. Would love to see her give rob a few lessons.. and just adore that sniff.... I'm working on that (Caroline Stevens on Archers Addicts Facebook group)
Linda's sniff is a National Treasure. (Terry White on Archers Addicts Facebook group)
Tayler Cresswell is The Archers' social media host
Join the conversation
Or join the discussions on Archers fan forums: