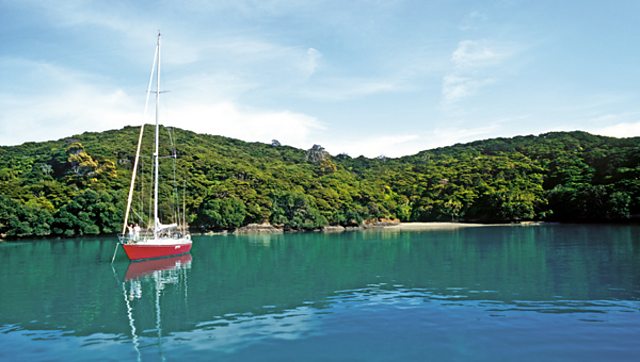 Having spent time in South Africa and on the road in the Lake District, our spin-off series Ambridge Extra now visits its furthest-flung destination yet. Between now and the end of the series on 6 September, we follow Kenton and Jolene on their trip to New Zealand.

The Characters
As well as Kenton and Jolene, we meet:
Mel: Mel married Kenton in 1994 to help him stay and work in Australia. It grew into a love match, but the marriage fell apart after eight years.
Meriel: Kenton's daughter, who of course he seldom sees.
Aiden: Mel's new husband. He and Mel run an outdoor activities business.
Lance: Mel and Kenton's former business partner. They ran a sailing charter business in Australia until Kenton returned to the UK in 2002.
Lucy: Jolene is determined to visit the memorial to her husband SId, who died in New Zealand in 2010. But relations with Sid's daughter Lucy have always been difficult.

Photo gallery
You can view a photo gallery of cast and studio pictures.

Get on board
Several of the episodes are set on board a sailing yacht. Meriel is increasingly under the influence of her sporty (but non-sailing) step-father Aiden. So Kenton hopes the trip will re-kindle his relationship with his daughter.
I scripted the final six episodes, after taking the baton from my Archers colleague Caroline Harrington. The sea-going scenes were particularly fun to write, as I used to sail quite a bit. I qualified as a Day Skipper, which is rather lowly and way below the Yachtmaster ticket that Kenton, Mel and Lance possess. But I enjoyed applying my knowledge to getting the sailing technicalities as accurate as possible.
Not that you need to know anything about sailing to enjoy the episodes. It's just the background to a rollicking tale in which we learn a considerable amount about Kenton's colourful past Down Under.

Schedule
You can hear Ambridge Extra on BBC Radio 4 Extra:
Tuesdays and Thursdays at 2.15pm.
Omnibus edition: Sundays at 11.15am and 7.15pm
(and for night owls on Mondays at 2.15am)
You can also get it on BBC iPlayer, or as a free download (podcast).

Keri Davies is an Archers (and Ambridge Extra) scriptwriter and web producer.


View the photo gallery


Ambridge Extra programme page


Picture shows a yacht anchored in the Bay Of Islands, New Zealand, and is used under licence.