"I'm going to miss Ivy" - listener discussions to 3 November 2011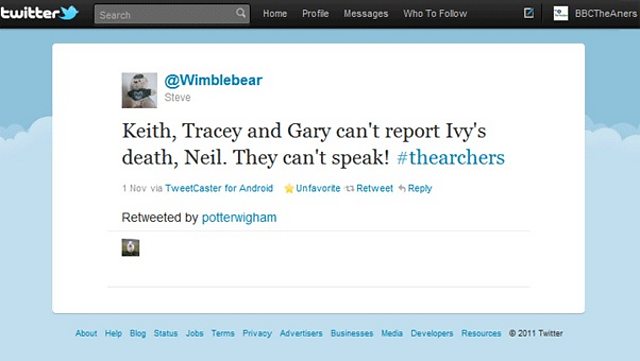 This week, The Archers' listeners remember Ivy Horrobin - "The village will be a poorer and quieter place without her." Brenda's place in the family has been debated after Tony excluded her from the Bridge Farm meeting, and Tom's successful pig video is upsetting some.
There's more on Will and Nic's wedding preparations and a Radio 4 Continuity Announcer drops by.
Over in Ambridge Extra, hopes for Clive's rehabilitation are fading fast, and who has Erin set her sights on?
Here's my pick of listener discussions on The Archers message board, Twitter and Facebook between 28 October and 3 November 2011.

It's "slippery Brian" v Adam - when it comes to the Battle for Home Farm, who will win? Has Brian ever really cared for his stepson? And will Adam soon be leaving Home Farm?
Brian is just so slippery, he handled the whole thing appallingly and Adam should say no on principle. (Donna Savery on Facebook)
Adam appears to me to be arguing purely from a "You never consult me so I won't support you" point, not any logic about the farm... (RobinAFromSway)
I don't know why Brian puts up with him. Don't like Debbie or Adam since they tried to push Ruari out of his inheritance. Brian owes them what exactly? (sunnysakasredux)
Take sides in the I've gone right off Brian thread.

Ivy's death on Monday spawned a splendidly tongue-in-cheek thread about this former silent character. Those listening to Ambridge Extra, however, are pleased that she's got over her terrible cough!
I'm going to miss Ivy. Her witty jokes. Her devastating put downs. Her double entendres. Her words of wisdom. The way she was always at the centre of astute political discussion in the Bull. Her mesmerising story telling skills. Her knowledge of folk lore and traditional songs . Her encyclopaedic recall of bloodstock lines. The village will be a poorer and quieter place without her. (Vicky S)
Some folk say a ghostly hacking cough can sometimes be heard on the village green... (Froginasock)
Read more in the I'm going to miss Ivy thread on the message board.

Some suspect Clive of having a hand in his mother's death...
#archers #thearchers Tragic about Ivy.....where was Clive at the time of death I wonder (@ ChirpsEstonia on Twitter)

Supportive Neil Carter has come in for much praise
He really does love his wife. And shows the patience of a Saint when she gets in a snit. (beligerent_londoner101)
A man of few words but they all count as opposed to the likes of Lynda and JD [Jenny Darling]. (Purple_Hay)
Give Neil a pat on the back in the aptly named Neil thread.

Over at Bridge Farm, some were despondent at news of the success of Tom's footballing pigs video - and there was much debate over Tony's comment that Brenda be excluded from the "family" meeting.
A viral success for piggy football. I suspect that I am not the only one who is just a little disappointed at this wholly unexpected turn of events? (Dr Toad Leg)
I'd happily give Tom and Brenda 23,000 hits. #thearchers (@stevenperkins on Twitter)
I did think that Brenda had helped with Bridge Farm marketing in the past, if so it seems a bit petty to exclude her now. (Auntie Molly)
It's not take our girlfriends to work week as far as I know. Just because she lives with and claims to be going to marry Tom she's not a partner or employee of the enterprise. And as to whining 'when I think that all I've done for them, it's really hurtful', I nearly threw the radio through the window (A Frend)
Have your say in the Is Brenda a member of the family? thread.

With Will and Nic's wedding preparations well underway - Roy as best man, 'e-Clarrie' making the cake and advising on the bride's dress, and the Shania Twain soundtrack - what could possibly go wrong?
Clarie's making the wedding cake! Entire cast felled! #thearchers (@felixrandal on Twitter)
I've a bad feeling about this one. If it's Clarrie advising on the wedding dress, Nic is in danger of ending up in something sensible in crimplene with a warm cardie that doesn't quite match. (Hot Cross Nun)
Why doesn't Will ask his brother to be his best man? (Graham42 _Soon Be Autumn_)
I know for a fact most registrars would gladly kill Shania Twain. #thearchers (@jamspangle on Twitter)
Read all about it in the Poor Nic's mum and Roy as best man threads.

And Radio 4 Continuity Announcer, Alan Smith (or 1eggor2 as he's known on the message board), popped in on Thursday night to join Mustardlanders listening to The Archers...
Hello everyone - it's your Eggy CA here, a lovely mug of Columbian at my side, ready to listen along with you... I have the vicar in my sights this evening! (1eggor2)
Grab a coffee and join the Good evening from the bunker! thread.

In Ambridge Extra, listeners are coming to the conclusion that Clive hasn't changed. Does Matt really have a plan for dealing with Clive?
How low can Clive sink lying about his mums rings?! Quite a way yet I wager! @BBCRadio4extra @BBCTheArchers #thearchers (@ruggerlad on Twitter)
The Matt / Clive combination has been a brilliant pairing since the first episode - the two of them work perfectly. Adding PussCat to the mix whilst hearing Clive's internal commentary made for a great few minutes. (Mustafa Grumble)
Read all about it on the Excellent Episode thread on the message board.

Has Erin set her sights on Alistair? And is it just work experience she's after?
Now *this* IS a good story. Poor old shy, slightly strange Daniel when his father ends up boffing the girl he fancies. (JoLean)
I suppose that Alistair could fall for her, without anything actually happening, though having both Daniel and Alistair having lustful thoughts about her would be hard for me to listen to ... (Lakey_Hill)
Check out the gossip in the Alistair & Erin thread.

Tayler Cresswell is host of The Archers message board.