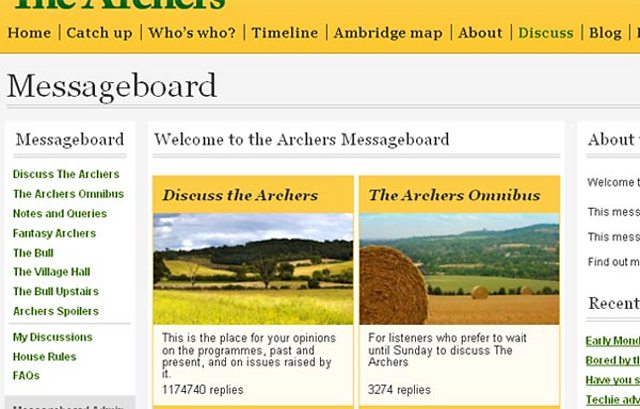 A long-overdue heart-to-heart, frustration, tears, a welcome return and an emotional tribute to an Ambridge old-timer... Here's the latest on The Archers according to the folks on our message board and Twitter, in a round-up supplied by Archers message board host Tayler Cresswell.

Tears for Helen and praise for the actor who plays her (Louiza Patikas) and for the scriptwriting (Keri Davies)

Well accustomed to being the centre of attention, mum-to-be Helen Archer has had The Archers message board buzzing - particularly after her heart to heart with her mum, Pat, on Friday.
"Louiza P has been a complete star for months now - but she surpassed herself tonight. Absolutely superb." (story fairy)

"It was well written and very well acted tonight. I really hope the scriptwriters allow the baby - and Helen - to be fit and healthy." (Sussex Cornflower_ winter is here)

"Good, good acting going on tonight... making me feel that Helen is portraying someone walking the ragged edge of collapse." (Chris Ghoti)

But why is Pat not telling her fragile daughter some home truths? Many on the message board and Twitter are infuriated with Pat's near silence on Helen's problems with her weight and exercise regime.

In a marathon thread entitled "Poor Helen", Lady Sybil complains, "It's the drama queen element that grates with me - NONE of them have a sense of proportion about anything in Helen's life. It's those around her feeding into it that bug me!"

Read the whole thread

Amy's back!

Vicar Alan Frank's daughter, Amy, has arrived back in Ambridge - now a qualified midwife. But her return did prompt speculation about the reasons for her return...

"I thought Amy was great this evening." @MsAlliance)

"Is it a coincidence that Amy is qualified as a midwife and back looking for work just as Helen is due to drop?" @JoelHeason

Waiting for a Wonder
Pip Archer's performance of her granddad Phil's favourite carol, Waiting for a Wonder, moved many on the message board.

The carol was composed by long-standing cast member Norman Painting who died in 2009. While the church organ rendition wasn't to everyone's tastes, many saw it as a fitting tribute to both Phil and Norman.

"I liked it. Not the organ playing, can't stand organ music, but the whole idea. Made Jill happy. All in all just my sort of episode. Nothing much happened. Splendid." (Nelson_G)

"Just listening to Archers on iPlayer. They're in the Advent Sunday Service and Pip is playing Phil's favourite Hymn. Making me cry......." @keirbrown

You can read more about Waiting for a Wonder on The Archers blog.

What's your earliest Archers moment?
There's a new thread (thanks to message-boarder, whitejude) where people are sharing their earliest memories of The Archers.

"My earliest memory is from 1960 when my sister and I (aged about 7 and 8) had to stay with an aunt for a few weeks. As the dum di dum music came on she'd say 'Sssh, it's The Archers'." (FloBear)

You can share your moment on the earliest moments thread on The Archers message board

Tayler Cresswell is the host of The Archers message board