Happy pancake day! Listener discussions from 7 to 9 March 2011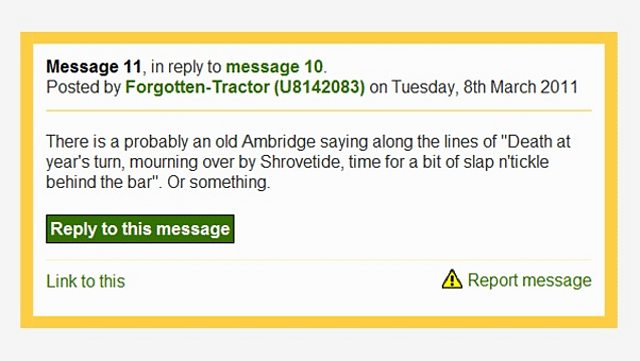 Is Lower Loxley in financial trouble? Why hasn't Elizabeth Pargetter seen this coming? What's wrong with the cows at Brookfield? Is it "ALL DEEEEVEEED'S FAULT"? Is Jolene Perks rushing things with Kenton Archer? Poor Eddie and Joe Grundy - will Clarrie's frugal Sunday lunches drive them to The Bull? And has Rev Alan Franks got it all wrong about his Lent appeal?
Here's my pick of listener discussions on the message board, Twitter and Facebook between Monday 7 and Wednesday 9 March...

Lower Loxley (affectionately dubbed "LoLo") is under discussion on The Archers' message board. Some wonder at the amount of work Nigel is said to have done there and think Elizabeth would have known more about the business. But was Nigel hiding problems from her?
Tonight's epi shows why Lizard [Elizabeth] won't be a multi-million biz CEO... Nigel seems to have saddled her with a dodgy arrangement with the bearded wonder, which she should at least have tried to make better for LoLo to the extent that it wasn't costing LoLo money (Jacks Parakeet)
Wine requires too much thought! What makes a good wine? I have no idea. (@LizziePargetter on Twitter)
... Lizzie wouldn't have been wishy washy with the wine tasting. She would have told Nigel which one was best and he would have deferred to her not the other way around. (Meedenny)
Read more in the Wine tasting on radio and Business dunce: need answers threads on the message board.

Young Freddie Pargetter was applauded for standing up to his mother on Wednesday
Congratulations to Freddie's actor - he got the young teen voice exactly. Noo-wha! (Toastmonster)
Poor Freddie surely needs a break from being Awfully Brave and Doing It For Daddy. (PhyllisDoris)
#thearchers - The prospect of playing word games with Elizabeth or playing with Connor? Hmmm. Lewis you have the patience of a saint. (@mudpiescooking on Twitter)
Read the I officially HEART Freddy thread.

Many enjoyed Pancake Tuesday with its "Pub banter, ironic crushed nuts gags, Mr Pullen and the over-sixties, peregrines as reincarnated souls, Joe in rare old form, maple syrup and nice remarks about Kenton" (villageschoolmarm)
I'd like to hear Eddie's 'crushed nuts' gag in full. (AcidRefluc)

"He said a lot of things like that. Neighbours stopped dropping in towards the end...". Brilliant - classic Joe Grundy! #thearchers (@revenante on Twitter)
AT LAST! I laughed out loud several times tonight - might even get back into TA... (toriren)
Join the discussion on the Tuesday 8th's episode: just me or... thread.

Over at Brookfield, if vet Alistair Lloyd's fears about the cows turn out to be true, many think they know who will get the blame... But was Eddie's description of the problem too graphic?
It is ALL DEEEEVEEED'S FAULT for being awol. (MsMumbo-Jumbo)
Eddie's description was quite euphemistic, I thought he must be sparing the listeners' sensibilities. (maggiechow)
@eddie_grundy Please! Do we have to have so much information at teatime? #thearchers (@eatcakeandbehappy on Twitter)
I blame whoever asked for more agricultural detail in The Archers. (ermintrude)
Make sure you've finished eating before you read the Loose?!? thread.

It's love among the pancakes at The Bull, but is Fallon Rogers right? Is it too soon for her mum to start a relationship? Many hope the kissing scenes will be kept to a minimum! And when Kathy Perks finds out, will she care? Most hope she will - on air.
Sod being on your own, bring it on (Titanic350000)
...Let them both have a little bit of happiness, I say. Sid can't come back and Jolene is no Queen Victoria. (StargazerwithOscar)
But am still grinning over Kenton and Jolene. Happy moment & hurrah to Jolene's husky/racy tones returning ... #archers #thearchers (@thearchersfan on Twitter)
PLEASE, (double please with knobs on) show us the scene where Kathy finds out, don't just tell us in one of those clunky add-on's from another character. I want to actually hear her jaw drop. (Bert The Bard)
Do you think it's too soon for Jolene to have a relationship? Add your thoughts on the message board.

Many were cross on Joe and Eddie's behalf after Clarrie's plans for Lent were revealed. Some groaned "not again!" about the Lent storyline. There has also been much debate on the message board about whether or not Sundays are a fast day during Lent.
There's no reason why Joe & Eddie shouldn't buy the ingredients and cook their own lunch though, is there? Except they behave as children who are incapable of cooking their own meals, and Clarrie knows it. Their choice. I suppose they could always get the ever obliging Nic over to cook for them. (old cath)
Debate the Lent appeal on the Frugal Sunday lunches? thread.

Tayler Cresswell is host of The Archers message board.