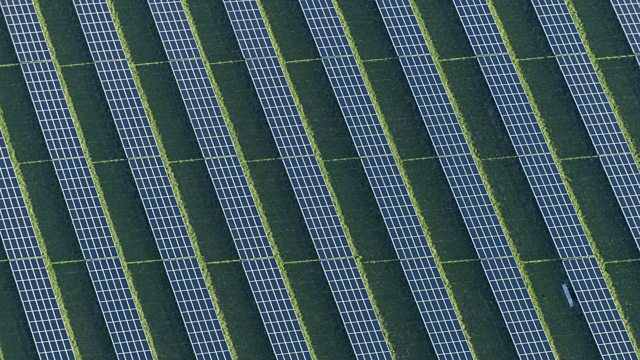 Solar array
Borchester Land (BL) is proposing a large-scale solar farm on the Estate. If the project goes through, it will mean that a sizeable chunk of farmland will be covered with large solar panels in what is known as a "solar array".
Like a number of landowners around the country, BL is keen to get its solar farm up and running before the Government changes the support arrangements for large-scale schemes like this. Until now these schemes have enjoyed substantial public subsidies in the form of ROCs – Renewable Obligation Certificates. But from March next year this support will no longer be available for ground-mounted solar farms in the mid-scale, 5-30MW range.
This is the size range that includes the BL scheme. So if they are to cash in on the subsidy, the land company will need to get its skates on to have the solar farm working by next March. An industry survey has shown there are nearly 200 projects of this size currently under consideration, or at the planning stage.
If the Government's proposals go ahead, there is likely to be renewed interest in smaller solar energy schemes: those delivering up to 5MW of power. These will continue to earn the ROC subsidy.
However they are unlikely to hold much appeal for BL chairman Justin Elliott. He's known to favour big, bold schemes which have a real impact. Renewable energy is one of BL's main areas of interest under its new management team. Whether this will win many plaudits from Ambridge locals is far from certain.
If Elliott's big scheme fails to get beyond the planning stage, he is unlikely to give up on solar power generation. While a single small-scale project may not hold much appeal, he is almost certain to look into ways of maximising income under the new arrangements by going for a number of small schemes. He is known to have bought a number of blocks of land in south Borsetshire. If all of them become sites for 5MW farms, BL may end up no worse off.
Rooftop schemes
The company may also decide to go for rooftop schemes. BL's Ambridge estate contains a number of barns and other buildings, all of which could become sites for rooftop panels. ROCs for smaller schemes, along with feed-in tariffs are all applicable to rooftop schemes.
As with all such schemes, the ones most likely to get the go-ahead from planners are those which have been sensitively sited and take account of local feelings. In general the more remote the site the better. Key location criteria include:
Keeping well away from special areas such as Areas of Outstanding Natural Beauty
Being well away from heritage sites such as ancient burial mounds
Far from public rights-of-way and roads
Away from sites that are overlooked by local residents
Whether the South Borsetshire planning committee will feel that BL's proposed scheme meets these criteria is yet to be seen.
Following the retirement of Steve Peacock, Graham Harvey has returned to the role of The Archers' agricultural adviser.
Solar Power in the UK (Wikipedia)
Solar farms 'set to keep growing' despite subsidy cuts (BBC News)
Read the history of Borchester Land
Learn more about Justin Elliott in our Who's Who