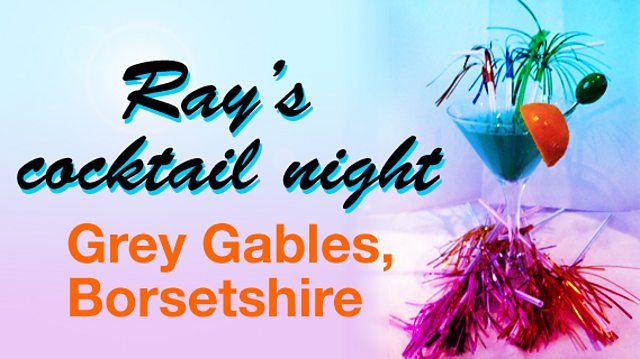 Ray's Cocktail Night at Grey Gables
Wednesday night is our informal Cocktail night at Grey Gables. I do hope you can join me! There will be wonderfully exotic cocktails and I'm planning to bring a bit of much needed atmosphere and sparkle to the place.
We've knocked up a brand new cocktail menu thanks to our Twitter and Facebook regulars. If you have any more recipe suggestions, post them below and I'll get the barman to add them to the menu.
So come along and step outside your comfort zone!
Cheers!
Ray
Grey Gables Cocktail Night Menu
The Grey Gable: Vodka, lemonade and tapioca... With a cocktail sausage on a stick, of course (@SueArcher6 on Twitter) 
Sex on the slurry  (@salvatorRosa on Twitter)
The Brenda: A white Russian with sour grapes (@MagneticFlea on Twitter) 
The Kathy: 1 part tap water, 1 part melted ice, 1 part flat lemonade (@TheVonster on Twitter)  
The Kathy II - 3 parts humiliation 1 part subservience - tasting note: needs more spirit  (@aroundrobinbooks on Twitter)
The Pip: no spirit, just a lot of whine  (@beckyblackbooks on Twitter)
The Pip II: a sour apple based liqueur laced with irresponsibility, finished with a blade of grass and served in a glass milk bottle.  (Daniel Rarchese-Mobinson on BBC The Archers Facebook page)
The Jazza: 6 part absinthe, 5 part cointreau, 4 part cognac, 3 part saline drip at the nearest NHS hospital...  (@olympians on Twitter)
The Shula Sin Swing: 3 parts lemonade, 1 part white wine, 4 parts Holy water (@Airscaper on Twitter)
The Jennifer: 1 measure Lovely Coffee, 1 of That Cheese & gin she's been forced to look after for someone else (@Lucyvfreeman on Twitter) 
The Pawel: A vodka-based pick-me-up.  (@redfellterrier on Twitter)
The Clarrie: Now back with its original recipe  (@DarrenK73 on Twitter)
The Grundy: a pint of Shires bought by someone (anyone) else  (@jannymct on Twitter)
The George Barford: Just one shot  (@PeterKVT80 on Twitter)
The Emma: Babycham and bitter lemon (@ellespeller on Twitter)
The Horrobin Slammer: make it up as you go along.  (@TheVintageYear on Twitter)
Sex on the pasture: Vodka, Baileys, Tia Maria and Grange Farm milk  (Tim Porter on BBC The Archers Facebookpage)
Tayler Cresswell is The Archers' social media host