A shed for Tony - listener discussions to 1 Dec 2010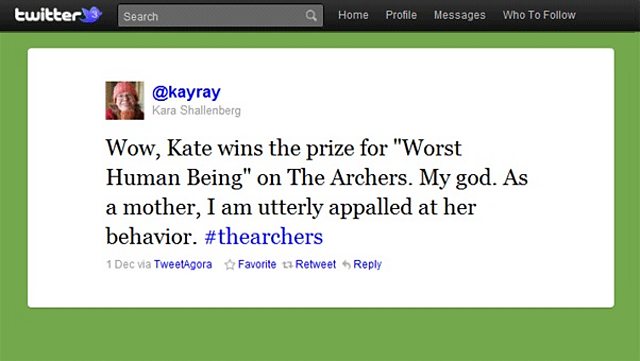 Listeners have been shouting at the radio over the last few days! Helen Archer seems to have lost any sympathy she had last week after she complained about beleaguered dad Tony. Someone's even suggested having a whip round on the message board to buy poor Tony a shed to retreat to... Here's the latest on The Archers according to the folks on our message board and Twitter.
Helen Archer's pregnancy
has seen a multitude of threads and views shared and has been a hotly debated subject on the message board. Her attitude to her dad, Tony, was met with indignation and exasperation on the message board.

"It's very clever scriptwriting and acting. I don't *enjoy* this storyline but it has certainly promoted discussion..." (saffronlily)
"There has been not a single voice of criticism / comment / gossip in a TINY rural village apart from her own dad who is regularly being made to feel increasingly guilty and trodden on every time he utters what we all know to be unpalatable truths." (DracsM1)
"...She should have given the family a bit of time to get on board before she shot off at breakneck speed to the AI clinic." (Adaptery (with brackets))
"And isn't that just what keeps us all listening? Not to mention what keeps us posting here! I think writing that shows you a multi-faceted person making choices of their own, without a 'moral compass' being set by the writer, is writing that gives you pause for thought... our discussions show that there are many ways of seeing these actions... And as events develop, often in an unexpected direction, those judgements - mine and others' - may well change." (Dabchick)
Poor Tony Archer - after his week avoiding dinner guest Kathy Perks, and his trials with his daughter Helen, messageboarder, sunny, suggested having a whip round to give Tony a refuge - a shed of his own. Tony had this week's favourite line, when he said to Kathy "Shall I get your coat?"
Add your sympathy for Tony on the message board

Kate Madikane's announcement that she was going back to South Africa had many offering to help pack her bags! Kate's been blamed for turning her daughter Phoebe into "the little madam we heard tonight" (Feral_Ralph)
"Oh! Dare we hope! Is the vile Kate going back for good? It would seem that even JennyDahling is getting tired of her appalling sprog - and indeed who on earth could blame her?" (Skyebird)
"Wow, Kate wins the prize for "Worst Human Being" on The Archers. My god. As a mother, I am utterly appalled at her behaviour." @kayray
Monday's panto rehearsal had one listener (Nemo99) declaring that Lynda was no Dennis Potter, but the "dominatrix of Ambridge panto-land"
"I really enjoyed the made-up bits which Harry & Fallon were doing... Let's hope Lynda can be persuaded to change her mind & have a bit of a laugh ..." (Misty)
"Boo hiss to Lynda's autocratic approach, say I!" (Nemo99)
Listeners are sharing their favourite Archers moments. Looby-Lewis shares three memorable ones on the message board.
"Hayley's reaction to John's death. Had me in tears driving up the A1 at the time.
Jenny's affair circa early 90's (can't remember who with) the first storyline I remember.
The fire at the Grundy's and their downfall thereafter, hence ferrett slaying."
You can add your memory here.

Tayler Cresswell is the host of The Archers message board.