'Change your brand name, Bridge Farm' - listener discussions to 23 August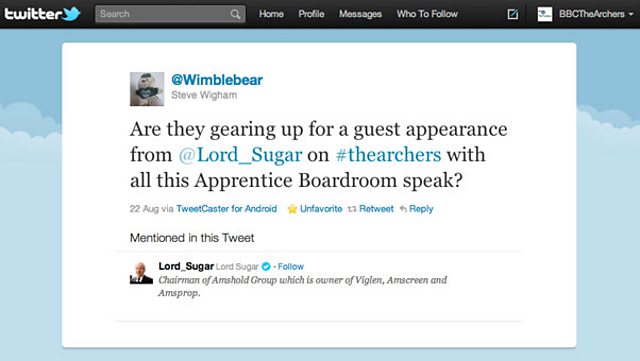 In the market for some marketing? Apparently not. As the younger residents of Ambridge caught the corporate buzzwords bug, many listeners wondered whether Lord Sugar might be paying a visit.
But all this talk of branding provided some of the finest moments of the week as Brenda got the sharp end of Pat's tongue and Jennifer turned up her nose at own-label anchovies.
Here's our pick of listener discussions on The Archers message board, Twitter and Facebook for the episodes between 21st and 23rd August.
We all know that Brenda has a degree in marketing but it seems she's got some competition in that area as Pip, Tom and Alice move in on her specialist area.


I'm sick of hearing about marketing strategies and brand nonsense. I here enough of that utter drivel at work. (Simon Clew on Facebook)


#TheArchers. Change your brand name, Bridge Farm, and stop wasting our time with new media 'marketing advice'. (@AndyCowin on Twitter)


I think of Tom and Brenda and Helen as being like a home for retired farmhorses: they are a home for retired buzz-words. (Chris Ghoti)


I sat through the discussion of marketing yesterday, and listened to Alice banging on about 'adding value' to strawberries, and wondered why the Ambridge economy is so heavily dominated by the private sector. (Ageingnicely)


Oh Brenda, words cannot express how little I want to hear about your marketing strategy #thearchers (@archelina on Twitter)


Find out what other listeners are saying on the messageboard in Its What I do do. Marketing is me and Marketing strategies or find out what Nancy Banks-Smith thought of the whole business in her review of A Month in Ambridge.
Pip's had her critics recently, as we heard in the last listener discussions blog post, but it was the same know-it-all attitude that's been bugging many listeners that brought about a wake-up call for Brenda.


Loved Pip being a right royal pain in #thearchers Followed by Brenda getting it in the neck from Pat! Perfect listening. (@BroughtonLass on Twitter)


Yay! Brenda's going to kill Pip! #thearchers (@stevenperkins on Twitter)


Yes, Pip lecturing Helen, that was wonderful. And then Brenda, too. Even better, it was Brenda's precious afternoon off and Tom deserted her and left her all alone with Pip! Then to get an earful from Pat too. Best episode in ages! (JustJanie - Fairweather Freda)


Yes, it was very good, I loved hearing Brenda needling away at Peep, oblivious to it all, assuming Brenda would be as enthusiastic at doing something for BF as she was (no chance of that). (Old Cath)


Oh, I loved tonight's episode. Do you think Brenda is really deluded enough to think that is In Marketing, when we know she is Mistress of the Paper Clips in a business that employs, er, one other person. (JoLean)


Not sure anything pip does is fab but I enjoyed Brenda getting narked and Pat snapping at her. (Anna kist)


Catch up on the many discussions that got started following this scene in Poor Brenda, pathetic, Brenda and Who agrees with Pat? or have a read of an ode to Brenda in The Bapper's Lament.
Inspired by the talk about online marketing, a messageboard within a messageboard has appeared:


Where happy customers start lively new discussions praising the new improved strawberry yoghurt and swap recipes for the vanilla ice cream and debate how exactly to pronounce QUINOA. (Tadpole)


Read more in the A messageboard. That's what Bridge Farm needs thread.
Finally, it was branding - or the lack of it - that gave listeners a treat as Jennifer and Susan got the opportunity to discuss food-shopping preferences when Alice and Christopher invited them over to dinner.


#TheArchers I can't believe what a snooty old trout Jennifer has turned into! No wonder Brian has a wandering eye (123thegardener on Twitter)


Yes, but the scene where she was utterly horrified by cheap anchovies was brilliant. She seemed more upset by cheap food than she was by the appearance of Ruauri. (JoLean)


Whenever JD is forced to socialise with Radio, the scenes are usually pretty funny. It was a great idea of the SWs to make JD a relation of the Horrobins. (NotsoTinyTim)


Ber-illinat. Just heard a conversaton on #thearchers about the pros and cons of low budget anchovies. Jennifer was not amused. (Harve78 on Twitter)


Jennifer: Can't stop thinking about Clarries quiche. I bet she used ASDA eggs too. I feel quite bilious. #thearchers (AlternateArcher on Twitter)


The very thought of Jennifer perusing the nice price bog rolls in Aldi gave me a fit of the giggles! #thearchers (BorsetshireEcho on Twitter)


Share your thoughts on the grocery shopping habits of the Ambridge set in Can Jenny darling get any worse? and Shopping at Lidl/Aldi threads.