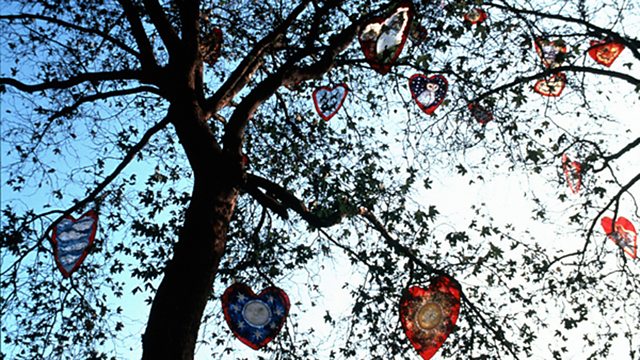 A dressed tree in Islington, London
The Ambridge community orchard is taking part in Tree Dressing Day this weekend. We asked Sue Clifford of the organisation Common Ground to tell us about this recent tradition that draws on a long history.
Our familiarity with the Christmas Tree seems well established, although the tradition only arrived here with Prince Albert in the nineteenth century. But the decorating of living trees is prevalent in many cultures throughout the world. In Scotland and Ireland trees by health-giving springs may be festooned with pieces of cloth – clootie trees. In India you might see a tree coated in vermillion or in Japan branches may be hung with beautifully folded paper.
Trees are extraordinary, but we take them for granted. Trees are vital to life on earth. They provide food, stabilise soil, reduce pollution and erosion, absorb carbon dioxide, create oxygen, purify and humidify the air. They are the biggest and longest-lived creatures on earth, they give us shelter and shade and add vitality to the local distinctiveness of a place. Their grace and beauty are a source of inspiration. Deciduous trees especially keep us in touch with the seasons, and all trees remind us of our own mortality.
In 1990, Common Ground took to the winter streets near our office in London and hung 150 large cut-out numbers on a group of three London Plane trees on the junction of Shaftesbury Avenue and High Holborn in Covent Garden. This demanded lots of permissions, traffic control, the help of tree surgeons and spotlights from the Shaftesbury Theatre. The numbers were coated in ground glass as on traffic signs. Suddenly bridges were built, people jolted. The numbers? We were trying to show in a memorable way that night and day every tree counts.
Since then we have encouraged people across the country to help create a new calendar custom.  Tree Dressing Day, in the first weekend in December, is for people to draw attention to and celebrate trees in the public domain – and hence to begin to value and care more for them. We have challenged people to search their traditions, to invent a festival in which young and old, professional and amateur can make a social celebration of the trees in the street or on the green.
In London Fields, the Adzido Pan African Dance Ensemble involved local schools in a drumming celebration of the trees, and discovered that much of their traditional dancing related to tree rituals. In Swindon, Pipers Way Residents Association awoke to find their newly hung fruits had been upstaged by the hoar frost. In Cambridge Botanic Gardens, a flat woodchip maze led to a birch tree.
New winter plumage can bring a forgotten tree back into people's consciousness or give an avenue renewed presence. Strange creatures have been seen climbing, made from twigs or cloth. Flags, shapes and ribbons have been hung, cones brightly painted and reattached, bags of rice suspended from strings. Often you do not need to touch the trunk or branches: lighting, music, dance, drama, poetry, storytelling, processions with candles can all play their part.
Tree Dressing Day is a moment when local communities, schools, local authorities, colleges, arts groups, hotels, parks departments, health centres, theatres, sheltered homes can take part: organising permissions and colourful hangings, or simply gathering to read poetry with candles under their favourite tree. 
Picture is of a dressed tree in Islington, London and is used with permission