'Do Pat and Tony never learn?' - Listener discussions to 19 March 2014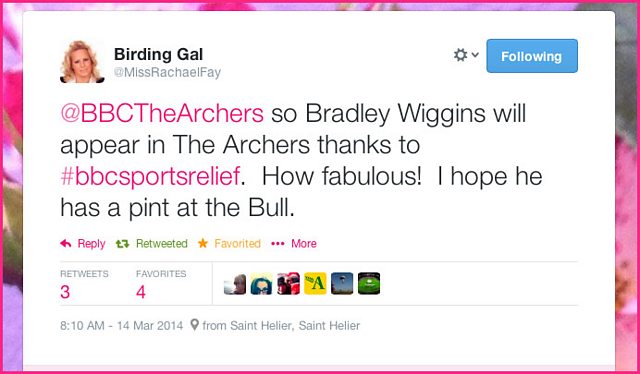 Post from @MissRachaelFay on Twitter
There was much excitement at the impending Sport Relief challenge: And not just because Sir Bradley Wiggins was heading to Ambridge!
It was Tom vs Tony with no obvious victor in listeners' affections following the death of a cow at Bridge Farm. Meanwhile Jennifer and Brian's battle was enough to drive at least one listener to the cooking sherry. And Ruth's revelation to David drew a mixed response.
Here's my pick of the listener discussions between 13 and 19 March 2014.
As the Ambridge Rough and Tumble drew near, most, though not all, listeners were very much looking forward to the event – and the appearance of a certain special guest…
@BBCTheArchers so Bradley Wiggins will appear in The Archers thanks to #bbcsportsrelief.  How fabulous!  I hope he has a pint at the Bull. (@MissRachaelFay on Twitter)
@BBCTheArchers @sportrelief  The Archers and Bradley Wiggins?  Even my son (@_PedalHeaven) might listen! (@Marina_Stedman on Twitter)
Good. I like Wiggo. Celebrity appearances are excruciating but appear to be a necessary evil on The Archers, like lambing and sibling rivalry. It can't be worse than some of the other celebrity appearances we've had inflicted on us over the years. (Dragonfly on The Archers blog)
Oh Wiggo. How could you? (wynkyn de worde on The Archers blog)
But listeners hoped the Sport Relief challenge would be an equally welcome opportunity for Ian to take Rob down a peg or two.
I will donate actual money to an #thearchers sport relief fund if Ian pushes Rob down the hill and makes it look like an accident. (@Emily_Thomas on Twitter)
I find it therapeutic having Ian voicing my dislike of Rob.....just hope he doesn't do himself in during that bloomin Sport Relief nonsense!x (Maggie Mumford on BBC The Archers Facebook page)
… Hope Ian gives Rob a bloody nose before the week is out! #thearchers #teamIan (@archerslistener on Twitter)
I hope Ian does really well which will annoy Rob ~ he will then try and alienate Helen from Ian and Adam, as part of his plan to distance Helen from the support network she will undoubtedly need pretty soon. (Jean Bell on BBC The Archers Facebook page)
Neither Tom nor Tony won many fans in the wake of the Bridge Farm cow death, with Tom criticised for his "aimless rage," and Tony for his negligence.
Tom that was uncalled for - he taught you all you know about farming #thearchers (@busydawn on Twitter)
Tom doesn't have an empathetic bone in his body. His first thought re the demised cow was, what about my pigs? He's nearly as bad and annoying as Rob, oh and Jennifer, and Brine, and Will and Emmer etc etc. love it though. (Jess Williams on BBC The Archers Facebook page)
Going out on a precarious limb here but I just do not see why you all dislike Tom so much.. Now Tony, he truly gets my goat! (Hepzibah Mcphee on Archers Addicts Facebook group)
Honestly. Do Pat and Tony never learn? E-Coli anyone? You would think they would be super alert to ANY potential problems after that little episode. (Phoebe William on Archers Addicts Facebook group)
I just can't believe that Tony would behave in the way that he did. He has a lifetime's experience as a stock man. It doesn't matter whether the cow was part of a beef herd, or a dairy herd, or any type of farm animal, he should have checked her out. (Pauline Hakeney on Archers Addicts Facebook group)
As Jennifer's kitchen planning gathered pace, she attracted her fair share of criticism - though many feel she deserves a six-figure budget after putting up with Brian's shenanigans for so long.
Brian's just seen the quote for The Albion.  I hope there's a defibrillator close by.  #thearchers (@willemharvey on Twitter)
Don't give in Brian! Jenny is insufferable! (Iris Hillery on BBC The Archers Facebook page)
@BBCTheArchers there are only 3 certainties in life, death, taxes and The Albion (@wiseclare on Twitter)
Jennifer is SOOOO shallow - so long as it is expensive and Susan can't afford it . . . . #TheArchers (@fourasienne on Twitter)
I'd given up swearing for Lent . . . . all my slips so far can be attributed to Jennifer. She is DOING MY HEAD IN (Emma Hone on Archers Addicts Facebook group)
Whilst Jenny is clearly bonkers for being willing to look at a kitchen which costs so much, I think her comment of "I deserve that kitchen" is actually pretty spot on. (Jane Wilson on Archers Addicts Facebook group)
How much for the kitchen? I reckon £50,000 at least. #thearchers (@olympians on Twitter)
Borsetshire By Design's Kingsley – and his high-tech ideas – caused quite a stir too
@BBCTheArchers the kitchen guy and Jennifer..hilarious..she couldn't flutter more if she tried..brilliant script and acting (@IsadoraVibes on Twitter)
Jennifer finally finds a man who understands her, pentagons and islands #thearchers (@sjbatley on Twitter)
Still, there's no nay-saying an Umbrian limestone floor. Might pass on the Pentagon. #thearchers (@Nigella_Lawson on Twitter)
Big plans? Must've zoned out and missed 'em. I found Jennifer's simpering with the kitchen designer nauseating tonight. (Gillian Crawford on BBC The Archers Facebook page)
Make this kitchen storyline STOP before I am driven to the cooking sherry #thearchers (@kathycaton on Twitter)
The saga of Jennifer's kitchen, Kirsty's wedding dress saga and Helen's submission to Rob, has led some listeners to ask what's in the Ambridge water?
@BBCTheArchers Jennifer it's 2014. You shouldn't be asking permission to buy a kitchen. Buy your own. Brian! Boil an egg... OMG people!!! (@epwa66 on Twitter)
...what on earth is happening to the women of ambridge?...is there something in the water that is weakening their minds? (Robin Harding on BBC The Archers Facebook page)
The Archers women have slipped back to the 50s. A touch of the Stepford .. (Christine Wilson on BBC The Archers Facebook page)
And as Ruth broke the news to David that she was pregnant, there was a huge range of responses to their situation.
OMG! Ruth... #thearchers @BBCTheArchers *takes large glass of wine* (@londonflorists on Twitter)
Another mouth to feed, eh Dave? #thearchers (@Sock_Monster on Twitter)
Think David will be booking in a snip soon just to make sure he doesn't have more! (Sonia Cooper on BBC The Archers Facebook page)
@BBCTheArchers What about a grown-up conversation along the lines of 'Do we want another child at this point? What about 'other options'?. (@knitty1956 on Twitter)
I hate to admit it but I think I might have just fallen a teeny bit in love with David. I clearly need some help. (Ingrid Taylor on BBC The Archers Facebook page)
I think the Ruth pregnancy storyline has the potential to be very interesting because I don't think Ruth wants the baby. I really like David and Ruth as a couple and would like to see how they cope with such a big difference between them; also the possible long term effects on their relationship. (Francesca Heather-Hayes on BBC The Archers Facebook page)
Tayler Cresswell is The Archers' social media host
Join the conversation
Or join the discussions on Archers fan forums: