"Waving organic pom poms for #TeamTony" - Listener discussions to 26 February 2014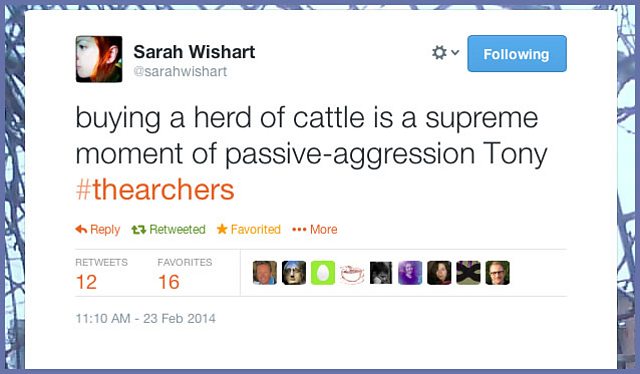 Twitter 23 Feb 14
There were cheers and doubts aplenty for Tony as his new herd of cattle arrived at Bridge Farm. And as an angry Tom distances himself further from his parents, listeners wonder if there's trouble ahead for Tom and Kirsty.
Many suspect that Rob and Helen's relationship is heading for the rocks, and some admit to an "unhealthy obsession" with Rob… is he good, bad or misunderstood?
Over at Brookfield, listeners ask whether Jill is available for hire – her homemaking skills at Brookfield are making listeners envious.  And eyebrows are raised as Jill books "hottie" PC Burns to speak at the Ambridge WI.
Here's my pick of the listener discussions between 20 and 26 February 2014
As Tony plays happy families with his new suckler herd, Tom is livid. And whilst the majority of listeners seem to be on Tony's side, a handful think he's making a mistake
I don't know which bit I liked best about this episode - Tony's audible delight and the inferred boost to his spirits, or Tom fuming like a villain in a Victorian melodrama. (Pip on The Archers blog)
Waving organic pom poms for #TeamTony #thearchers (@SarahSkelding on Twitter)
Go for it Tony! ...and I'm posting from Aberdeenshire, home of the wonderful Aberdeen Angus. (Lorna McLaren on BBC The Archers Facebook page)
Oh bliss, tables turned and all that, it's been worth listening to every minute of the humiliation Peggy and Tom have inflicted on Tony just for this. (cath on The Archers blog)
Buying a herd of cattle is a supreme moment of passive-aggression Tony #thearchers (@sarahwishart on Twitter)
@BBCTheArchers Felt the blood drain out of the radio... Poor Tom (@Heucheraholics on Twitter)
@BBCTheArchers Tony, proving to Peggy how right she is. (@Soopenn on Twitter)
YOU were the one who wanted cows back because of this pathetic obsession with showing your mother and son that you're a big boy … Just remember Tony.. next time you keel over in the cow shed clutching your chest.. Tom won't come running to help you. Because he won't be there. (Jo Boulter on Archers Addicts Facebook group)
Tom and Kirsty seem to be staking a fortune on their future – Kirsty's eye-wateringly expensive dress, a pricey eco-honeymoon, a new house… many listeners think that there are dark clouds on the horizon
After his rather infantile and petty action of cancelling the Marquee without consulting Kirsty, can Kirsty give him a telling off, point out they can't afford a fancy wedding as they don't have enough cash to pay for it cos PEGGY HASN'T DIED YET!!!!!!!!!!!!!!!!Kirsty needs to put him in his place over this now or this is another doomed relationship. (bracewell on The Archers blog)
This house is......1000 wedding dresses #thearchers (@salvatorRosa on Twitter)
Kirsty, you are far too sensible and level headed to marry into this family. #thearchers  (@beckyblackbooks on Twitter)   
As Rob and Helen's brand new bed arrives, listeners debate Rob's motives
Rob railroading Helen into his choice yet again, all in the name of a lovely surprise for which she must be grateful. (Nicola Diamond BBC The Archers Facebook page)
My woman, my bed. Love from Rob. #thearchers (@LucyLyons on Twitter)
The thought of Helen and Rob celebrating a new bed was a step too far. Does she really know where he has been? Does she really, does she? (Heather Davies Archers Addicts Facebook group)
Silly, soppy, love-struck Helen doesn't seem to get any savvier, does she? (Richard Hubbard on BBC The Archers Facebook page)
I am in a minority of about one here. but still, call me naïve ....I'm loving Rob and Helen. They sounded natural and happy. Lets see.... I might be proven wrong. Hope not. (Sally-Ann Howard BBC The Archers Facebook page)
Flat pack assembly doesn't seem to be Rob's forte. But was this a normal family scene or Rob revealing a more sinister side to his personality?
I thought it v clever that they had Rob lose his temper while erecting Henry's new bed. On the one hand, find me a person who hasn't lost their temper with a flat pack... But, on the other hand as some of us are still unsure as to his motives, it takes on a more sinister tone… He is controlling, but a good man. I think. I hope.. (Rosie Kearney Massey on Archers Addicts Facebook group)
 I think the idea of a #readymadefamily is wearing thin. #thearchers (@dineketh on Twitter)
A man always shows his true colours when assembling a flat pack. #nastyRob #thearchers (@fairy_with_hair on Twitter)
#thearchers That was mild compared to how my dad used to be when doing diy, can't believe I'm defending Rob (@Victorix on Twitter)
@BBCTheArchers i am developing an unhealthy obsession with Rob. Is he bad? Is he good? Is he misunderstood? (@rachal13 on Twitter)
Much as I loathe Rob I'm getting a horrible feeling that Jess may turn out to be the real villain. Hope I'm wrong! #thearchers (@GreavsieE17 on Twitter)
Oh please don't twist Rob's storyline around! I've just started to like him... (Laura Robjohns BBC The Archers Facebook page)
Jill is making herself at home back at Brookfield – and some listeners are quite envious. There's some sympathy for Emma as her cleaning job at Brookfield looks to be under threat 
#thearchers blimey Ruth I think she thinks she's moving in for good! (@fragpasty on Twitter)
Burnt food or St Jill's offerings? It's a no brainer #thearchers #TeamStJill (@Dark_Blue_Box on Twitter)
@BBCTheArchers could Jill move in with my family please? My larder needs clearing and the family love shepherds pie and apple crumble! (@OutiHubbard on Twitter)
I love Jill. Cupboard cleaner, shepherds pie maker, love match maker. Do you think she would adopt me? (Sarah Begley Archers Addicts Facebook group)
#thearchers Jill's muscling in on Emma's patch. Gonna be dusters at dawn! (@rutherian on Twitter)
Go, Team Emma! Easy to be Sunny & Gracious when life has dealt you a economically good hand; harder when you are at the bottom of the employment & income pile.x (Maggie Mumford BBC The Archers Facebook page)
And so to the WI – and the prospect of a talk by "hottie" PC Burns has raised an eyebrow or three
The arrival of PC Burns is the first time I've felt hard done by that #TheArchers is on the radio. (@alliethinks on Twitter)
What do you reckon PC Burns chances are of getting out of the WI alive?  #thearchers (@SaraMarshall on Twitter)
Bit unseemly, all the older ladies lusting after PC Burns #thearchers (@gowergirl on Twitter)
It's about time we had a bit of crumpet in Ambridge, since Harry left. #thearchers #moreearcandyplease (@gingabeans on Twitter)
Tayler Cresswell is The Archers' social media host
Join the conversation
Or join the discussions on Archers fan forums: