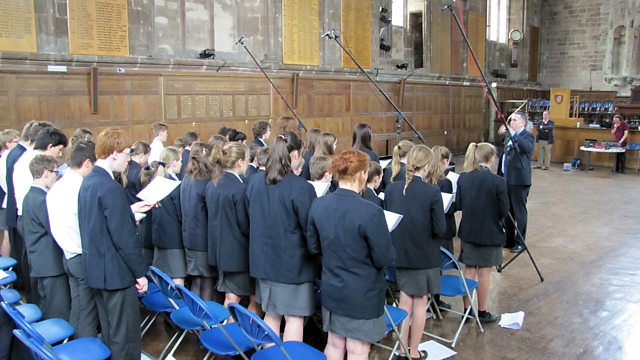 On Monday (4 August), The Archers is taking part in the nationwide LIGHTS OUT memorial to WW1.
LIGHTS OUT is an invitation to everyone in the UK to turn out their lights on 4 August between 10pm-11pm, leaving a single one lit. This will mark the hour that Britain entered WW1, 100 years ago.
It's inspired by the then British foreign secretary Sir Edward Grey's famous quote "The lamps are going out all over Europe; we will not see them lit again in our lifetime."
In the ceremony at St Stephen's, Jill Archer will read a poem by Wilfred Owen, and we'll hear from Felpersham Cathedral School choir. The part of the choir will be performed by  King's School Worcester Choir (pictured above with director of music Simon Taranczuk). We recorded the choir in College Hall  of Worcester Cathedral, accompanied by the cathedral organist Christopher Allsop.
Our news colleagues filmed the recording, and also spoke to Archers editor Sean O'Connor and some of the children. You can see the report on Midlands Today, BBC One (Midlands) on Monday 4 August at 6.30pm.
Around the UK
Ambridge is one of around 800 places  that will be taking part in LIGHTS OUT, including the Houses of Parliament, Blackpool Illuminations, Tower Bridge, Old Trafford, Westminster Cathedral, Piccadilly Circus and the Eden Project.
Turner Prize-winning artist Jeremy Deller has devised a special app, which releases four LIGHTS OUT films from Friday 1 August to Monday 4 August. The last film will be released for one hour only between 10pm and 11pm, forming one potential single light source for LIGHTS OUT hour.
If you want to take part yourself, the organisers encourage you to comment or share pictures of your LIGHTS OUT moment on social media, using the hashtag #LightsOut.
Keri Davies is an Archers scriptwriter and web producer.
More about LIGHTS OUT 
Find a LIGHTS OUT moment 
Download Jeremy Deller's app
BBC WW1
The photo is by Russell Baum and is used with permission.