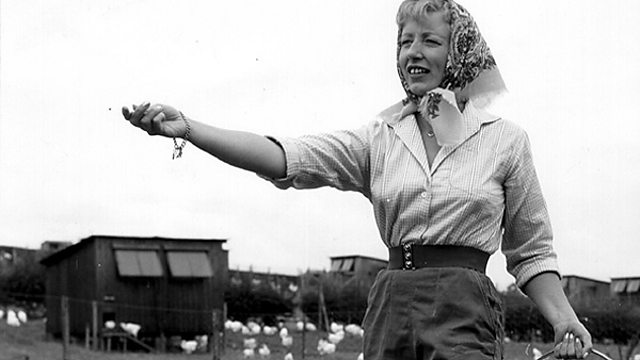 The Archers celebrates its 60th anniversary on 1 January 2011. Over the six weeks running up to the anniversary, we are looking back at the main storylines in each of its six decades.
This week: the 1960s, a decade when youth was in revolt against post-war mores, and which saw the Cuban missile crisis, assassinations in America and the Summer of Love.
In Ambridge, a Brummie businessman shook things up, unmarried Jennifer scandalised the village by becoming pregnant, and the old order finally passed at Brookfield.
Do you remember these storylines or characters? What else do you remember of The Archers in the sixties? Share your memories and thoughts by using the comment box at the bottom of this post.
1960
Christine had trouble with her footloose husband Paul Johnson, who sold out the family business to Charles Grenville, and who strenuously denied having an affair with pretty Marianne Peters.
Despite her friendship with John Tregorran, Carol Grey surprised the village by becoming engaged to Charles Grenville.
Realising small farms were becoming more vulnerable, Dan formed a farming co-operative with his neighbours Fred Barratt and Jess Allard.
1961

16 year-old Jennifer Archer worried Peggy by returning from a skiing trip with a boyfriend called Max.
Leather-jacketed youths on motorbikes set fire to an Estate hay barn, but got the worst of it in a fight with locals, and were jailed.
Just out of the RAF, Nelson Gabriel persuaded his father Walter to invest £3,000 football pools winnings in an engineering firm.
Carol and Charles Genville married in great style.
1962
Bungling Estate workers failed to blackmail John Tregorran and Carol Grenville over some old love letters. Carol gave birth to a son, Richard.
Shiftless Paul Johnson forced Christine to leave her stables business for Newmarket, where he was to train as a helicopter pilot.
Self-made Birmingham businessman Jack Woolley bought Grey Gables from Reggie and Valerie Trentham.
After trouble with his wayward sons, Fred Allard sold up. Dan persuaded Phil to take the farm on. Phil renamed it Hollowtree and soon set up a pig unit there.
1963
John Tregorran seemed finally to get over his affection for Carol Grenville when he married district nurse Janet Sheldon. But four months later she was killed in a car crash. Carol's husband Charles was driving.
Paul found that life as a crop-spraying helicopter pilot wasn't as glamorous or lucrative as he'd hoped. He and Christine moved back to Ambridge.
Jack Woolley redeveloped Grey Gables as an exclusive retreat for jaded business executives, establishing a 20 acre golf course there. He took fellow Brummie Sid Perks under his wing, as his chauffeur and assistant.
1964
After the accident, devastated John Tregorran left for a long holiday in Spain. Grenville found it hard to settle after his leg was amputated. He sold several business interests and left to investigate possibilities in the USA.
19-year old Jennifer was at teacher training college in Walsall. Jack bought her a moped to travel home.
With a gift from Aunt Laura, Jack and Peggy extended The Bull, building a new dining room and a small flat for Laura
Sid Perks' rough past caught up with him. After snubbing former gang mates while on a date with Bull barmaid Polly Mead, his motorbike was trashed.
1965
John Tregorran and Carol Grenville gave each other mutual support after Charles died suddenly in the USA.
Ralph Bellamy and Jack Woolley bought the Estate.
After years of childlessness, Christine was hurt when Paul Johnson took a shine to Carol's fatherless son Richard. They agreed to adopt a boy: Peter.
Laura appointed a chauffeur, young Roger Patillo, who after going out with Jennifer admitted his real name was Travers-Macy.
With financial help from Laura, Dan and Phil were able to buy out Fred Barratt, becoming sole owners of Ambridge Farmers Ltd.
1966

Polly's father Frank Mead was responsible for a series of arson attacks. He ended his days in a psychiatric hospital.
Jack Woolley and Valerie Trentham married. At the other end of the social scale, so did Sid Perks and Polly Mead. Jack appointed Sid manager of the Arkwright Hall leisure centre.
Twelve years after first turning him down, Carol Grenville accepted John Tregorran's proposal of marriage. They moved into Manor Court.
Jennifer qualified as a teacher. She started work at Hollerton Primary and achieved some success as a writer. But shortly before Christmas she confessed to Lilian that she was pregnant.
1967
Jennifer's pregnancy shocked the Archer family. Jack was all for throwing her out, but more compassionate counsels - including Dan's - prevailed.
Jennifer named her baby boy Adam, and escaped village gossip by moving to Bristol. She refused to name the father, but Adam's shock of red hair suggested it might be Brookfield cowman Paddy Redmond.
Nelson Gabriel was reported missing in a plane crash, but fingerprints on a whisky bottle implicated him in a robbery on the Borchester mail van.
1968

After Jack's drinking worsened, Jennifer returned to The Bull to support Peggy. A growing secret relationship between her and Lilian's boyfriend blossomed. Fortunately Lilian had become more interested in Royal Canadian Air Force officer Lester "Nick" Nicholson. Roger and Jennifer married.
Paul Johnson bought the local garage but couldn't make a go of it. Sid Perks had been working there after the failure of the leisure centre, but fortunately a Premium Bond win gave Polly a deposit to buy the village shop.
Phil won a three month travel scholarship in an essay competition. He returned more ambitious than ever and bought 16 acres of his own that he could run free of Dan's more conservative ways.
Walter Gabriel's joy when his son was found to be alive didn't last long, as Nelson was immediately arrested, suspected of being the mastermind behind the mail van robbery. But there wasn't enough evidence to persuade the jury and he was acquitted.
1969
Paul Johnson narrowly escaped bankruptcy by selling the garage to Ralph Bellamy.
Lilian married her Canadian airman "Nick" Nicholson.
In one of his more sober episodes, Jack forced through the conversion of the Bull's restaurant into a "Playbar", complete with jukebox and espresso machine. But soon a near riot by the youngsters he was trying to attract threatened Peggy with a prosecution for breach of the peace.
Tony completed his course at the Farm Institute and started work for Ralph Bellamy at the Estate.
An attack of bronchitis and recurring friction with go-ahead Phil - plus constant pressure from Doris - finally persuaded septuagenarian Dan to retire. Phil, Jill and their children moved to Brookfield, Dan and Doris to Glebe Cottage.

Keri Davies is an Archers scriptwriter and web producer.