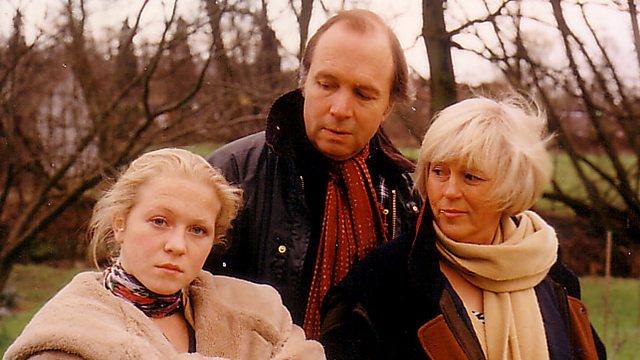 Kellie Bright, Charles Collingwood & Angela Piper (Kate, Brian and Jennifer) in the 1990s
Tom's disappearance has brought back memories for Jennifer of when her middle daughter Kate went missing. This is what happened nearly 20 years ago.
In August 1994, Kate Aldridge (now Madikane) was very disappointed when her GCSEs produced only a smattering of grades D and E. She took some clothing, her television and £290 from the riding course takings, and left home.
Brian and Jennifer were naturally aghast at the disappearance of their 16-year old daughter. After a few days, Jennifer contacted the Missing Persons Helpline (now Missing People).
On 9 September, Brian and Jennifer went on a search around the Glastonbury area. They found a new age camp and met a woman called Zoë. Brian was scathing about what they saw at the camp but Jennifer was more tolerant.
Zoë the informant 
A woman called Zoë told them that 'Tab' said Kate had been at the camp but had left in a camper van with a guy called Damien. They were going to Wales but Zoë didn't know where. Jennifer gave Zoë their name and address and asked her to pass on any news of Kate.
Ten days later, Zoë turned up at Home Farm. According to the new age grapevine, Kate was ok. Tab had told Damien, Damien told Josh (not Josh Archer) and Josh told Zoë.
Zoë had her two children with her, one aged three and the other nearly a year. Jennifer said she could put her van in a field for the night. In fact, Zoë stayed for a month, making herself more and more at home. She claimed a friendship with Kate and told Jennifer that she would pass money on to her.
Jennifer clutched at any straw which Zoë could offer, while cynical Brian doubted her stories, creating friction between him and Jennifer. Eventually Zoë had a row with Brian and left. By December, Jennifer had to admit that Zoë was probably a fraud.
A desolate Christmas
Having persuaded herself that Kate would return for Christmas, Jennifer bought a present for her. It remained uncollected under the tree.
On Boxing Day, Alice picked up the phone, saying that Kate had phoned and she was fine. It wasn't true. Six year-old Alice had just wanted to make her mother happy.
Mistaken identity
On 24 February, there was a chilling phone call from the police. They had found a body of a girl at the bottom of a cliff in Cornwall. Her face was battered, but she was the same age, sex, height and colouring as Kate. Brian and Jennifer travelled to identify the body, although in the end Jennifer couldn't bring herself to see the corpse.
Although it wasn't Kate, Brian had nightmares afterwards, remembering the pathetic, battered body.
Kate returns
In March 1995, Brian took Jennifer out in lieu of Mother's Day. When they got home, they found Kate asleep in her own bed as if she had never been away. She had been missing for eight months.
Kate soon confirmed Brian's suspicions about Zoë. She had never met the woman, and never received any money via her.
(But Zoë did return – well, sort of. She was played by Sunny Ormonde, who later took over the role of Lilian Bellamy)
Keri Davies is an Archers scriptwriter and web producer (and in his former role directed the episodes in which Brian and Jennifer had to identify the body).
National Crime Agency UK Missing Persons Bureau
Learn more about Tom, Jennifer, Kate, Brian and Alice in our Who's