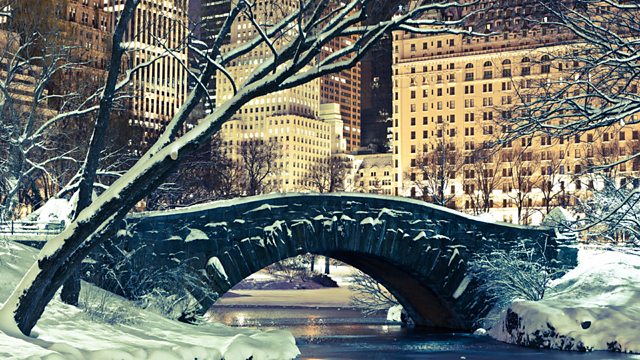 New York's Central Park in winter
Sending Matt and Lilian to New York for a pre-Christmas treat seemed like a fairly straightforward idea back in October. But then Hurricane Sandy hit the city that never sleeps. Archers scriptwriter Joanna Toye explains the effects.
(In a rather ghastly postscript, we have recently made some further small alterations to her scripts, to take into account the appalling Newtown school shootings.)
There are usually a blissful few days between handing in a set of scripts and the 'rewrite call'. But this time my idyll was interrupted by an email from Archers editor Vanessa Whitburn, ominously entitled 'New York: Early warning'.
Of course I knew that Superstorm Sandy had caused devastation on the eastern seaboard, parts of New York included. But I was firmly in denial about the need to unpick something as fundamental to my entire week as Matt's Christmas surprise to Lilian, and its effect on her in the days that followed. So I had told myself that this was rich, white New York, not poor, black New Orleans – plus there was a Presidential election less than a week away. It was only late October. Surely in Manhattan at least, everything would be sorted by Christmas?
When Vanessa and I spoke, however, concerns were twofold. She wondered if Matt and Lilian would even be able to get around the city and do the things we wanted them to do. Furthermore we agreed it was a matter of, in old BBC parlance, 'taste and decency'. However much uptown New York might be superficially back to normal, we could not have two characters there (if we sent them at all) burbling on about what a marvellous time they were having – which was obviously the tone of my pre-hurricane original – without acknowledging that people had lost their homes, and indeed lives, just a few miles away.
Skating
We hit the phones. She called the BBC's New York Bureau: I contacted the Rockefeller Center, where we wanted Matt and Lilian to go skating. Having been re-directed by numerous effortlessly polite switchboard operators –  'Enjoy your day, ma'am' –  I spoke to the press office. I explained I needed to have characters skating at Christmas. Would the rink be open? 'It's open today,' they replied. God Bless America!
Vanessa also reported good news from the Bureau. Central and upper Manhattan had power and were working fine. The New York Marathon was scheduled for the Sunday. It sounded as though, with some tonal adjustments, we were going to be OK.
But Hurricane Sandy had a sting in its tail. By the next day voices were complaining they'd received no help. A million New Yorkers were still without power and the marathon was cancelled. Vanessa and I spoke again. By now another fear had entered the equation. Did Superstorm Sandy presage a hard winter? If New York was snowbound, would Matt and Lilian be able to do the carriage ride in Central Park we'd planned for them?
More web searching. The carriage rides site only offered online booking and FAQs – no contact number. But wait! Weren't there a load of swanky hotels fronting Central Park, which would whistle up a carriage for you? I rang the Ritz Carlton, for simplicity posing as a prospective guest (dream on).
At the concierge desk, my new best friend Timothy was able to reassure me that I'd be able to do my carriage ride, rain, shine, sleet or snow. The carriages were open-topped but blankets were provided. Was there anything else he could help me with this morning? (4pm my time, pal, but never mind). Sadly not. I rang off with his desire to be of further assistance during my stay ringing in my ears.
In the end I adjusted five scenes to cover Matt and Lilian's reaction, and that of other characters on their return, to the effects of Sandy, possibly the only hurricane ever to have directly affected a small landlocked village in the heart of the English countryside…
Joanna Toye is an Archers scriptwriter (and former senior producer)
Image shows Gapstow Bridge in Central Park, New York and is used under licence